China Won't Have Element of Surprise in Taiwan Invasion—ex-CIA Analyst
There would be no "strategic surprise" if China decided to invade Taiwan in the future, with nationwide mobilization efforts likely to be noticed several months to a year in advance, veteran CIA analyst John Culver said on Monday.
That the U.S. Intelligence Community hasn't disclosed a concerted Chinese military buildup – like it did before Russia attacked Ukraine – was further evidence that Beijing had yet to begin the necessary preparations for the largest amphibious assaults in modern history, according to Culver, who spent 35 years at the agency, latterly as its top intelligence officer for East Asia from 2015 to 2018.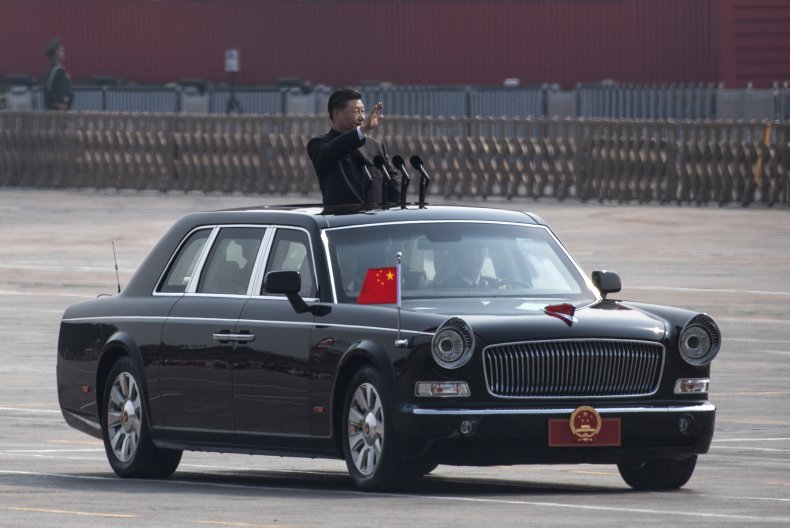 In commentary for the Carnegie Endowment for International Peace think tank, Culver sought to tamp down popular speculation about the likelihood of a near-term Taiwan Strait conflict. This possibility was raised by high-ranking U.S. officials and returned to the spotlight by President Joe Biden's September pledge to intervene in a hypothetical crisis.
Among the widely cited assessments is a potential invasion of Taiwan in 2027, according to congressional testimony last year by retired Adm. Phil Davidson, the former head of U.S. Indo-Pacific Command.
Gen. Mark Milley, chairman of the Joint Chiefs of Staff, endorsed the timeline, which coincides with the centennial of the People's Liberation Army (PLA).
Others including Director of National Intelligence Avril Haines have distinguished China's determination to move on Taiwan from its desire to have the means to do so.
Haines told a Senate committee in May that Beijing was "working hard to effectively put themselves into a position in which their military is capable of taking Taiwan over our intervention" by 2030.
On Sunday, U.S. Defense Secretary Lloyd Austin told CNN that he didn't see an "imminent invasion."
Culver, who now is a senior researcher with the Global China Hub at the Atlantic Council think tank, said: "But if war is Beijing's plan, there ought to be reliable indications that it is coming.
"For one, it almost certainly would not be subtle," he wrote. Western and Taiwanese intelligence would likely spot signals including a surge in missile production a year in advance, as well as signs that the Chinese government was insulating its economy and military from possible sanctions.
"Three to six months out, the PLA would also halt most regular training and perform maintenance on virtually all major equipment," Culver said. "Across the PLA, leave would be canceled, and service members would be recalled to duty and restricted to their garrisons or ships."
"And China's leaders probably would be preparing their people psychologically for the costs of war: austerity, tens of thousands of combat deaths, and civilian deaths from U.S.- and Taiwan-launched strikes," Culver said. But this was not the case, suggesting assessments about a potential cross-strait conflict as early as 2024 may be off the mark.
China claims Taiwan as part of its territory and views its "unification" with the mainland as a patriotic mission—to be achieved by force if necessary. The island's public, meanwhile, has shown declining interest in a political union.
A decision by Beijing to go the military route would suggest no confidence in unification by persuasion. At the same time, China's president, Xi Jinping, also would be wary of the long-term consequences of initiating a Taiwan crisis, Culver said.
"Such a war could last years to a decade, and China would be subjected to American and possibly multilateral sanctions and perhaps even a U.S. blockade," he wrote.
But the former intelligence analyst also warned against oversimplifying the range of options short of all-out war at Beijing's disposal.
Culver said: "Lesser options probably could not compel Taiwan's capitulation but could further isolate it economically and politically in an effort to raise pressure on the government in Taipei and induce it to enter into political negotiations on terms amenable to Beijing.
"If China decides to fight a war of choice over Taiwan, strategic surprise would be a casualty of the sheer scale of the undertaking. Even if Xi were tempted to launch a quick campaign and hope that Taiwan's will to fight would quickly collapse, Russia's disastrous invasion of Ukraine probably has induced more caution in Beijing," Culver added.
"Any invasion of Taiwan will not be secret for months prior to Beijing's initiation of hostilities. It would be a national, all-of-regime undertaking for a war potentially lasting years," he said.