China Warns U.S. Will 'Cut Itself' on Increasing Support for Taiwan
The U.S. will "cut itself" if it continues its gradual support for Taiwan, China's Defense Ministry said on Thursday, warning of "severe consequences."
Democratic Taiwan has received the most assurances about its continued security in recent memory amid a marked rise in military coercion by Beijing over the past year. The Biden administration in particular has backed Taiwan through vocal support and military signaling.
Despite categorical commitments from the White House that the U.S. does not support Taiwan independence—a point reiterated by Deputy Secretary of State Wendy Sherman on her recent trip to Tianjin—China continues to voice its displeasure at Washington's "rock-solid" unofficial relationship with the self-ruled island.
At a monthly press briefing in Beijing, China's Defense Ministry spokesperson Wu Qian accused the U.S. of "salami-slicing" tactics, referring to the impression that the Trump and Biden administrations had become less and less ambiguous about their support for Taiwan's security.
Asked about the additional backing Taiwan receives in Congress as well as a U.S. Air Force cargo plane's recent stopover in Taipei, Wu said the U.S. "will only cut itself on the hand" if it continues its gradual supportive gestures and measures.
"We earnestly warn the U.S.: those who play with fire will be burned," he added, repeating what is now an oft-heard threat.
As China claims Taiwan as part of its "sacred territory," it considers support from foreign states as direct interference in its internal affairs. "Do not send the wrong signal to 'Taiwan independence' forces," Wu said, "or else the U.S. will bear all severe consequences that it triggers."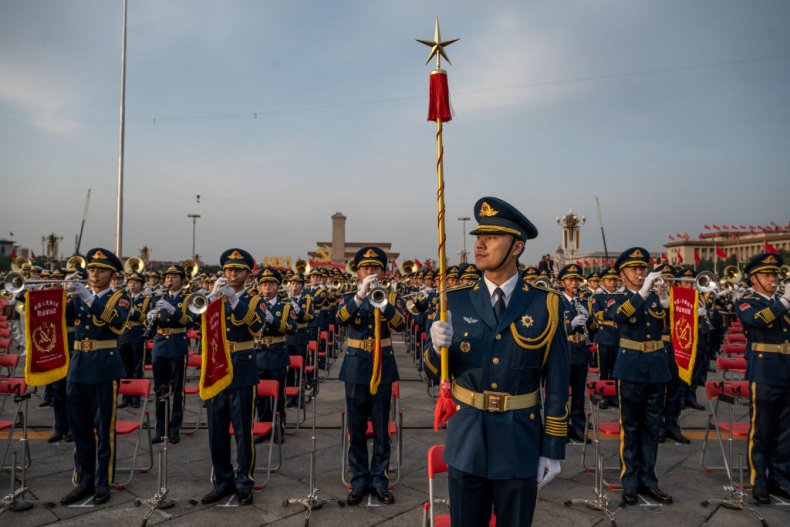 Taiwanese President Tsai Ing-wen has committed to maintaining the "status quo" across the Taiwan Strait. After her landslide re-election last January, she said there was no need to formally declare independence, as Taiwan was already a sovereign state by the formal title Republic of China.
Her party's lawmakers have described her as putting more emphasis on national defense than any other elected leader in the country's democratic history. Tsai's government is overseeing a painfully slow reform of Taiwan's reserve forces; the island is also in the process of acquiring domestically produced warships and submarines, most of which will arrive after Tsai's time in office ends.
Neighboring countries are seeing an alarming military buildup across the Taiwan Strait, particularly in China where annual military spending continues to dwarf Taiwan's year-on-year.
China says Taiwan's "unification" with the mainland is an unstoppable historical process. Ultimately, however, Taipei and Washington expect the choice to be left in the hands of Taiwan's 23.5 million people, who appear less interested in Beijing's promise of semi-autonomy every year.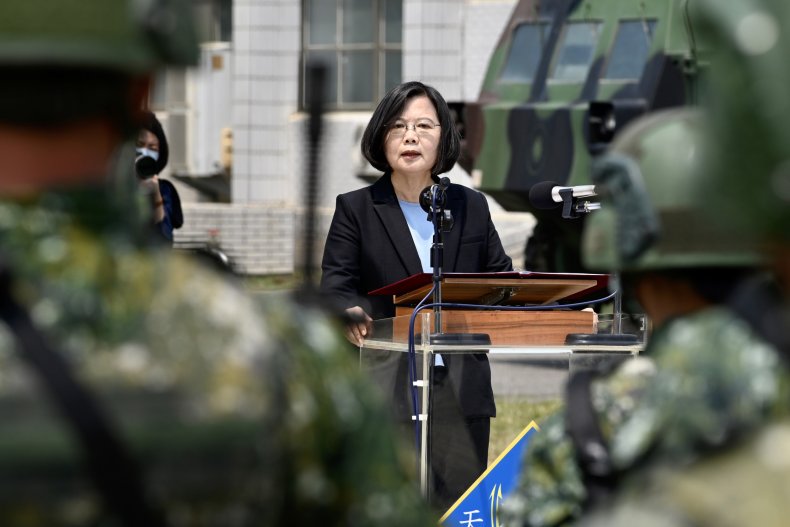 A 20 July survey released by National Chengchi University's Election Study Center—Taiwan's foremost polling institute in Taipei—found only 2.7 percent of people identified as solely "Chinese." 31.4 percent chose the option "both Taiwanese and Chinese," and 63.3 percent regarded themselves as only "Taiwanese."
Among the respondents, just 1.5 percent said they wanted "unification as soon as possible." However, less than 6% of people said they wanted "independence as soon as possible," the data showed.
A majority of 81.5% percent polled preferred some form of status quo—a phenomenon some analysts say may be linked to the constant threat of a military conflict across the Taiwan Strait.
Polling is conducted throughout the year by telephone, with half-year data from January to June released each July. This month's report included responses from 4,717 people, the university said.