China's 'Dongfeng' Missiles Compared to America's Nuclear Arsenal
China's Dongfeng series of ballistic missiles is among the most high-tech in the world and compare well to U.S. missiles.
State-affiliated Global Times, which is China's national English-language newspaper, under the People's Daily, reported that ahead of U.S. House Speaker Nancy Pelosi's visit to Taiwan in August, and before the 95th founding anniversary of the Chinese People's Liberation Army, China for the first time revealed a video featuring the launch of what it said was the Dongfeng-17 (DF-17) missile. Reuters reported on August 4 that China launched several Dongfeng ballistic missiles into waters around Taiwan.
On Sunday's 60 Minutes, President Joe Biden was interviewed amid tensions between China and Taiwan that have escalated in recent months. He was asked if the U.S. would defend Taiwan with its military forces if China attacked. Biden said it would "if in fact there was an unprecedented attack."
Pelosi said she ignored China's "fuss" over her Taiwan visit, which, she said, was to "show friendship and support." While nearly two-thirds of Taiwan's public is unconcerned about a wider conflict stemming from China's military drills, a new study found that China has identified nearly 3,500 potential targets there.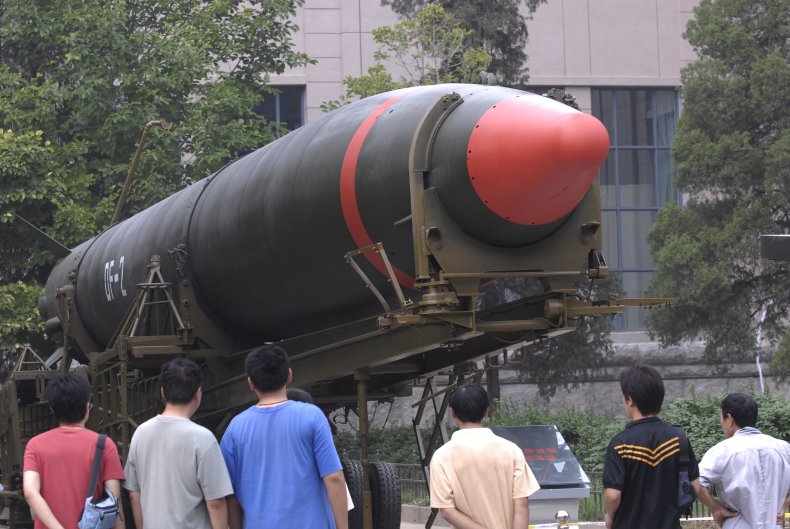 Military-Today called China's DF-41 among the deadliest intercontinental ballistic missile (ICBMs) in the world. Described as a solid-fuel missile that can carry up to 10 independent nuclear warheads, Military-Today reported an estimated range of 12,000 kilometers (about 7,500 miles) that can "sufficiently reach all areas" of the U.S., Europe and Russia.
A DF-41 fired in the United States' direction would reportedly take 20 to 25 minutes to reach its target, causing "extremely devastating" effects that can hypothetically "wipe out entire countries."
Last year, the U.S. Department of Defense warned of the "growing threat the world faces" from China's expanding nuclear arsenal after images showed a suspected 230 silo-based ICBM launch sites in Yumen, Gansu, and Hami, Xinjiang.
China's DF-41 operational missile range is more than 14,000 kilometers (about 8,700 miles), GlobalSecurity.org reported, and makes it the world's longest-range missile—longer than the U.S. LGM-30 Minuteman, which can travel about 13,000 kilometers (about 8,100 miles).
On September 7, the U.S. Air Force launched an unarmed Minuteman III test from Vandenberg Space Force Base in California, according to Defense News. One of about 400 Minuteman III missiles, it was equipped with three test re-entry vehicles and traveled 4,200 miles at more than 15,000 mph to a test range at the Kwajalein Atoll near the Marshall Islands.
A previous launch in August was delayed multiple because of Pelosi's Taiwan visit, as not to raise tensions between the U.S. and China.
The most powerful nuclear bomb in the U.S. arsenal is the B83, with a maximum yield of 1.2 megatons, making it 60 times more powerful than the bomb dropped on Nagasaki, Japan, in 1945. According to the Nuclear Weapon Archive, 650 B83s are in "active service."