How Chris Rock's 'Perfect Conduct' Since Slap Helped Popularity Soar
Chris Rock's popularity has seen an uptick in recent days, due to his "perfect conduct" in the aftermath of Will Smith slapping him at Sunday night's Oscars, according to image management experts.
Smith is facing disciplinary action after he made his way onstage and struck Rock across the face during the live telecast from Hollywood's Dolby Theatre, in reaction to the comedian cracking a joke about his wife, Jada Pinkett Smith.
"Jada, I love you. G.I. Jane 2, can't wait to see it," he said, referring to Pinkett Smith's close-cropped haircut, a result of her well documented battle with alopecia.
At the time of the incident, Rock quipped to the stunned audience: "Wow. Will Smith just smacked the s*** out of me."
On returning to his seat, Smith bellowed to Rock: "Keep my wife's name out your f****** mouth!"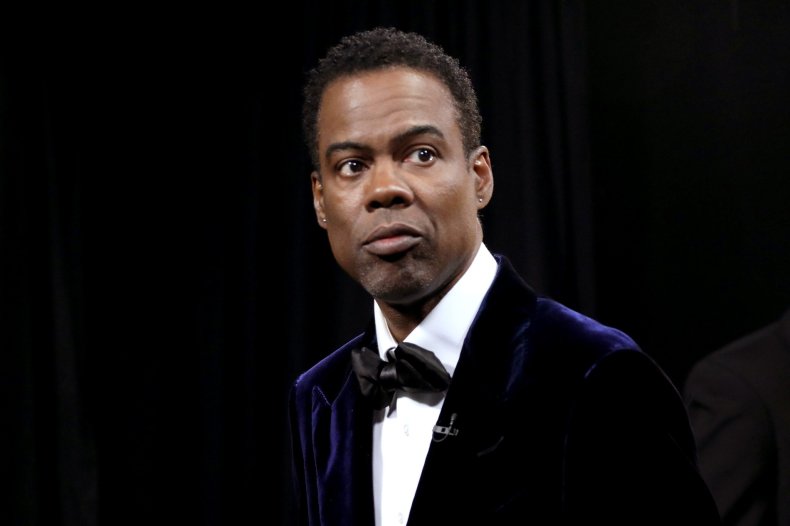 "Wow dude. It was a G.I. Jane joke," said a visibly stunned Rock from the stage, prompting Smith to repeat his statement.
"I'm going to," assured Rock, before drawing laughs from the tense audience as he went on: "OK. That was [the] greatest night in the history of television."
In the days since, Rock has seen a dramatic surge in ticket sales for his Ego Death World Tour 2022, performing at consecutive sold out shows in Boston this week.
Poise and Professionalism
According to Evan Nierman, CEO of crisis PR agency Red Banyan, Rock will likely see his star rise all the more, thanks in large part to his "poise" in the immediate aftermath of the unprecedented incident.
"I expect Chris Rock's standing to surge, and ticket prices and sales for his shows to reach the stratosphere," Nierman told Newsweek.
"His poise and professionalism in the moments after this unsettling event were nothing short of remarkable, and he deserves a lot of credit.
"Despite the fact that his joke about Smith's wife and her hair was what prompted the whole incident, Rock's picture perfect conduct in the aftermath will ultimately serve him very well."
During his first Boston show on Wednesday, Rock received a standing ovation from the audience, before breaking his silence on the incident as he said that he was "still processing what happened, so at some point I'll talk about that s***."
"Let me be all misty and s***," Rock continued, with tears in his eyes. "I don't have a bunch of s*** to say about that, so if you came here for that... I had written a whole show before this weekend."
On Thursday night, Rock shut down an attendee who chanted "f*** Will Smith" from the audience at returned Boston's Wilbur Theatre, with the star saying, per People: "No, no, no, no, no."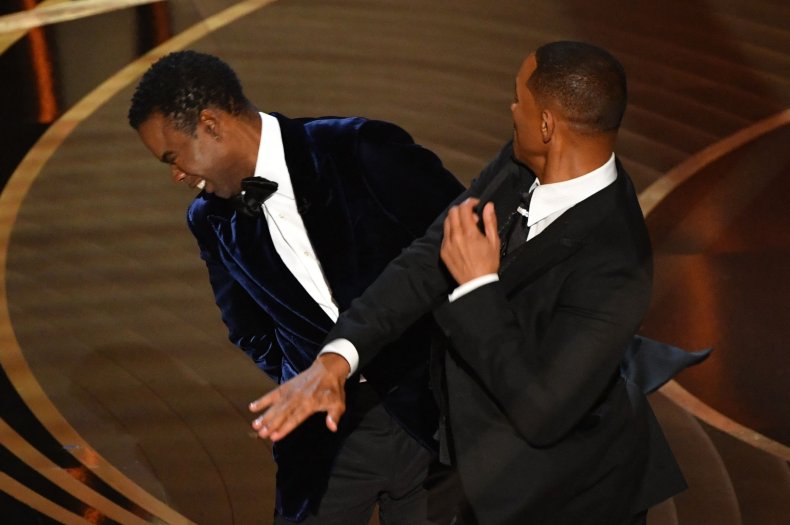 While he also expects Rock to see a boost in his popularity, Professor Jonathan Shalit, chairman of InterTalent Rights Group, has cautioned that too much shouldn't yet be read into the standing ovations the comedian has seen this week.
"Remember he got a standing ovation at his comedy show where his fans have paid to go and see him," Shalit told Newsweek. "It doesn't actually mean [it reflects the wider public's opinion]. It's not exactly surprising the people who pay to go see you give you a standing ovation."
Still, Shalit believes that there is very little Rock has to do to retain public support—so long as he doesn't resort to fanning the flames of controversy, which could lead to the tables quickly turning in the ever-fickle realm of entertainment.
"I think [he should] just to be dignified and don't gloat," Shalit said of Rock. "Just take the moral high ground. Chris Rock has probably got skeletons in this [closet]. So the last thing he should do is gloat and then have [scandals] come out."
Retaining Popularity
Nierman, author of Crisis Averted, agreed that Rock's road to retaining his bump in popularity truly rests on him doing very little different to what has already been done.
"Chris Rock just needs to keep doing exactly what he is doing," Nierman told Newsweek. "While some could take issue with the joke he made, you would be hard-pressed to find fault in anything he did in the moments or days following the slap heard 'round the world.'"
In an interview with ABC's Good Morning America, which aired on Friday, Oscars producer Will Packer said that Los Angeles Police Department officers were "prepared" to arrest Smith on the spot following the incident.
"They were saying, you know, this is battery was the word they used," Packer said. "They said, 'We will go get him; we are prepared. We're prepared to get him right now.'"
"'You can press charges,'" Packer quoted the officers as saying. "'We can arrest him.' They were laying out the options, and as they were talking, Chris was being very dismissive of those options. He was like, 'No, I'm fine.' He was like, 'No, no, no.'"
Following the ceremony, the LAPD said in a statement: "The individual involved has declined to file a police report. If the involved party desires a police report at a later date, LAPD will be available to complete an investigative report."
The Academy of Motion Pictures Arts and Sciences, which governs the Oscars, has claimed that Smith was asked to leave Sunday's awards ceremony after slapping Rock but he "refused" to leave.
It was also revealed by the Academy that Smith is facing disciplinary action that could include suspension, expulsion or other sanctions.
A representative with the Academy said Smith has been given the opportunity to defend himself from repercussions in the form of a written response before the board meets again on April 18.