Chris Wallace Quits Fox News for CNN After Years of Trump Attacks, Challenging GOP
Fox News anchor Chris Wallace announced on Sunday that he is leaving the cable network for CNN after 18 years, following years of attacks from former President Donald Trump and regularly confronting Republican and Democratic lawmakers alike on his Fox News Sunday program.
Although Fox News is widely viewed as favorable to conservatives and Republicans, Wallace, 74, stood out as one of the network's key journalists routinely challenging GOP lawmakers and the former president. As a result, Wallace drew regular backlash from Trump.
"Eighteen years ago, the bosses here at Fox promised me they would never interfere with a guest I booked or a question I asked. And they kept that promise. I have been free to report to the best of my ability, to cover the stories I think are important, to hold our country's leaders to account," Wallace said during his Fox News Sunday program this weekend, announcing his departure.
The journalist said his time at Fox News has been "a great ride."
"It may sound corny, but I feel we've built a community here. There's a lot you can do on Sunday mornings. The fact you've chosen to spend this hour with us is something I cherish. But after 18 years, I have decided to leave Fox. I want to try something new, to go beyond politics to all the things I'm interested in. I'm ready for a new adventure," he explained.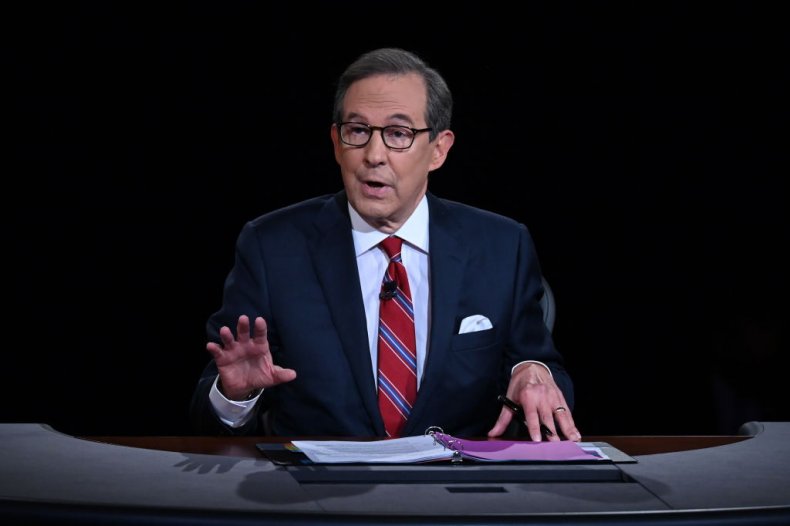 In a statement emailed to Newsweek, Fox News expressed its pride in the work that Wallace has done for the network.
"We are extremely proud of our journalism and the stellar team that Chris Wallace was a part of for 18 years. The legacy of Fox News Sunday will continue with our star journalists, many of whom will rotate in the position until a permanent host is named," the network said.
Shortly after Wallace made his announcement on Fox News, CNN confirmed that he would be joining the network's new streaming service CNN+, which is launching in early 2022. Wallace confirmed the news in a statement as well.
"I am thrilled to join CNN+. After decades in broadcast and cable news, I am excited to explore the world of streaming. I look forward to the new freedom and flexibility streaming affords in interviewing major figures across the news landscape—and finding new ways to tell stories," the journalist said.
Although Fox News is generally viewed as favorable to Trump with its coverage, the former president regularly took issue with Wallace.
"Why does Fox News keep Chris Wallace?" Trump said in a June statement. "His ratings are terrible, he's 'almost' Radical Left, he was acknowledged to have failed badly as a Presidential debate moderator (except for Biden who he totally protected!), and so much else. Usually, these are not the qualities of a long-term stay!"
In 2019, Trump criticized Wallace for speaking favorably of then-Democratic presidential candidate Pete Buttigieg, who now serves as President Joe Biden's Secretary of Transportation.
"Hard to believe that @FoxNews is wasting airtime on Mayor Pete, as Chris Wallace likes to call him. Fox is moving more and more to the losing (wrong) side in covering the Dems," Trump tweeted in May 2019.
"Chris Wallace said, 'I actually think, whether you like his opinions or not, that Mayor Pete has a lot of substance...fascinating biography.' Gee, he never speaks well of me," the then-president added in a follow-up post.
In November 2019, Trump described Wallace as "nasty" and "obnoxious" on Twitter after the Fox News host interviewed GOP Representative Steve Scalise of Louisiana. "This kind of dumb and unfair interview would never have happened in the @FoxNews past," Trump tweeted.
A month later, Wallace took aim at Trump for regularly attacking the media.
"Now let's talk about the president. He has done everything he can to undercut the media, to try to delegitimize us. And I think his purpose is clear: To raise doubts when we report critically about him and his administration that we can be trusted," Wallace said during a speech at the Newseum in Washington, D.C.
While Wallace spoke favorably of Fox News in his departure message, urging his viewers to "keep watching," some quickly began speculating that he'd been pushed out.
"Just like the increasingly authoritarian Republican Party, when organizations radicalize, the moderates either get purged or purge themselves," Brian Klaas, an associate professor in global politics at University College London, tweeted, sharing the news of Wallace's departure.
Wallace's departure came after several analysts quit Fox News due to controversial host Tucker Carlson's documentary, Patriot Purge. The special, which began streaming on Fox Nation on November 1, was slammed by critics for spreading misinformation about the pro-Trump January 6 attack on the U.S. Capitol—suggesting it was a "false flag" operation.
Two longtime Fox News commentators—Stephen Hayes and Jonah Goldberg—left their roles at the network after Patriot Purge aired. They cited their opposition to the misinformation as a breaking point.
"It traffics in all manner of innuendo and conspiracy theories that I think legitimately could lead to violence. That for me, and for Steve, was the last straw," Goldberg told NPR in an interview. The outlet further reported that Wallace, as well as Fox News host Bret Baier, raised objections to Carlson's special with the network's executives.
Prior to joining Fox News in 2003, Wallace worked for NBC News and ABC News. He is the son of legendary CBS News journalist Mike Wallace.