Weed Dispensary Near Me—Here's Where You Can Legally Buy Marijuana
A controversial database allows cannabis users to see where they can legally buy marijuana across the U.S.
The database "Weedmaps" allows Americans aged 21 or over to narrow dispensing locations down by individual states, towns, and then particular stores. The Weedmaps website describes itself as "a community connecting cannabis consumers, patients, retailers, doctors, and brands since 2008."
The site has been controversial since its inception, and back in 2018, Lori Ajax, California's marijuana regulator, warned the company could face civil or criminal charges for promoting 900 unlicensed dispensaries in the state. The move was seen as part of Ajax's drive to stamp out the state's cannabis black market. Weedmaps did later go on to drop hundreds of unlicensed marijuana retailer ads from its site by its self-imposed deadline of New Year's Day, 2020.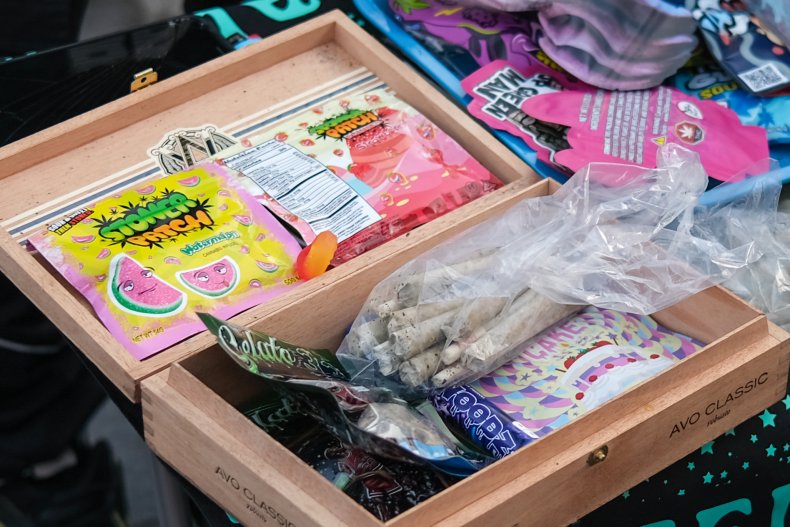 Nevertheless, the advertising site continued to grow and in December 2020 went public through a deal that valued the company at a whopping $1.5 billion.
Interest in sourcing cannabis peaked this month on 4/20, or April 20, a date traditionally associated with the drug.
One of America's most famous cannabis enthusiasts, Tommy Chong, used the date to renew his calls to downgrade cannabis from a Schedule I drug. The classification means marijuana is currently categorized as a drug "with no currently accepted medical use and a high potential for abuse." Nevertheless, the drug is legal in several states for medicinal or even recreational purposes.
The 83-year-old actor—who made a string of marijuana-themed albums with the Cheech & Chong double act—discussed the issue of drugs on the Status Coup podcast with host Jordan Chariton. He said that if "Joe [Biden] were hip, he would've come in and rescheduled weed, because that scheduling is one that's kind of stopping everything from the flow."
The Schedule I classification means marijuana sits on the same list alongside heroin and LSD. Other opioids, such as oxycodone (OxyContin), are classified as Schedule II drugs, which may have medical purposes but carry a high risk of dependency.
But the president's proposed federal budget for 2023 indicated that he wants the ban on recreational marijuana sales in Washington, D.C. to continue. He has previously said he would refuse to legalize marijuana nationwide until more research on the substance has been carried out.
During a town hall event in Las Vegas in November 2019 when he was campaigning for the presidency, Biden said: "The truth of the matter is, there's not nearly been enough evidence that has been acquired as to whether or not it is a gateway drug. It's a debate, and I want a lot more before I legalize it nationally. I want to make sure we know a lot more about the science behind it."
Nevertheless, Biden also confirmed he was not completely against cannabis use, saying he backs its use for medical purposes and said: "States should be able to make a judgment to legalize marijuana."
Newsweek has reached out to Weedmaps for comment.