Mask Burning March Planned As Ron DeSantis Rejects Vaccine Passport
A group of Florida residents is planning a mask burning and march on April 10 in Fort Lauderdale, Broward County. Face coverings have been required across the county since April last year.
The event was announced on Monday as Florida Gov. Ron DeSantis said he would introduce "an executive function" to oppose a vaccine passport system, which would require people to show proof of COVID-19 vaccination to access businesses and services.
"We are not supporting doing any vaccine passports in the state of Florida," the governor said at a press conference on Monday.
There is no statewide mask mandate in Florida, but local orders have been issued in counties such as Broward, Miami-Dade and Orange.
Last September, DeSantis issued an executive order barring individuals from being fined for not wearing masks. He also lifted restrictions on businesses such as restaurants, which may operate at 50 percent capacity.
The "Million Maskless March and Mask Burning" is being held to mark "one year of mask tyranny in Broward County," according to its web page. It is being organized by ReOpen South Florida, UnMasking America and the Libertarian Party of Broward County.
The web page states: "The mask burning is in full cooperation with local law enforcement and will be done in a safe and controlled manner. April 10 marks one year of mask tyranny in Broward County and we will mark that date with a celebration of freedom!
"April is a very busy time for Ft Lauderdale Beach and this is exactly why this location was chosen…our goal is for people to see us and be inspired to join in!"
The mask burning will be followed by a march and the event is expected to end by 5pm. It is not known how many people will take part.
Newsweek has contacted the governor's office, Fort Lauderdale Police Department and Broward County's health department for comment.
At the press conference on Monday, DeSantis said: "I'm going to be taking some action…we need the legislature to come in and just say this [a vaccine passport system] is not happening in Florida."
He added that COVID-19 vaccinations would not be compulsory in Florida, saying it was "completely unacceptable" for private entities or the federal government to require people to show proof of vaccination to participate in "normal society."
The governor said Florida was "not supportive of that" and people had "certain freedoms and individual liberties to make decisions for themselves." Vaccine passports had "huge privacy implications," he added.
"No one was more aggressive about getting [vaccines] out … We always said we want to provide it for all but mandate it for none," DeSantis said.
The White House has ruled out introducing a nationwide vaccine passport, saying it would leave the private sector to develop its own systems. But the administration is developing guidelines for such passports, covering issues of privacy, accuracy and equity. The White House has yet to announce when these guidelines will be released.
Dr. Anthony Fauci, America's top infectious disease expert, told Newsweek in December that everything would "be on the table for discussion," when asked about vaccine passports and mandatory vaccinations at a local level.
"I would not be surprised, as we get into the full scope of vaccination, that some companies, some hospitals, some organizations might require vaccination," said Facui, the chief medical adviser to President Joe Biden.
Total confirmed cases in Florida are approaching 2.1 million, with more than 33,000 deaths reported up to Wednesday, according to Johns Hopkins University.
Fears of a surge in COVID-19 infections across the state were raised after spring break crowds began arriving in early March.
Florida has reported "a growth in new cases over the past two weeks," according to Johns Hopkins. The state's seven-day average of cases rose sharply in late March, after declining since January.
More than 9.4 million doses of COVID-19 vaccine have been administered in the state, according to the latest figures from the U.S. Centers for Disease Control and Prevention.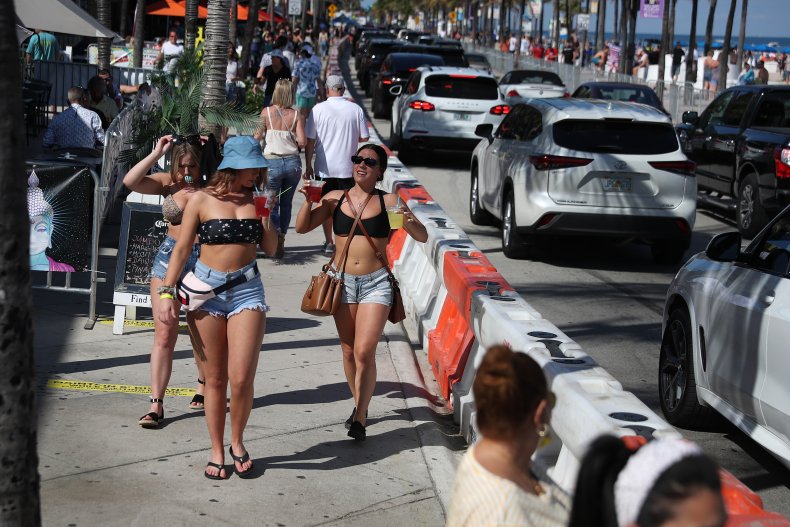 The wider picture
Coronavirus has infected more than 128.4 million people, including over 30.4 million in the U.S., since it was first reported in Wuhan, China.
More than 2.8 million people have died worldwide and more than 72.8 million have recovered as of Wednesday, according to Johns Hopkins.
The graphic below, produced by Statista, shows the number of COVID-19 vaccine doses produced and exported by various countries.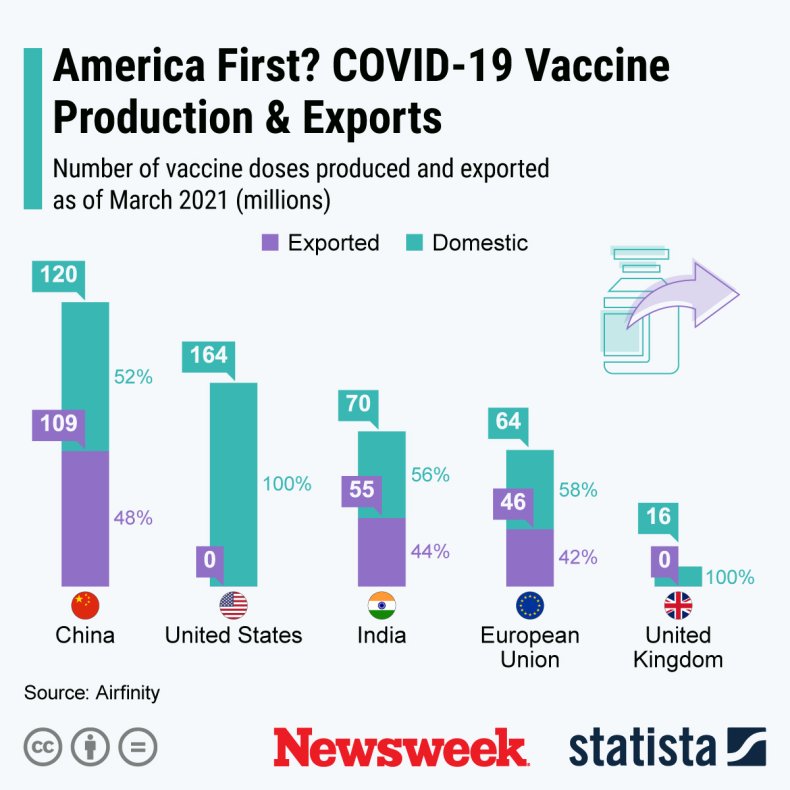 The graphic below, produced by Statista, shows the spread of COVID-19 across the U.S.