Spring Break COVID Surge as Florida Infections Rise After Crowds Arrive
Florida has seen "a growth in new cases over the past two weeks," according to the latest data compiled by Johns Hopkins University (JHU). The state's average case count on Sunday marked a rise of over 24 percent from the figure reported two weeks ago.
The latest rise was reported following the arrival of spring break crowds in Florida from early March.
On March 28, Florida's seven-day average of cases was reported to be 5,587.25. The latest average case tally was an increase of 1,096.12 (a rise of over 24 percent) from the 4,491.14 recorded two weeks earlier on March 14, according to JHU.
The state's seven-day average of cases rose on a sharp incline from around March 20, when it was at 4,584, after declining for months from January, including from early March when spring breakers began arriving.
Speaking to Newsweek previously, Dr. Anthony Fauci, America's top infectious diseases expert, said: "At least two to 2.5 weeks, maybe even three, between two and three weeks from when the travel started, that's when you're going to see the peaks," commenting on cases reported following the Thanksgiving holiday back in early December.
"The reporting is not accurate for the next few days following a holiday. So what you see is an artificial dip in everything—in cases, in deaths," Fauci said at the time.
Several groups of people have been pictured socializing in close proximity on beaches and packed bars in Miami Beach, Fort Lauderdale and Panama City Beach in Florida, according to images captured by Getty and Reuters as well as videos shared on social media.
There is no statewide mask mandate in place in Florida. But local orders have been issued in some areas, including Miami-Dade, Broward (whose county seat is Fort Lauderdale) and Orange counties.
Last September, Florida Gov. Ron DeSantis issued an executive order barring individuals from being fined for not wearing masks. He also lifted restrictions on businesses such as restaurants, which may operate at 50 percent capacity.
"Every business has the right to operate," DeSantis said at the time. "Some of the locals can do reasonable regulations. But you can't just say no."
Last Saturday, Miami Beach City Manager Raul Aguila declared a state of emergency across the city following "significant concerns relating to larger than expected spring break crowds" raised by the Miami Beach Police Department.
The city imposed an 8 p.m. curfew last Saturday in its entertainment district as well as traffic restrictions following concerns over unruly spring break crowds amid the ongoing COVID-19 pandemic.
The curfew was extended for a week and could be in place through April if needed, city officials said last Sunday.
Miami Beach Mayor Dan Gelber blamed DeSantis for contributing to the largely unmasked and non-socially distanced spring break crowds that descended on the popular vacation spot.
In an interview last Tuesday with Fox Business anchor Neil Cavuto, Gelber said: "I don't think we've done a great job statewide.
"What I think we didn't do well enough was really preach to people with one voice that they need to wear a mask and be smart.... [Visitors] were not getting that here. They were getting a lot of mixed messages, and I think that hurt us."
On March 12, the governor said: "To even contemplate doing any kind of lockdown, honestly it's insane, so that's not going to happen in the state of Florida.
"We like the fact that people have been able to work here...so we're going to continue doing what works, but under no circumstances would we entertain doing anything of the sort," DeSantis said at the time.
Newsweek has contacted DeSantis and the Florida Department of Health for comment.
Total confirmed cases in Florida have surpassed two million, with 33,178 total reported deaths, as of Monday, according to JHU.
A total of 9,271,008 COVID-19 vaccines doses have been administered across the state, according to the latest report Sunday from the U.S. Centers for Disease Control and Prevention (CDC).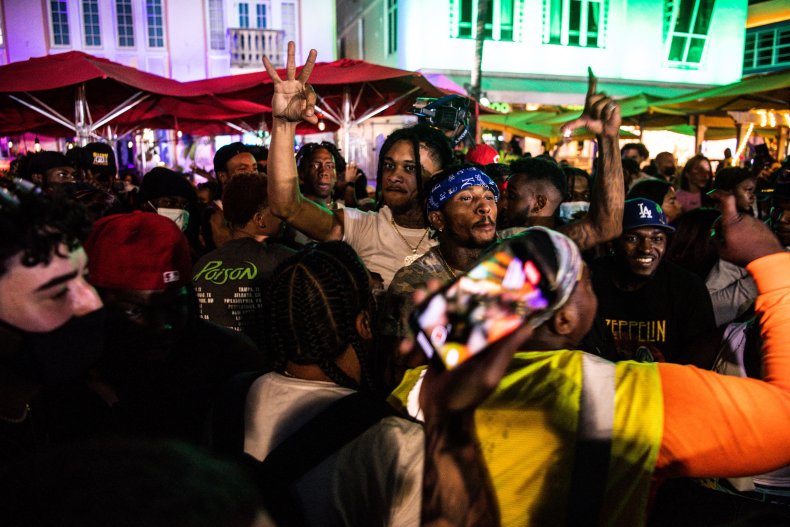 The wider picture
Coronavirus has infected more than 127.3 million people, including over 30.2 million in the U.S., since it was first reported in Wuhan, China.
More than 2.7 million people have died worldwide and more than 72.2 million have recovered as of Monday, according to JHU.
The graphic below, produced by Statista, illustrates countries with the most COVID-19 vaccine doses administered per 100,000 people.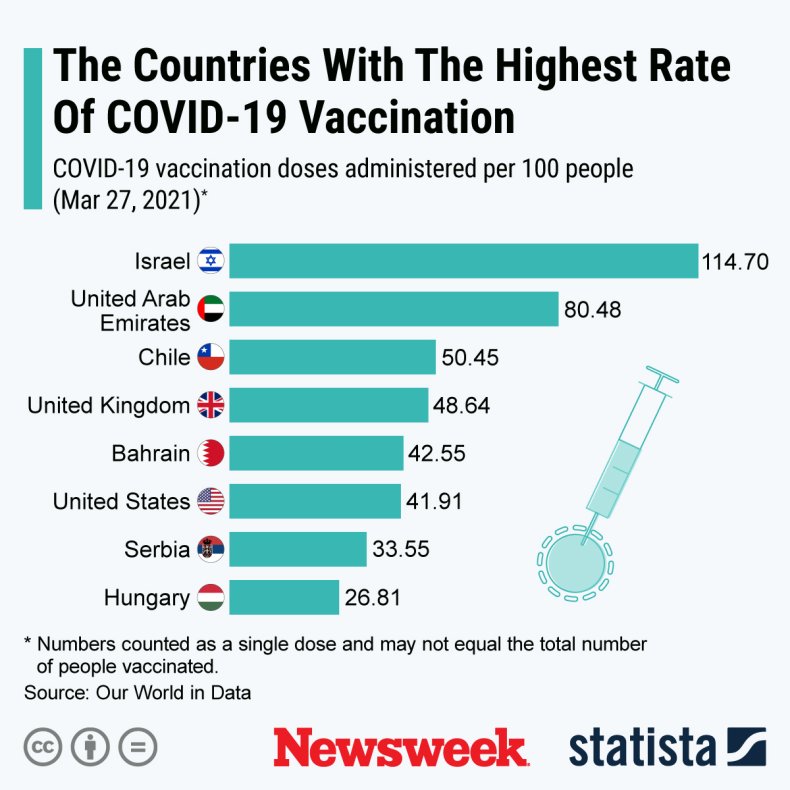 The graphic below, produced by Statista, shows the spread of COVID-19 vaccine across the U.S.