Fury Over Dad Inviting 8 Relatives to Stay on Week of Daughter's Wedding
A father has come under fire for being a little too accommodating in the run-up to his daughter's wedding day.
Traditionally speaking, the father of the bride's main duties center around walking his daughter down the aisle and delivering a heartfelt speech during the wedding reception.
However, event planner and wedding industry educator Kawania Wooten said there's a little more to it than that. "I consider the father of the bride a great resource for helping you find your center when things get crazy," she told Brides. "Above all, he's a support system."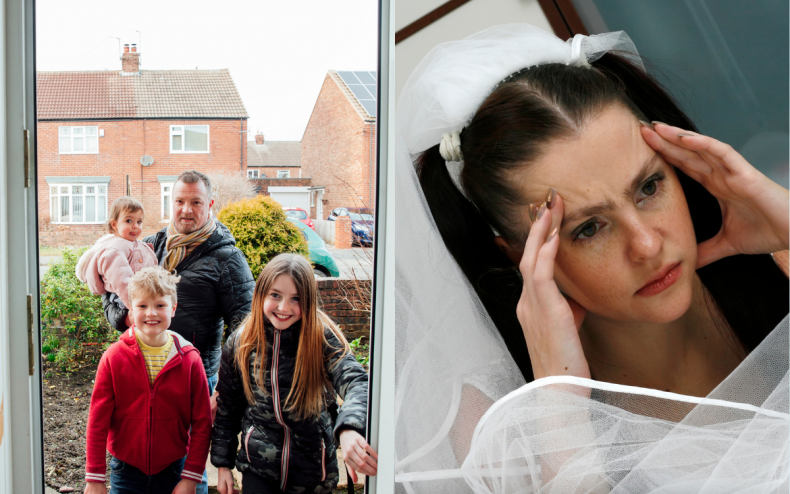 Wooten said the father of the bride should be on hand to help smooth over any difficulties, make tough decisions, and, most importantly of all, keep the bride happy and calm.
However, according to a post shared to Mumsnet, one doting dad's eagerness to help ahead of the big day may have landed him in hot water with the bride-to-be.
Writing under the handle CakeFiend8, the mother of the bride complained that her husband may have overcomplicated matters after inviting two families to stay in their house in the days leading up to their daughter's big day.
The problem? They currently reside in a two-bedroom property and have no spare rooms. "The two families consist of his niece, her husband and their 2 children, and his [brother and] sister-in-law and their two children," she wrote.
"My husband said we will give one family our bedroom while we sleep wherever there's a couch, and the other family will take the front room with a sofabed." The worried mom said her husband is Italian and there is a tradition among him and his relatives for "putting up the family" when they visit.
However, under the circumstances, she feels it's far from ideal. "It's the week of our daughter's wedding which will surely be chaotic just waiting for the bathroom in the morning with 11 people in the house!" she said. The mother-of-the-bride went on to accuse her husband of "steamrolling over not just his daughter's feelings, but his wife's too." She added: "It's adding to my daughter's anxiety, who is already stressed out with wedding plans, and me, as mother of the bride, I'm having kittens!"
The mom wasn't alone in expressing shock at the dad's decision either. Commenting on the post, Nanny0gg said: "Tell him either he apologizes and rescinds the invitations or you will whilst laying the blame firmly at his feet." Mrcow concurred, writing: "He needs to fix this. No one should be staying."
"You don't want you or him to be overtired and risk it all ruining the wedding," justalittlebitfurther commented. "The priority here has to be your daughter and yourselves!" Speaking from personal experience, HappyHarpy said: "My daughter got married last Friday and there is absolutely no way I could have coped with that... She really wanted her bridesmaids to stay over the night before and that took priority over anything else."
TheFormidableMrC added: "I'd tell him you and your daughter are moving into a hotel for a week so that you can relax and enjoy the build up and preparations and he can host his family and all that comes with it."
CakeFiend8 later returned to confirm they are now considering renting out an Airbnb for the bride ahead of her big day.
Newsweek was not able to verify the details of the case.
Has a wedding come between your relationship with a loved one? Let us know via life@newsweek.com. We can ask experts for advice, and your story could be featured on Newsweek.