Representative Dan Crenshaw, a Republican from Texas, was confronted by a group of protesters at the Texas Republican convention on Saturday who yelled at him, followed him and appeared to clash with staff.
In a video shared on Twitter by Alex Stein, Stein can be heard yelling "eye patch McCain" at the lawmaker and calling him a "globalist RINO." Others can be seen following and yelling at Crenshaw as he walks through a hall at the convention.
Last month, Fox News host Tucker Carlson called Crenshaw "eye patch McCain" while he was criticizing the congressman over his support of funding for Ukraine amid Russia's ongoing invasion.
Crenshaw is a former Navy SEAL who lost an eye while fighting in Afghanistan.
In another video shared to Twitter from the Republican convention, user Alex Rosen asked the congressman about funding for Ukraine and red flag laws.
Crenshaw has said he doesn't support red flag laws, but in the wake of last month's mass shooting at Robb Elementary School in Uvalde, Texas, he said he would support expanding background checks for gun sales for those who are between 18 and 21 years old to include their "juvenile history."
In the video, Rosen shouts questions at the GOP lawmaker and follows him through the building. The video shows what appear to be staff members trying to keep a man with a camera, who is aggressively approaching Crenshaw, away from the congressman.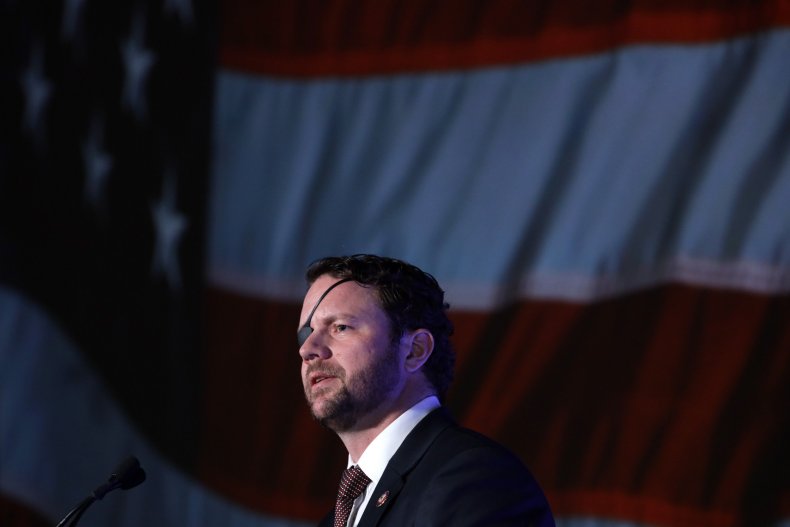 After Crenshaw leaves the area, conference attendees in a large room can be heard calling him a "sellout."
A man in a red "Make America Great Again" hat then yells: "Dan Crenshaw is a traitor! He needs to be hung for treason."
Newsweek has reached out to Crenshaw's office and the Texas Republican Party for comment about the incident.
Responding to the incident on Twitter, Crenshaw retweeted a Mediaite story about the protesters and wrote: "This is what happens when angry little boys like@alexstein99 don't grow up and can't get girlfriends..."
The incident at the convention comes after Senator John Cornyn, another Texas Republican, was met with boos at the event on Friday. Cornyn has recently helped lead bipartisan negotiations on a gun bill following the Uvalde school shooting. The framework of the proposal includes improving background checks for those under 21 years old, allocating funds for mental health treatment and school security, and grants to states to enforce red flag laws.
A video captured by news station KHOU showed that Cornyn faced boos and jeers from a crowd while explaining his work on the gun legislation during a speech.
The Texas State Republican Convention began on Thursday and runs through Saturday.