Dave Chappelle's Grammy Win for 'Transphobic' Netflix Special Slammed
Dave Chappelle's Grammy win for Best Comedy Album on Sunday for his controversial Netflix standup special The Closer has sparked backlash on social media.
His 2021 standup show caused an outcry amongst the LGBTQ+ community as it was labeled "transphobic" by many. He last year stood by his comments during another Netflix special, calling students who criticized him "instruments of oppression."
Despite the uproar, Chappelle, 49, was the victor in his category at the 65th Grammy Awards, beating the likes of Louis C.K. for Sorry, Jim Gaffigan (Comedy Monster), Randy Rainbow (A Little Brains, A Little Talent), and Patton Oswalt (We All Scream).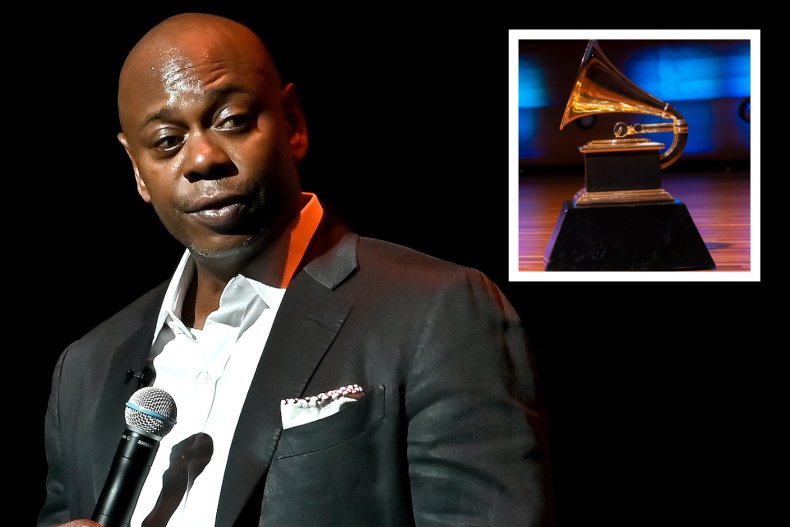 His win comes one year after Louis C.K. scooped the prize for Sincerely Louis CK, his first comedy album after his past sexual misconduct offenses were revealed.
While Chappelle was not on hand at the Grammys Premiere Ceremony to collect his trophy, which was accepted on his behalf by presenter Babyface, there was an uproar from a number of Twitter users.
Eric Deggans, NPR's TV critic and media analyst, wrote on the micro-blogging platform: "Wow. Grammys really don't care; one year after giving an award to admitted harasser Louis C.K., they gave one to Dave Chappelle's homophobic and transphobic Netflix special. Sigh."
Another described Chappelle's comedy as "drunk uncle at Thanksgiving level stuff. Somebody, anybody, must have produced a funnier standup special last year."
"But cancel culture is ruining entertainment," another sarcastically quipped, rounding out their tweet with a woozy face emoji.
Echoing that sentiment, another commented: "But wait I thought cancel culture is out of control??? Isn't that what Dave, Elon [Musk] and the goofies at Fox News always say, yet they constantly get awards."
Following Chappelle and Louis C.K.'s nominations for this year's Grammy Awards, Recording Academy CEO Harvey Mason Jr. told The Hollywood Reporter that the organization was not in control of who received nods.
"We don't control who the voters vote for," he told the outlet. "If the voters feel like a creator deserves a nomination, they're going to vote for them.
"We're never going to be in the business of deciding someone's moral position or where we evaluate them to be on the scale of morality. I think our job is to evaluate the art and the quality of the art. We can make sure that all of our spaces are safe and people don't feel threatened by anyone. But as far as the nominations or the awards, we really let the voters make that decision."
Following the release of The Closer, LGBTQ advocacy group Gay & Lesbian Alliance Against Defamation (GLAAD) said in a statement that "Chappelle's brand has become synonymous with ridiculing trans people and other marginalized communities."
One of the comments involved Chappelle saying: "Gender is a fact."
"Every human being in this room, every human being on earth, had to pass through the legs of a woman to be on earth," the comic said. "That is a fact."
Chappelle, who is expected to release more specials via Netflix, also included a line about trans women's genitalia, saying that it is "not quite what it is."
Amid the controversy, Netflix CEO Ted Sarandos at first defended Chappelle, saying: "We have a strong belief that content on screen doesn't directly translate to real-world harm."
With the backlash showing no signs of waning, though, Sarandos later told The Hollywood Reporter that he "screwed up" in regard to internal communications within the company about the special.
As the controversy escalated, an estimated 100 Netflix employees organized a walkout in October 2021. Netflix's handling of the situation eventually led to the resignation of Terra Field, a high-level engineer for the company and the founder of its transgender employee research group.
Ahead of the walkout, Netflix said in a press release: "We value our trans colleagues and allies, and understand the deep hurt that's been caused. We respect the decision of any employee who chooses to walk out, and recognize we have much more work to do both within Netflix and in our content."
Chappelle eventually addressed his comments, saying that, while he was open to meeting with transgender rights groups, he would not be "bending to anyone's demands."
"I said what I said, and boy, I heard what you said. My God, how could I not?" Chappelle said in a post on his Instagram. "You said you want a safe working environment at Netflix. It seems like I'm the only one that can't go to the office anymore."