'The Staircase': Who Is David Rudolf's Wife, Sonya Pfeiffer?
The Staircase on HBO Max is fast approaching its season finale and audiences still have many questions about what happened on the night of Kathleen Peterson's death on December 9, 2001. In particular, everybody wants to know if Michael Peterson really was his wife's killer.
Along the way, audiences also have questions about the Peterson family, his defense team, his former girlfriend Sophie Brunet, and documentarian Jean-Xavier de Lestrade.
After watching Episode 6 of The Staircase on HBO Max, titled "Red in Tooth Claw," audiences also want to know more about Michael Peterson's lawyer, David Rudolf and his wife, Sonya Pfeiffer.
In the episode, after Peterson loses his second appeal, Rudolf tells him he will be taking a step back from the case to be with his family, as he is getting married to Sonya Pfeiffer, who he met during Peterson's trial.
Newsweek has everything you need to know.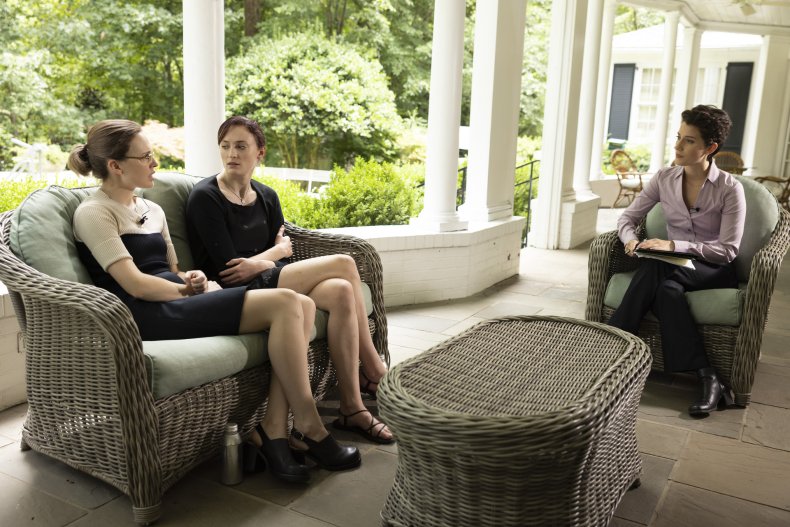 Who Is David Rudolf's Wife, Sonya Pfeiffer?
Sonya Pfeiffer is a criminal defense lawyer, podcaster, documentary-maker and former journalist.
At the time of Michael Peterson's trial in 2003, she was working as a reporter for ABC11/WTVD. This was when she met Michael Peterson's attorney, David Rudolf.
They married in May 2007 and have a daughter together.
Pfeiffer and Rudolf recently celebrated their 15th wedding anniversary, with Pfeiffer posting an adorable tribute to her husband via her Instagram page.
Alongside an image of them both, she wrote: "15 years ago today we said I do. To each other, to adventure, to the exciting unknown. I never imagined our adventure would include celebrating 15 years by isolating from each other in separate countries, but then again, we've never really done things the expected way."
"Thanks for rarely shooting down my crazy ideas, buckling in for all the rides, and squeezing every bit of life out of each day with me."
Pfeiffer began her law career working in the Mecklenburg County Public Defender's Office in the Misdemeanour and Felony Drug Unit before moving into business litigation with Womble Carlyle Sandridge and Rice LLP, according to her official bio.
In 2011, she joined Rudolf Widenhouse, her husband's law firm. Today, they split their time between Toronto and North Carolina. In Toronto, Pfeiffer works at Brauti Thorning LLP, specializing in criminal law and civil litigation.
They also own the Elder Gallery of Contemporary Art in Charlotte, North Carolina, with Pfeiffer serving as the creative director.
Speaking to Newsweek, Rudolf shared that representing Michael Peterson transformed his life in many ways.
He said: "It was an all-consuming case. It took over my life, both before the trial, during the trial, and then for substantial periods of time after the trial. And it really, as it turned out, changed the entire arc of my life. "
He continued: "I wouldn't have gone on a tour of the U.K. and Scandinavia and Australia but for that case. I wouldn't have met the person I'm married to right now but for that case, so I wouldn't have a daughter but for that case. So, you know, the impact is pretty significant, just in terms of the arc of my life, from that case, onward."
Today, Rudolf and Pfeiffer have a podcast called Abuse of Power thatdiscusses the ways in which the justice system and authorities can victimize the people they are supposed to protect.
He shared: "This renewed publicity gives me a platform and gives us [he and Pfeiffer] a platform to talk about the things that we really care about, to talk about the injustices in the alleged justice system, to talk about what needs to change and how things may be able to change.
"It's not limited just to the United States. I mean, there are problems in the U.K. as well. So that's the benefit to me. It's not that I make any money from this. It's just having the platform to be able, at this stage of my career, to share stories with people and to educate."
In The Staircase, Pfeiffer is played by The Walking Dead's Teri Wyble and has appeared sporadically in the series.
In Episode 2, she is seen interviewing Kathleen Peterson's daughter, Caitlin Atwater (played by Olivia DeJonge) about her relationship with her stepfather Michael Peterson. In Episode 3, Pfeiffer interviews Michael Peterson's adopted daughters, Margaret and Martha Ratliff (Sophie Tuner and Odessa Young).
The Staircase airs Thursdays on HBO Max and Sky Atlantic.