Over 200 Donald Trump Documents to Be Handed Over in Huge Court Defeat
A former White House aide in the Trump administration has been ordered by a judge to hand over between 200 and 250 emails from an encrypted account, as they were identified as relating to presidential business.
It comes after FBI agents raided Donald Trump's Mar-a-Lago residence in Palm Beach, Florida in August 2022 to obtain documents from his time in the White House under the Presidential Records Act (PRA). More than 13,000 documents were seized, 103 of which were classified.
The ruling by Colleen Kollar-Kotelly, U.S. district judge for the District of Columbia, on Thursday marks a stunning legal defeat for Peter Navarro, a former assistant to the president, who oversaw trade policy and, in the last few weeks of the Trump presidency, published a report alleging widespread election fraud.
Navarro refused to produce any of the emails until he had been granted immunity for the act of returning the records, court documents show, after which the lawsuit was filed by the United States government.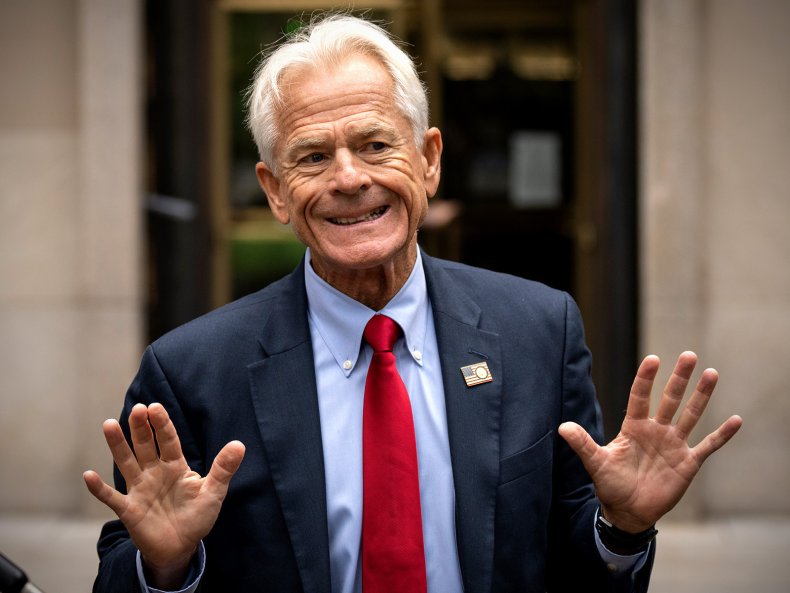 It is unclear exactly what the contents of the emails pertain to, and could prove damaging to Trump as he faces other legal challenges amid a 2024 presidential bid. The National Archives and Records Administration (NARA) first became aware of the emails on the private account through a House investigation into the White House's coronavirus pandemic response.
In her ruling, Judge Kollar-Kotelly said lawyers for Navarro had told officials in July 2022 that they had found more than 1,700 documents on his personal ProtonMail account using search terms provided by NARA.
Based on their review of these documents, they said that 200-250 of them were PRA records that should be returned to the nation. Kollar-Kotelly called for "immediate compliance" from Navarro that the court would oversee.
In her ruling, she noted that under the PRA, presidential aides must copy any records that relate to official business from non-official accounts to their government email account within 20 days, and to NARA at the end of the administration.
Kollar-Kotelly pointed to a February 2017 memorandum issued by the White House counsel's office, which informed employees of these requirements, stating: "presidential records are the property of the United States...When you leave [Executive Office of the President] employment, you may not take any presidential records with you."
"Plainly, he did neither during his tenure in the White House, nor has he forwarded Presidential record emails in the years since," the judge wrote in an at-times scathing judgment.
Kollar-Kotelly denied Navarro's motion to dismiss the case, describing his arguments as "without merit," and granted the motion put to her by the U.S. government.
Newsweek reached out to Navarro via email for comment.
For years, Trump has claimed various investigations and probes into his affairs as politically-motivated "witch hunts," and has suggested that the federal government was being used against him by his political enemies.
He was quick to draw a comparison between the FBI raid of his property and the revelations that Joe Biden, his successor as president, had also been found to have stored official documents in his home in Wilmington, Delaware, and his office at the Penn Biden Center in Washington, D.C.
However, while Trump's lawyers claimed ahead of the Mar-a-Lago raid that all classified documents had been handed over, Biden's lawyers notified the National Archives as soon as they discovered the documents in his personal possession.
Navarro was last year indicted for two counts of contempt of Congress over his refusal to comply with a subpoena issued by the House Committee on the January 6 uprising. He vowed to fight the case in a statement on his website.