It's Official: Donald Trump Chooses Mike Pence as Running Mate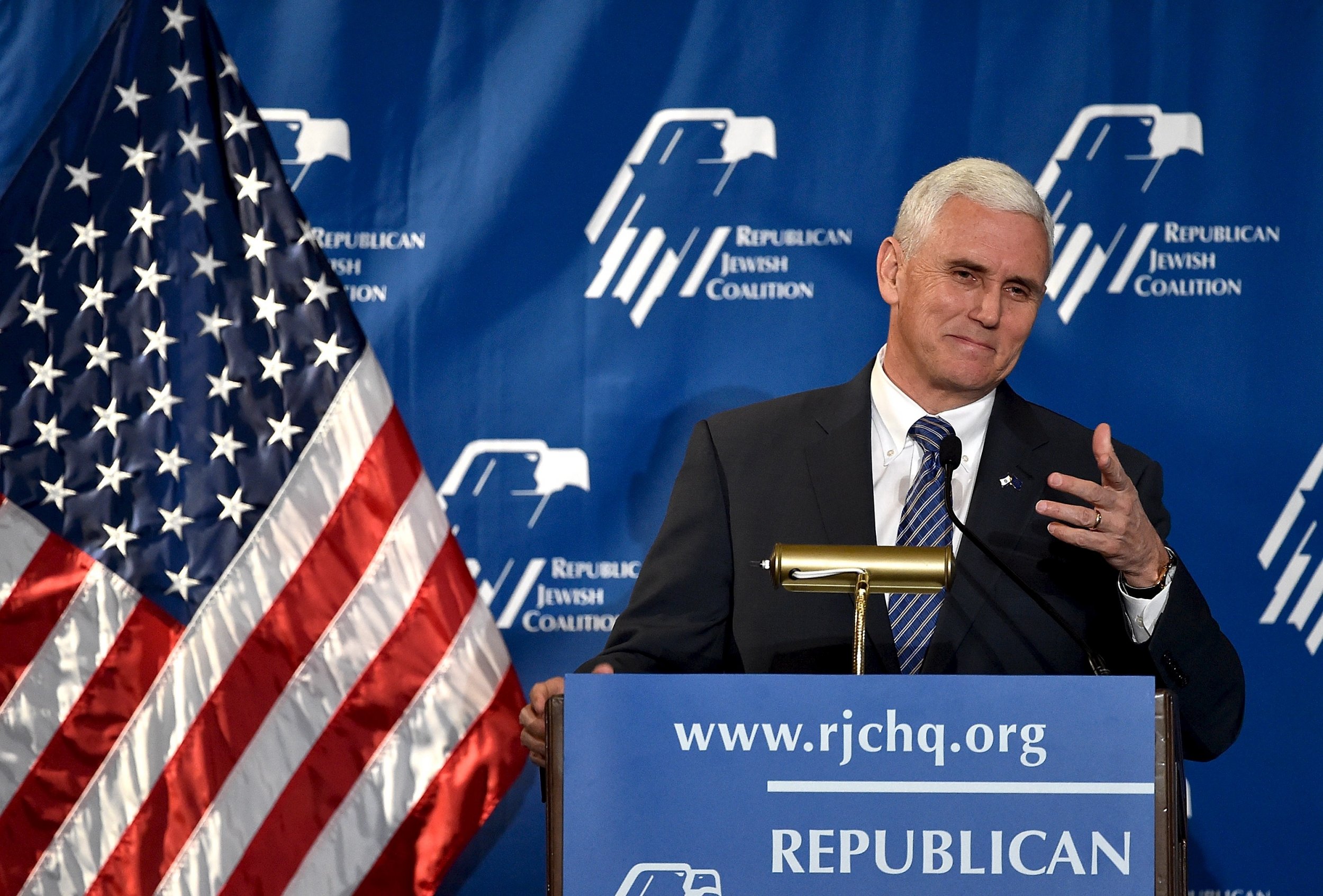 Donald Trump has chosen conservative Indiana Governor Mike Pence as his running mate. He announced his decision via Twitter Friday morning just before he had planned to hold a news conference announcing his choice—an event he postponed in the wake of the Thursday attack in Nice, France, that killed at least 84 people and injured dozens more.
Speculation about the presumptive Republican presidential nominee's choice of a running mate had intensified Thursday because Pence's name was left off the Republican National Convention speakers' list. Others who were considered top vice presidential contenders, including former House Speaker Newt Gingrich and New Jersey Governor Chris Christie, were on the list of those slated to address the crowd that will gather next week in Cleveland.
Before agreeing to become Trump's running mate, Pence had been in a tight re-election battle against Democrat John Gregg. Trump's postponement of the press conference seemingly caused a problem for Pence, because his deadline to withdraw from the Indiana governor's race was Friday at noon.
Pence spent Thursday night in New York City, where Trump had initially scheduled his press conference for 11 a.m. Instead, the real estate mogul made his pick public at 10:50 a.m. Eastern time through social media. He then scheduled a news conference for Saturday at 11 a.m. to officially publicize his decision.
By making the announcement so soon after saying he was postponing it, Trump to some is "going to look unpresidential, and as if he doesn't have the temperament to lead," says Maclen Zilber, a political consultant at Jacobson & Zilber Strategies. He compares Trump's announcement in the wake of the Nice attack to his actions following the United Kingdom's referendum on leaving the European Union on June 23. At the time, Trump was visiting Scotland, where he drew parallels between his campaign and the vote—and celebrated the outcome even while promoting the sprinkler system on his renovated golf course there.
"He had the right instinct to not want to monopolize the spotlight after the awful tragedy in France, and then he just couldn't help himself. Because when a camera is there, Donald Trump just wants to grab it," Zilber tells Newsweek.
Some had criticized Trump for delaying his announcement, saying he let France dictate domestic events. Others speculated he might change his choice based on reactions to the attack.
Pence tweeted about the tragedy on Thursday night, saying it "is a horrific reminder of the threat facing western civilization." He added: "We must resolve to bring to justice all those responsible and defeat this enemy of civilization at its source." Meanwhile, Trump on Twitter asked, "When will we learn?" Speaking to Fox News Thursday, he said, "This is war."
Since he announced his presidential bid last June, Trump has made comments that have offended many Muslims, Mexicans, women and veterans, but Zilber says the candidate hasn't gone "out of his way" to offend the LGBT community. Pence, meanwhile, last year signed a controversial religious freedom bill that critics said initially didn't extend legal protections to the LGBT community. The law was later amended to address criticisms from that community.
As Trump's running mate, Pence now may be forced to backtrack on his December tweet that said calls to ban Muslims from entering the U.S. are "offensive and unconstitutional." Although he didn't directly mention Trump, the governor's message seemingly was directed at him. A day earlier, Trump had offered his proposal in the wake of the deadly November attacks in Paris.
Also on Thursday, a movement to stop Trump from becoming the Republican nominee at next week's convention was all but ended. A coalition composed of individuals and several groups had hoped to unbind delegates from Trump, but the convention's Rules Committee, which decides on the official guidelines to govern the event, voted against that idea.