Who Is Mike Pence, Donald Trump's Running Mate?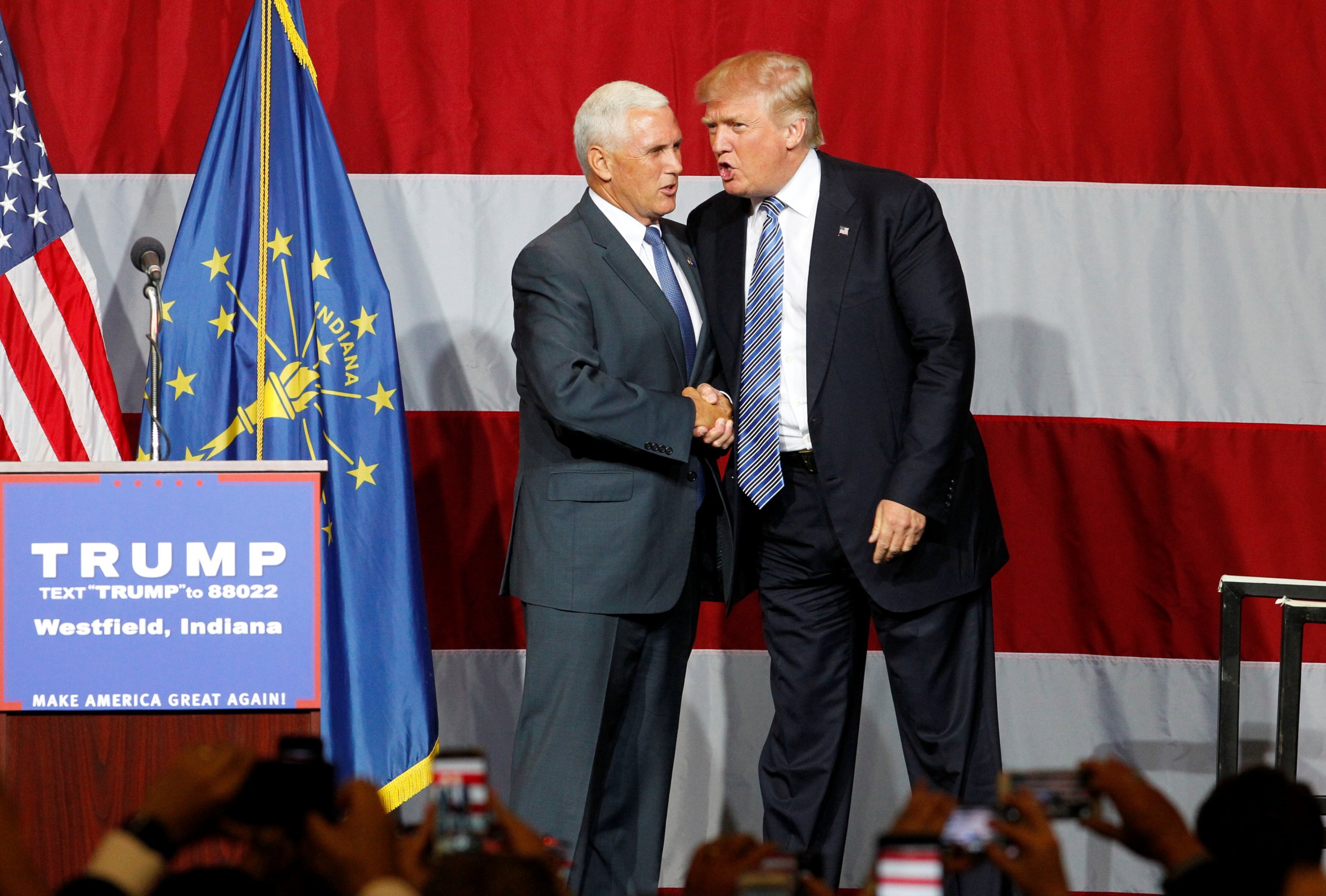 Updated | Donald Trump chose Mike Pence as his running mate on Friday, a day after the conservative Indiana governor was left off the Republican National Convention speakers' list. His absence quickly intensified speculation about Trump's choice, especially since the other apparent top contenders in the running mate pool were slated to address the crowd gathered at the convention in Cleveland next week. Those names included former House Speaker Newt Gingrich, New Jersey Governor Chris Christie, Alabama Senator Jeff Sessions and Retired Army Lieutenant General Michael Flynn.
Pence, a first-term governor who previously served six terms in Congress, spent most of Tuesday with Trump. He introduced the candidate at a rally in Westfield, Indiana, a speech some in the media deemed as Pence's audition for the vice presidential role. Then, Trump, his children and a top adviser met with Pence at his Indiana mansion for about an hour on Wednesday morning.
At the Tuesday rally, he commended Trump for being "successful on Wall Street," while saying "he's never turned his back on Main Street." He played on Trump's slogan, saying, "We can make America great again!"
"We're ready to put a fighter, a builder and a patriot in the Oval Office of the United States of America. We're ready for Donald Trump to be our next president," Pence said at Grand Park Events Center in Westfield. "We must elect this strong leader for one more reason: because Hillary Clinton must never become president of the United States of America."
Pence, 57, has described himself as "a Christian, a conservative and a Republican—in that order." Last year, he signed a controversial religious freedom bill into law. Critics said it could allow companies to deny services to gay and lesbian individuals for religious reasons; Pence said the measure would extend legal protections to religious business owners in Indiana. After the law stirred a national uproar, Pence made a revision saying businesses couldn't discriminate against gay residents. (Some Republicans have criticized him as having caved to pressure.)
Earlier this year, Pence signed one of the most restrictive abortion laws in the country, a measure that blocks mothers from seeking the procedure due to objections to the fetus's gender or race, or because the baby would be born disabled. And he led the Republicans' crusade to defund Planned Parenthood in Congress.
He also refused to allow Syrian refugees to settle in Indiana after entering the U.S. Last November, following the deadly attacks in Paris, Pence demanded that state agencies suspend the resettlement of additional Syrian refugees in his state.
An early believer in the Tea Party movement, Pence tepidly embraced former Trump rival Ted Cruz during the presidential primary season. And in a December tweet, he said that calls to ban Muslims from entering the United States are "offensive and unconstitutional." Although he didn't mention Trump, his message seemingly was directed at the Republican candidate because he tweeted it a day after Trump offered his now-controversial proposal.
Now a member of Trump's team, Pence is generally well-liked in Republican circles and could calm established party members who don't like what they see in the New York billionaire.
Pence has been the Hoosier State's governor since 2013. He formerly was in a tight race for re-election against Democrat John Gregg, but abandoned the bid when he became Trump's running mate.
Prior to his governorship, Pence represented Indiana's Sixth Congressional District in the House of Representatives, from 2000 to 2012. In 2005, he voted for a shield law that provides general immunity to the gun industry from lawsuits. The measure recently gained attention, mostly in the Democratic presidential race, because Bernie Sanders favored it while Hillary Clinton voted against it. Families affected by the massacre at Sandy Hook Elementary School in Newtown, Connecticut, currently are challenging the law in state court. As governor, he expanded a state version of the federal shield law, and he scores an A grade from the National Rifle Association on pro–gun rights policies.
While in Congress, he also voted in favor of national concealed carry reciprocity, a policy that would require each state to recognize other states' concealed carry permits.
He served as chairman of both the House Republican Conference and the House Republican Study Committee, the independent research arm for the conservative movement. Speaker of the House Paul Ryan earlier this week referred to Pence as a "personal friend."
Several prominent Republicans have publicly said they won't back Trump in the general election. His inflammatory remarks toward immigrants and women have given pause to some members of the party, while others are troubled by his policy stances (or lack thereof) on issues including the economy, foreign affairs and international trade, to name just a few.
Pence began his career as a talk-show radio host in the 1990s, with a style he described as "Rush Limbaugh on decaf." A lifelong Hoosier, he has been married to his wife, Karen, since 1985. They have three adult children: a son, who is a U.S. Marine, and two daughters.
Pence officially will become the vice presidential nominee at the national convention next week.
This story has been updated to include news of Trump's announcement.