Donald Trump Doubles Down on 'Woman' Attack on Hillary Clinton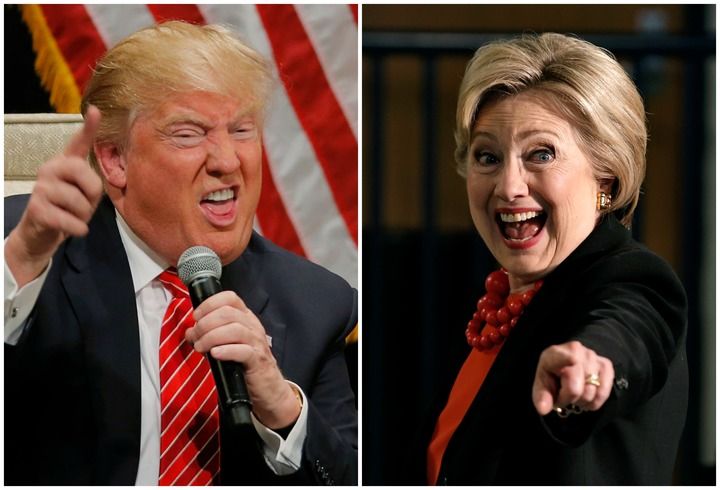 Two days after he initially mocked Hillary Clinton of playing up her gender in her campaign for the presidency with his "woman's card" comment, Donald Trump on Thursday continued his line of attack on the Democratic front-runner.
"The primary thing that she has going is that she's a woman and she is playing that card like I have never seen anybody play it before," Trump said Thursday morning on the Today show.
"Without the woman's card, Hillary would not even be a viable person to even run for a city council position," he added.
The Republican front-runner first made the comment about Clinton during his victory speech Tuesday night, when he swept five primary states over his rivals, Ted Cruz and John Kasich. He said Clinton would only receive 5 percent of the vote if she were a man, that "the only card she has is the woman's card" and that "the beautiful thing is, women don't like her, OK?"
Trump added on Today that "she has done a terrible job in so many different ways."
On Wednesday, viewers reacted to Trump's remarks by circulating a video on Twitter of Mary Pat Christie, the wife of Trump endorser and New Jersey Governor Chris Christie, as she stood behind the front-runner during his victory speech earlier this week. She appeared to subtly roll her eyes when Trump said Clinton only is getting votes from other women because of her gender.
In her own speech Tuesday night, Clinton touted her credentials. "If fighting for women's health care and paid family leave and equal pay is playing the woman card, then deal me in!" she said, as she celebrated four out of five primary wins over Bernie Sanders.
The former secretary of state is trying to become the country's first female president. She won 62 percent of women voters—over Sanders's 36 percent—in 25 states that have voted this year, according to the Associated Press.
Throughout his campaign, Trump has said "nobody respects women more than I do." Yet his rhetoric—including saying women should be punished for having an abortion, calling Fox News anchor Megyn Kelly a "bimbo" and insulting Carly Fiorina's face—has been heavily criticized.
A widely known advertisement created by Our Principles PAC, which was founded by a former Mitt Romney aide, features startled women reciting some of Trump's misogynist comments. "That must be a pretty picture, you dropping to your knees," one woman says in the ad, repeating a suggestive remark Trump made during an episode of Celebrity Apprentice, which he hosted before running for president.
On Wednesday, Cruz made a surprise announcement in naming Fiorina as his running mate. Trump quickly criticized the decision, saying his main opponent doesn't have a chance at winning the GOP nomination, and that he chose a woman vice presidential candidate who "failed badly" in her own presidential effort.
Following his six-state victories in one week, Trump has declared himself the presumptive nominee. Both the Republican and Democratic races head next to Indiana, where residents will vote in the state's standalone primary Tuesday. It's a winner-take-all contest and could be Cruz's last stand in the presidential race.
Social media users have mocked Trump and his comments with hashtags #womancard, #dealmein, #Imwithher and #mansplain.