Ted Cruz's Presidential Prospects Rest on Upcoming Indiana Primary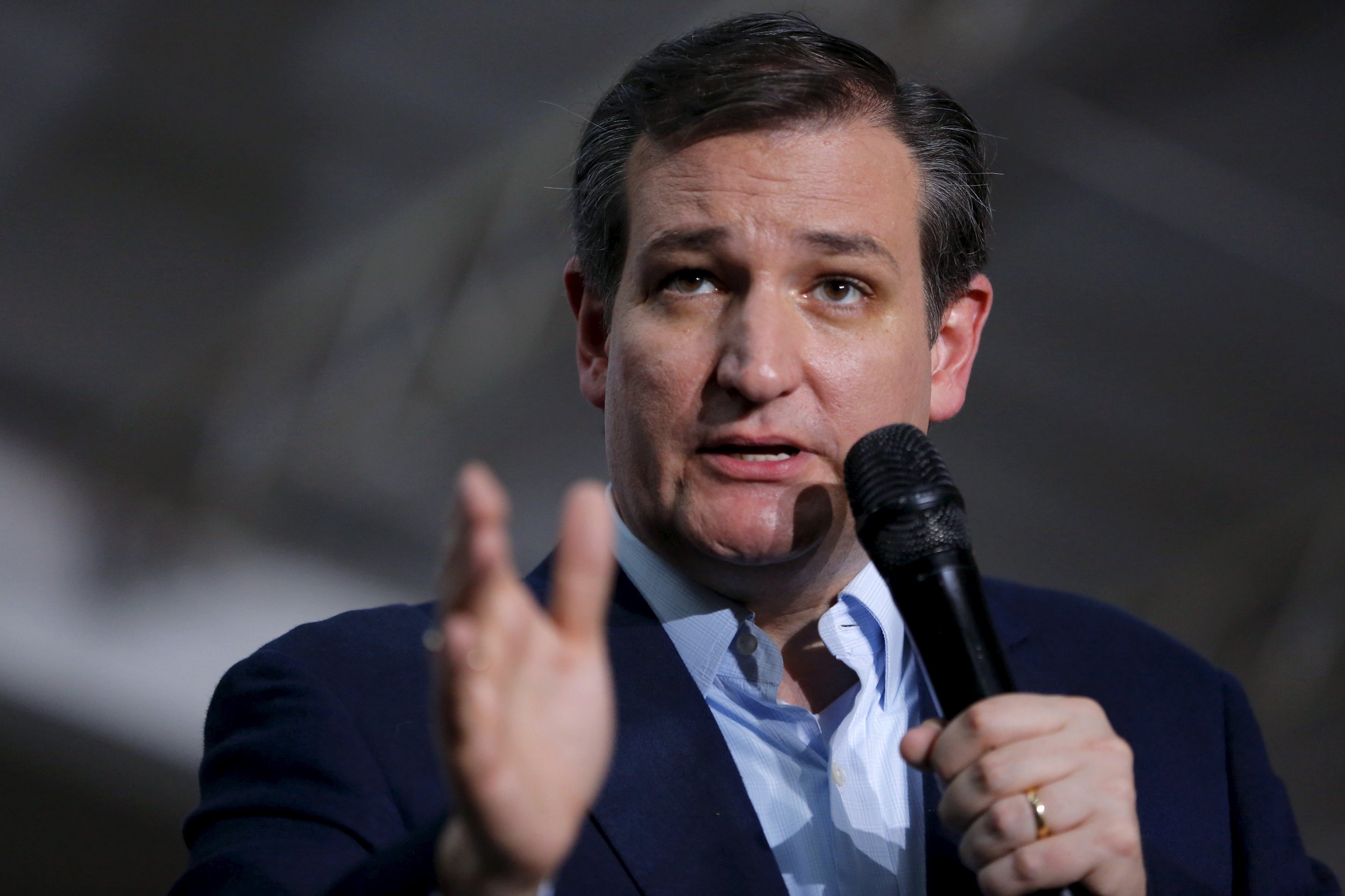 After being shut out in the last six Republican presidential primaries by front-runner Donald Trump, Ted Cruz now is making a big push for a victory in Indiana, a state crucial for the future of his presidential campaign.
The Texas senator has a week to convince the Hoosier State to vote for him before residents head to the polls for its standalone May 3 primary, a winner-takes-all contest with 57 delegates up for grabs. The recent primary results have diminished Cruz's chances of appearing on the general-election ballot this fall, and if Trump wins Indiana the GOP might be forced to back the billionaire as its 2016 presidential nominee.
As predicted by the polls, Trump swept all five states that held primaries Tuesday. In his victory speech, the real estate mogul called the day his biggest yet. His double-digit victories in Connecticut, Delaware, Maryland, Pennsylvania and Rhode Island completely shut out rivals Cruz and John Kasich. Just a week earlier, Trump also dominated the GOP field in his home state of New York.
"I consider myself the presumptive nominee, absolutely," Trump said Tuesday night, while surrounded by his family and New Jersey Governor Chris Christie. "Honestly, Senator Cruz and Governor Kasich should really get out of the race. They have no path to victory."
Of the 38 states and the District of Columbia that have voted thus far in the primary season, Trump has won 26, Cruz 10, former candidate Marco Rubio two and Kasich one—his home state of Ohio. The recent contests didn't confirm Trump as the Republican nominee, but they certainly propelled him closer to the 1,237 delegates needed to win the nod. Trump currently has 954 delegates and Cruz has 562. The billionaire is just 283 delegates short of becoming the party's nominee, and is on track to break the Republican record for the total popular vote—he already has passed that of 2012 Republican presidential nominee Mitt Romney.
But Cruz, a former Texas attorney general who was sworn into the U.S. Senate just three years ago as a favorite of the Tea Party movement, has vowed to continue fighting, and told his supporters in Indiana Tuesday night that he will succeed in upcoming Republican primaries in the Midwest and along the West Coast.
"Tonight, this campaign moves back to more favorable terrain. Tonight this campaign moves back to Indiana and Nebraska and North Dakota and Montana and Washington and California," he said to applause from the crowd gathered in Knightstown, Indiana. The rally was held inside the gym where the iconic movie Hoosiers was filmed.
Cruz has been in Indiana for days. On Tuesday, he skipped visiting any of the northeastern states holding primaries, instead hosting a rally just outside of Indianapolis. The presidential race has been in the Northeast—Trump's home turf—for the past few weeks. But the focus of the race has returned to the Midwest, where Cruz dealt a blow to Trump by taking home key victories in Iowa and Wisconsin.
Similar to Iowa, where Cruz spent much of his time appealing to large groups of politically engaged evangelical Christians, his conservative and religious values likely will pan out more favorably in Indiana, especially in the northeastern part of the state. While in Indiana, Cruz has highlighted his opposition to transgender rights for Americans. He has attacked Trump and Hillary Clinton, against whom he could compete in the general election, for supporting North Carolina's new anti-LGBT bathroom law.
"If Donald Trump dresses up as Hillary Clinton, he still can't go to the girl's bathroom," Cruz said over the weekend, at two separate campaign events in Indiana. Several states have initiated controversy recently by weighing or passing bills that require residents to use only bathrooms that correspond to their genders at birth.
"I am the father of two young girls. And it is basic common sense that a grown adult man, a stranger, should not be alone in a restroom with a little girl," Cruz said at a rally. "And anyone who says differently, that's just political correctness on steroids."
Neither Cruz nor Kasich will be able to match Trump's delegate count before the GOP convention in July. On Sunday, the two underdogs announced that they would bow out of races in certain states to clear the way for the other candidate: Kasich from Indiana and Cruz from New Mexico and Oregon. Their unprecedented collaboration is an effort to boost their individual favorability and thus stop Trump from clinching the Republican nomination.
But the question remains whether their alliance came too late in the election year. As NBC News's political director, Chuck Todd, said Tuesday on the Today show, "If they had cut it a month ago, we'd be in a different situation. Now, they're doing it out of desperation."
He added: "The Cruz people finally did it. Looking at the polling numbers simply in Indiana, the only way they could win in Indiana is to get Kasich out of the way."
While campaigning heavily in Indiana, Cruz simultaneously is investing in TV and radio advertising there. He has teased his "major announcement" at 4 p.m. Wednesday at a rally in Indianapolis, the state capital. He declined to provide additional details, but media reports speculate he will announce former presidential candidate Carly Fiorina as his potential running mate.
Fiorina, the former chief executive officer of Hewlett-Packard, suspended her campaign after a poor showing at the New Hampshire primary in February. She has appeared with Cruz on the campaign trail since March, when she endorsed him for president.