If Trump Rejects Election Results, Streets Could 'Overflow' With Protesters
President Donald Trump's possible rejection of November's election results if he were to suffer defeat could lead to mass protests across the United States.
The president on Sunday would not confirm he would accept the outcome, prompting a backlash from Democratic lawmakers.
What might happen should Trump dispute the results is unclear, with suggestions he would need allies to support him in any action he would wish to take in that instance.
Dana R. Fisher, author of the book American Resistance and a professor of sociology at the University of Maryland, told Newsweek she expects a push back from Trump over the outcome would spark demonstrations.
"If Trump refuses to accept the election results, we will see the streets overflow with outraged Americans," she said.
She referred back to the numbers who joined the Women's March in 2017, the day after Trump's inauguration, suggesting similar people who attended that would "be out en masse."
"Mainstream progressives, which include people who are more centrist in orientation, and their groups will no doubt encourage their networks to take to the streets if the President does not accept the election results and refuses to leave the White House," she said.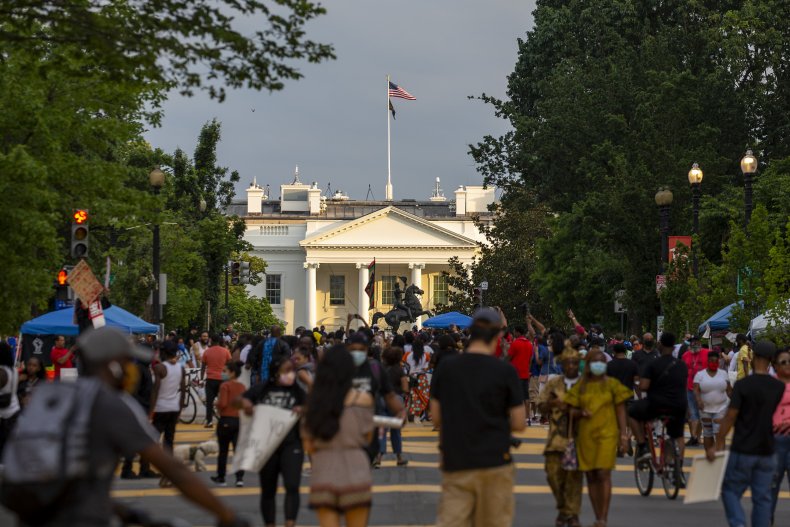 Fisher suggested the demographic attending the protests may be different to demonstrations currently ongoing across the United States.
"More people including older ones will be out in the streets," she said.
Noah Bookbinder, executive director of Citizens for Responsibility and Ethics in Washington (CREW), also suggested if the election result is tight a dispute, and demonstrations, could ensue.
"My hope and expectation is that if the results, as reported by the press, are clearcut, any attempt by the President to discredit them would be met with widespread opposition including by his political allies and at least some of his supporters. In that case, I think and hope that he would quickly back down," he told Newsweek.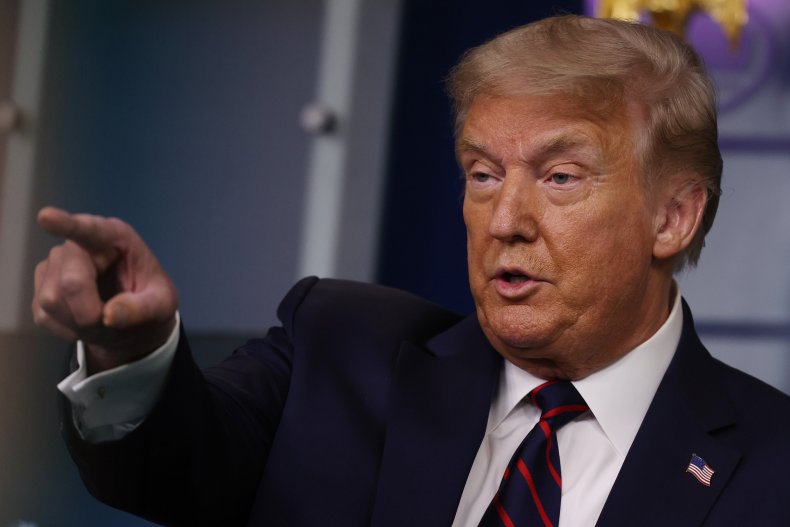 Democratic presidential candidate Joe Biden has a polling lead at present, though Trump's former challenger Hillary Clinton also did in 2016 at the same time.
"My concern is that, in a close election, efforts by the President to assert that the results cannot be trusted because of voter fraud or similar reasons could seem credible enough to his allies and supporters, even if utterly unsupported by the facts, to create chaos, protests and counter-protests, and perhaps ultimately a standoff with competing claims to the presidency," Bookbinder said.
Expanding on what actions CREW might take in such a situation, Bookbinder suggested the group would potentially back demonstrations.
"Obviously it will depend on the circumstances, but should the President actually dispute election results, I suspect CREW will call for condemnation and strong action from Congress and call for Americans to make their views known, including coming out into the streets in protest as necessary. I imagine that many parties will be looking into potential legal action under those circumstances as well," he said.
To avoid such a situation, Bookbinder suggested that lawmakers should push back against the president's comments.
"Members of Congress and political leaders of both parties, good government organizations, and regular Americans should right now be condemning the President's failure to say he will abide by the election results, and should make clear that they will not stand with him if he does dispute the results," he said.
"If he faces significant backlash from his comments, he may quickly back down, as he sometimes has in the past in the face of across-the-board criticism. If the response is muted, he will feel emboldened."
A joint project, led by groups Stand Up America and Indivisible, named 'Protect the Results' has been launched to "build the infrastructure to mobilize millions of Americans should Donald Trump take steps to undermine the outcome of the election."
Ryan Thomas, a senior spokesperson for Stand Up America, told Newsweek that a "large coalition of groups" was preparing to protest should they feel necessary.
"Trump poses an existential threat to our democracy and is already working to undermine the election," he said.
"Americans need to be ready to mobilize if Trump refuses to concede—and 'Protect the Results' is organizing a large coalition of groups to meet the moment if we need to take to the streets in protest."
Stand Up America previously suggested people be "prepared to mobilize" should Trump refuse to concede.
Newsweek has contacted the Trump campaign and the White House regarding the potential for protests.
This prospect comes amid continuing demonstrations across the U.S., which began following the death of George Floyd.
Federal agents have been deployed to Portland amid ongoing protests there, with concerns raised over their presence in the city.
The president has been criticized for his response to the demonstrations, with the gatherings coinciding with a dip in his approval ratings.
Trump's avoidance on committing to accept the election results comes after making frequent attacks on mail-in voting.
He has suggested, without evidence, this could undermine November's outcome.
Tim Murtaugh, director of communications for the Trump campaign, previously said "we don't know what kind of shenanigans Democrats will try leading up to November."
"If someone had asked George W. Bush and Al Gore this same question in 2000, would they have been able to foresee the drawn out fight over Florida? The central point remains clear: in a free and fair election, President Trump will win," he added.