A Short History of Donald's Trump Relationship With Fox News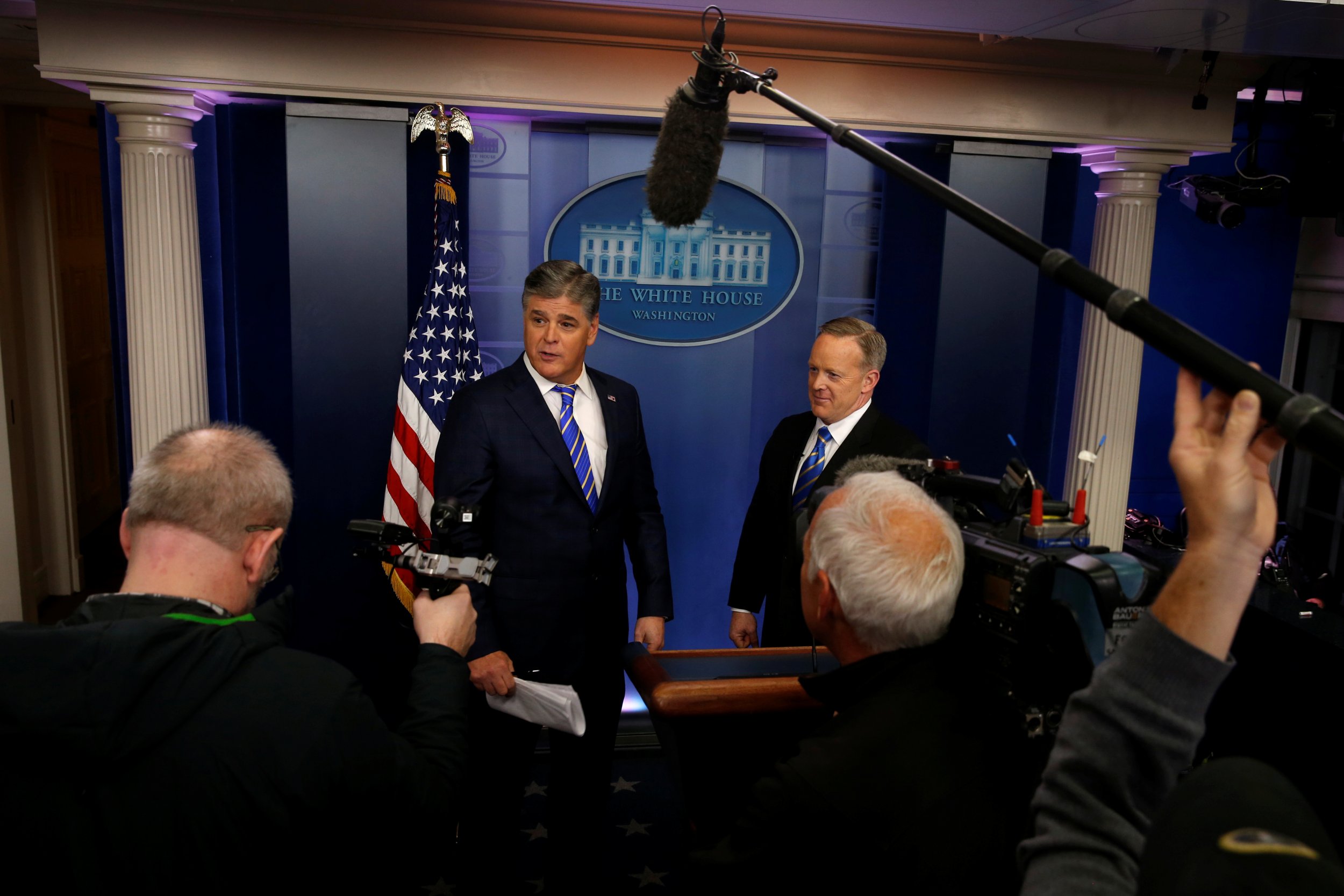 Donald Trump loves Fox News.
The 45th President of the United States is an avid follower of the conservative broadcaster's "Fox and Friends" morning news segment and is persistently tweeting that the Rupert Murdoch-owned network has the best ratings.
Trump was at it again on Tuesday night, ordering his 27.2 million Twitter followers to watch a Fox broadcast on alleged ties between John Podesta, the former chair of Hillary Clinton's presidential campaign, to an alternative energy firm with links to a Russian state fund. Considering the ongoing intelligence investigation into alleged ties between Trump's campaign and Russia, the president's critics argue he is eager to detract from his own setbacks.
But the relationship between the network and the president hasn't always been sunshine and roses. Here's a potted history...
Before June 2015: Trump the Commentator
Before the announcement of his fateful presidential campaign in June 2015, Trump was a frequent guest on Fox News. The broadcaster gave significant support to Trump's birther campaign, while Fox News anchor Sean Hannity admitted advising Trump not to run as an independent in the 2012 presidential election.
June 2015: Trump's Inauguration Hailed
When Trump declared he was running for the Republican nomination, the tributes came rushing in from Fox News journalists. Hannity compared the business mogul to former U.S. president Ronald Reagan, while correspondent Geraldo Rivera tweeted that Trump was "more competent, creative, tough, experienced and bold" than most of the other candidates.
August 2015-October 2016: The Feud With Megyn Kelly
When former Fox News journalist Kelly directed a question at Trump that cited his previous references to women as "fat pigs, dogs, slobs and disgusting animals," she lit a fuse that burned for months on end. Trump tweeted his verdict on Kelly after the debate:
Most controversially, Trump later told CNN that Kelly had unfairly pursued him. "You could see there was blood coming out of her eyes, blood coming out of her wherever," said Trump, in comments roundly condemned by Republicans and commentators alike, despite his protestations that "wherever" meant "nose."
Trump skipped the presidential debate hosted by Fox News—and co-moderated by Kelly—in January 2016, and the pair continued to exchange jibes on social media, mostly at Trump's behest, before they sat down for an interview that aired in May. Trump told Kelly he thought her question was "unfair" but said he didn't blame her for asking it "because you're doing your thing."
That appeared to be the end of the matter, but Trump got in one final blow after Newt Gingrich—a former Speaker of the House and prominent Trump supporter—who accused Kelly of being "fascinated with sex" in an October 2016 interview. The day after the interview, Trump saluted Gingrich: "By the way, congratulations Newt, on last night...That was an amazing interview. We don't play games, Newt, right?"
November 2016: The Unexpected Victory
As Trump defied the majority of pollsters and U.S. media outlets to triumph over Clinton, Fox revelled in its role as one of the few loyal defenders of the new POTUS. Columnist Steve Hilton described Trump's victory as a "second Brexit (only better)," referring to the U.K.'s vote to leave the European Union in June 2016. Fox News contributor Richard Grenell slammed the mainstream media as the election reached its climax: "The media is for sure losing tonight no matter who pulls this off. How wrong they were."
January 2017: Trump's Inauguration
Following his inauguration on January 20 and the subsequent debate about the size of the crowd in attendance, Trump offered his congratulations to Fox News for having the most television viewers of the event.
February 2017: Last Night in Sweden
At a rally in Florida on February 18, Trump appeared to refer to a terror attack in Sweden. "You look at what's happening in Germany, you look at what's happening last night in Sweden," said Trump, also citing Brussels, Nice and Paris, which have all suffered high-profile militant attacks in recent years.
The only thing is, there was no attack in Sweden. Not much at all happened in the European country on February 17. But Trump cited a Fox News broadcast about immigration in Sweden; a Tucker Carlson segment aired on February 17, suggesting a link between Sweden's open-door refugee policy and a purported rise in crime.
March 2017: Wiretapping, According to Fox
On March 14, Fox News aired a segment by legal commentator Andrew Napolitano that contained the extraordinary claim that former U.S. president Barack Obama used the British intelligence agency GCHQ to wiretap Trump during the presidential campaign. But what was even more extraordinary was that the White House Press Secretary Sean Spicer appeared to cite the claim—rejected as "utterly ridiculous" by GCHQ—as evidence backing Trump's assertion that he had been wiretapped by Obama's camp. The White House has since pledged not to repeat the claims, while Fox News has distanced itself from Napolitano's allegations.