Donald Trump-Megyn Kelly Feud Has Seemingly Ended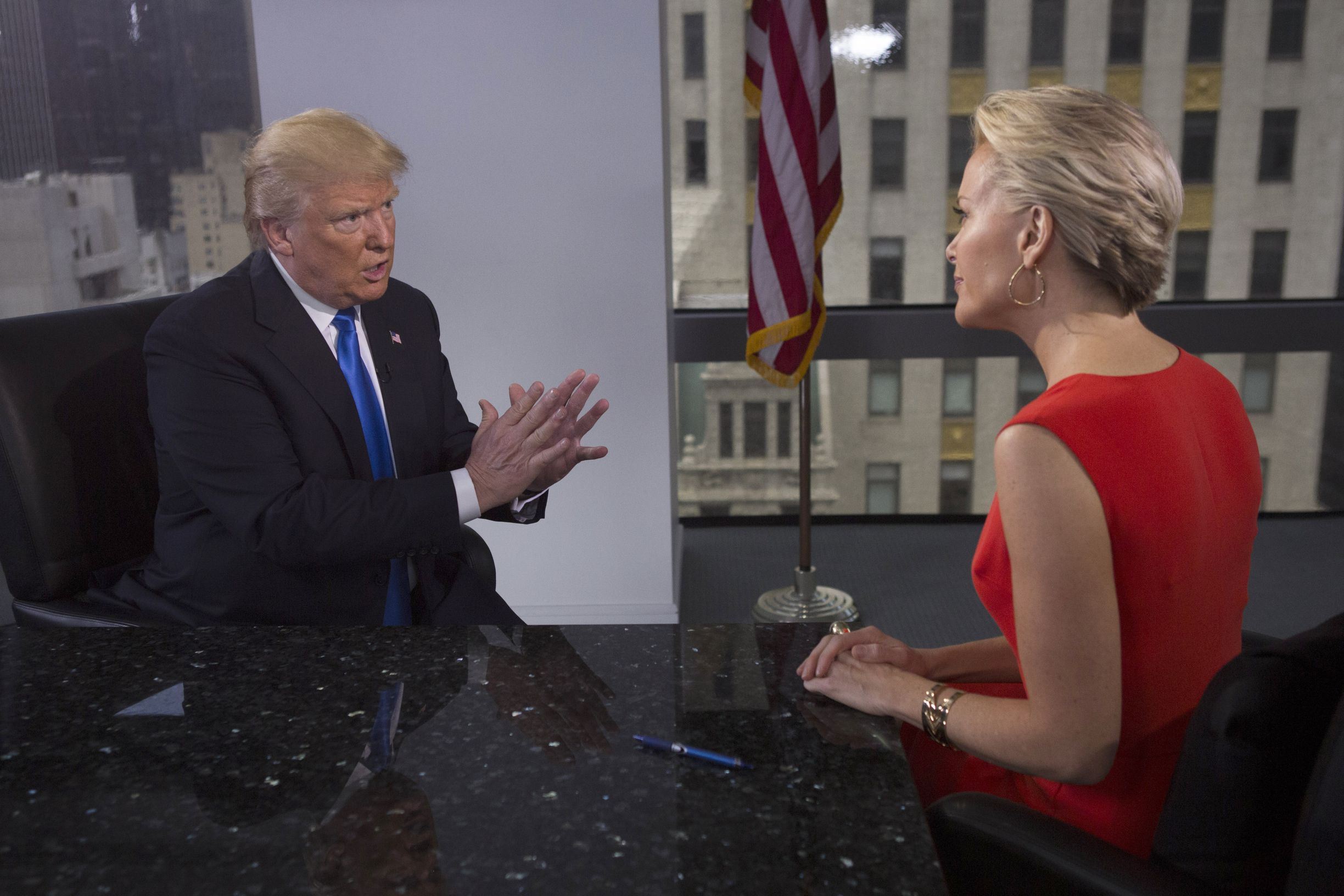 Donald Trump and Fox News anchor Megyn Kelly seemingly have mended their relationship, after more than nine months of insults and not speaking publicly outside of a debate setting.
"I have great respect for you that you were able to call me and say, 'Let's get together and let's talk,'" the presumptive Republican presidential nominee said during a one-on-one interview with Kelly that aired Tuesday night. "To me, I would not have done that. I don't say that as a positive, I think it's a negative for me."
During the first GOP debate, on August 6, Kelly questioned the New York real estate tycoon about derogatory comments she said he had made toward women, pointing to him using such terms as "fat pigs," "dogs," "slobs" and "disgusting animals." (Trump interrupted the question to say he used those words to describe "only Rosie O'Donnell.")
The debate question set off a months-long feud between the billionaire and the newswoman, whom he later called a "lightweight" and said he could see "blood coming out of her eyes, blood coming out of her wherever." During the pre-taped interview that aired Tuesday night on Fox Broadcast Network, he seemed surprised that he had called Kelly a "bimbo," and offered comfort by appearing wounded and saying, "Excuse me."
The interview for the most part was cordial: The two even shared several harmonious moments of laughter. Trump said he thought Kelly's question during the debate was "unfair," but acknowledged she was fulfilling her duties as a journalist by challenging his remarks. She asked if he was disappointed with any of his comments throughout the campaign.
"Absolutely, I have regrets," he said. "I don't think I want to discuss what the regrets are, but absolutely, I could have done certain things differently. I could have maybe used different language in a couple of instances. But overall, I have to be very happy with the outcome."
Trump added: "If I would not have fought back the way I fought back, I don't think I would have been successful."
After battling a field that once included 16 other major candidates, Trump now is the only remaining Republican contender in the race. He is the party's presumptive nominee, sitting at fewer than 80 delegates short of clinching the nomination.
Until their interview, Kelly and Trump didn't speak directly, nor did she respond to his verbal attacks. He even skipped the second Fox debate in January because the network named Kelly as a co-host. The two faced each other briefly in March, when he attended the network's third presidential forum. That night in Detroit, Trump told her, "It's nice to be with you, Megyn. You're looking well."
In April, she visited him at his Trump Tower skyscraper in New York City to request the interview. The duration of the conversation wasn't completely devoted to their harsh relationship. They also discussed his favorite movie and book, and she asked about his family, including the lessons he learned from the death of his older brother in 1981.
During an appearance on Fox earlier Tuesday, Kelly said the two are "in a fine place." And during the interview, Trump vowed to end his attacks against her. Later, in a tweet, he gave a nod to their discussion.
His comments about women are among several of his ideas that have spurred controversy—including banning Muslims from entering the United States and making Mexico pay for a wall at the border, to name just two.
His rhetoric has been widely criticized. On Saturday, a report published by The New York Times accused Trump of treating women employees as sexual objects, which he has denied. Examples of his remarks and behavior include his retweet of an image of Heidi Cruz, the wife of ex-rival Ted Cruz, that mocked her appearance. He told Kelly, "I wish I didn't do it," but also said he must move forward from a mistake and not dwell on the past. (Though he insisted "mistake" isn't the correct word to describe the Cruz incident.)
"When I'm wounded, I go after people hard, OK, and I try and unwound myself," he told Kelly.
Throughout his campaign, Trump has said "nobody respects women more than I do." But a March ad created by Our Principles PAC features startled women reciting some of Trump's most stunning misogynistic comments. One of the references in the spot is from an episode of Celebrity Apprentice, a reality TV program he hosted before running for president, when he told a contestant: "That must be a pretty picture, you dropping to your knees." More than 3.2 million users have seen the video.
Meanwhile, as Hillary Clinton fends off Bernie Sanders in the Democratic presidential contest, she simultaneously is trying to focus on her likely matchup in the general election with the New York billionaire. After winning Tuesday's primary in Kentucky, the former secretary of state is about 100 delegates short of clinching the Democratic nomination.
Priorities USA Action, a Super PAC supporting Clinton, has released a TV attack ad targeting Trump that is airing in four swing states beginning Wednesday. The spot, titled "Speak," features mostly women lip-synching some of the Republican's controversial comments. They wear T-shirts that display large images of Trump's face and expressions.
"Does she have a good body? No. Does she have a fat ass? Absolutely," one woman says, as a man standing next to her looks on, confused.
"If Ivanka weren't my daughter, perhaps I'd be dating her," a man says, while standing next to a young girl, who appears to be his own child.
"Does Donald Trump really speak for you?" the narrator asks in conclusion.
Trump has criticized Clinton as playing the woman's card to gain supporters. On the defensive, she has used the Republican's remarks instead to tout her credentials. She is, after all, trying to become the country's first woman president.
The Super PAC also has released another ad, called "Respect," in which Trump explains his positions regarding Planned Parenthood and abortion.
"Donald Trump," the text reads, "is wrong for us."