Donald Trump Is Having an Affair in the White House, 'Fire and Fury' Author Michael Wolff Claims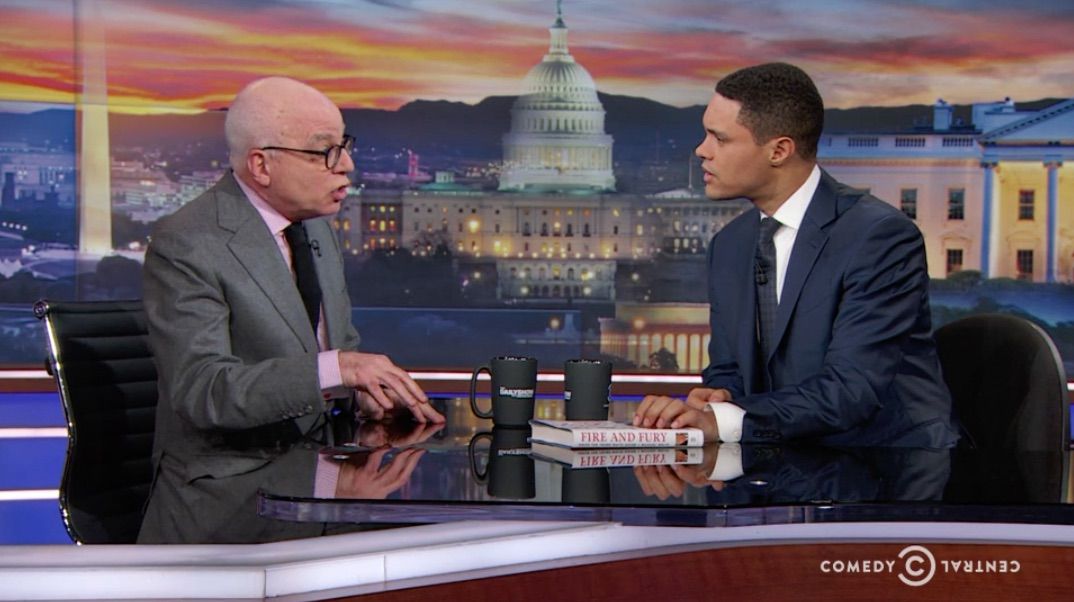 As lurid details of President Donald Trump's alleged affair in 2006 with porn star Stormy Daniels surface, there is another affair the public doesn't know about—and it's happening in the White House, claims Michael Wolff.
The author of the Trump tell-all Fire and Fury: Inside the Trump White House again strongly hinted at an alleged affair on Monday's The Daily Show With Trevor Noah.
It was on Friday's episode of Real Time With Bill Maher that Wolff initially claimed that Trump was currently involved in an extramarital affair, but he "didn't have the ultimate proof" to incorporate the claims in his best-selling book.
On Comedy Central Monday night, Noah quizzed Wolff about the allegations in Friday's interview: "Where do you get this from?"
Wolff was coy, telling Noah, "You just have to read the book." But pressed further by Noah, the author said there are hints in the book about the alleged affair. "You just have to somewhere read between the lines, and then you have to see. It's there," he added.
Wolff was a little more forthcoming in Friday's interview with Maher.
Maher asked the author if there was anything in the book that he was surprised people aren't talking about.
Wolff said: "There is, but I can't tell you what it is. There was something in the book I was absolutely sure of, but it was so incendiary that I just didn't have the ultimate proof.…"
Maher asked, "Is it a woman thing?"
Wolff then said, "I didn't have the blue dress," referring to the dress that provided evidence of President Bill Clinton's affair with Monica Lewinsky.
Maher continued: "It's somebody he's fucking now?" Wolff replied: "It is."
Wolff did not divulge who the alleged affair is with, but offered some details on where he alludes to it in his book.
"You just have to read between the lines," he said. "It's toward the end of the book. You just have to... You'll know it. Now that I've told you, when you hit that paragraph, you'll know it—bingo."
Wolff's controversial book about Trump has been denounced by Trump as being full of lies. The president tweeted January 5:
According to Wolff in Fire and Fury, Trump and first lady Melania Trump did not spend a great deal of time together in Trump Tower before they moved into the White House and Trump took pleasure in sleeping with his friends' wives. Wolff also described Trump as "chronically unfaithful" to Melania.
The first marriage has been rocked in the last two weeks by claims that Trump had an affair with adult film star Stormy Daniels in 2006 and paid her a six-figure settlement fee to keep quiet about it in October 2016, a month before the presidential election.
In an interview with In Touch magazine in 2011, before Daniels reportedly signed the agreement to stay silent, the adult film star said she regretted the affair and felt bad for the first lady.
Trump's lawyer denied an affair between he and Daniels took place.