Final Hillary Clinton and Donald Trump Debate: What to Read Beforehand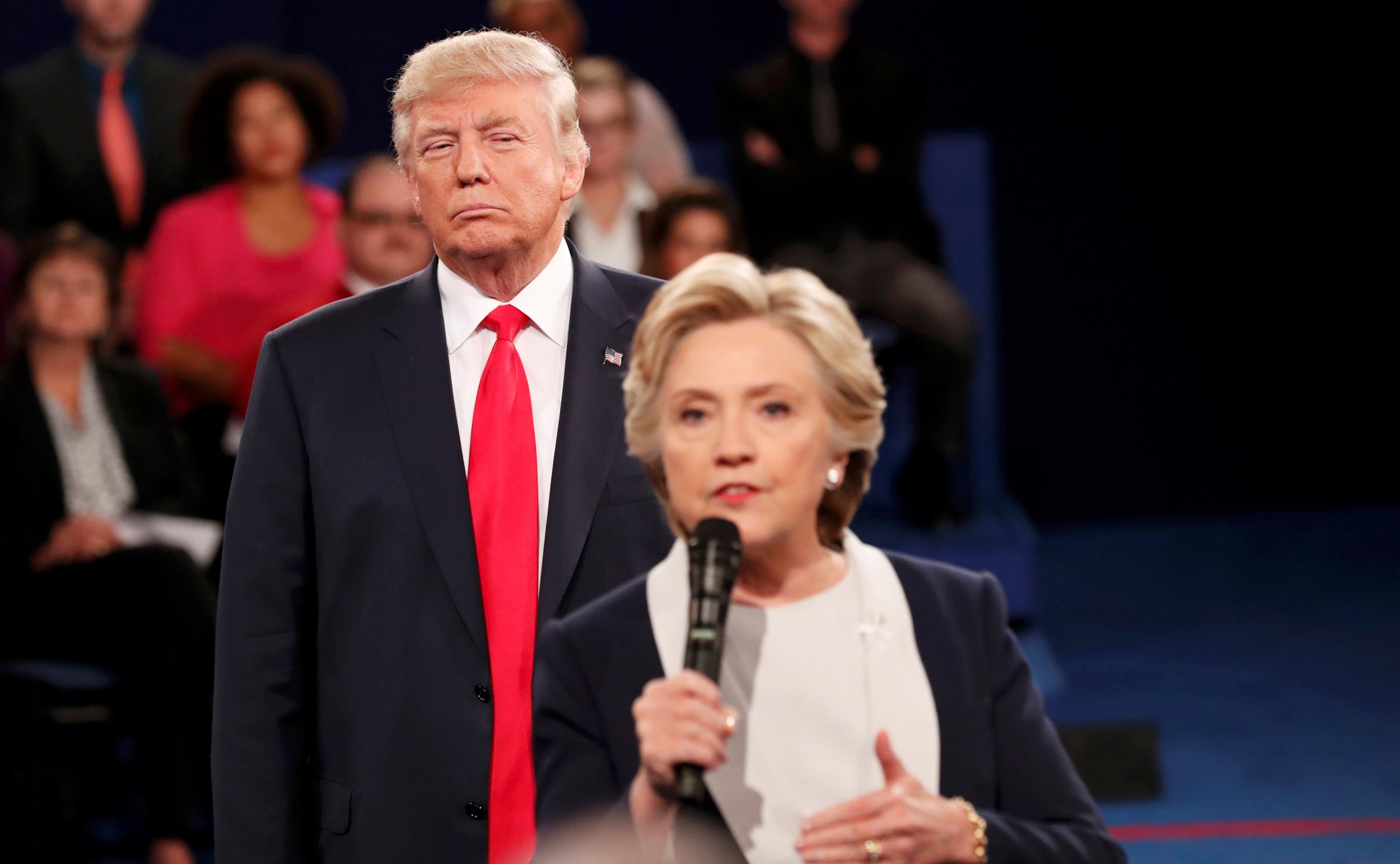 Just in time for the third and final presidential debate of the 2016 election, six people have come forward to say they confirm a People magazine writer's account of how she was allegedly sexually assaulted by Donald Trump. Natasha Stoynoff's story was among the first in a slew of allegations leveled against the Republican nominee for president in the course of the last week and a half, after a 2005 video recording surfaced in which Trump was heard making lewd comments about his treatment of women.
Trump has responded by lambasting the media, saying it is colluding with Democratic nominee Hillary Clinton by reporting the allegations, and calling the press "more crooked than crooked Hillary." He says voters should ignore mainstream media and just "read the internet" instead.
Luckily for Trump, the 90-minute debate on Wednesday night will focus on six specific topics—debt and entitlements, immigration, the economy, the U.S. Supreme Court, foreign hot spots and "fitness to be president"—which doesn't likely leave much time to discuss the accusations. While Newsweek, of course, is a part of the mainstream media, it's also part of the Trump-approved internet, so all voters can feel free to review the articles below, on each of the six topics that will be covered.
Debt and Entitlements
Why Donald Trump's defense of Social Security is brilliant
During the GOP debate in Miami, Trump defended Social Security, saying he didn't want to alter it. It was a break with the longstanding Republican stance on entitlements, the kind of move that has proved to be a political winner for the real estate mogul during this election.
The "crisis" in Social Security (opinion)
The claims that Social Security is "going broke" and that it will disappear are nonsense, and Republicans' proposals would move us in exactly the wrong direction. If Clinton wins, Republicans will be looking to take big swings at her, and trying to force her to have her fingerprints on a bill that begins to unravel Social Security would be a huge win. Clinton speaks about her proposed reforms during her economic speech.
Immigration
Illegal immigration: myths, half-truths and a hole in Donald Trump's wall
Other than their violation of immigration laws, undocumented immigrants commit far fewer crimes per capita than lesser educated, native-born Americans.
Eight takeaways from Donald Trump's immigration extravaganza
When Trump went to Mexico at the end of August to meet with President Enrique Peña Nieto, he took a mellower tone on immigration than in previous statements. Later that day, in Phoenix, he went hard again. Forgetting the day-to-day gyrations in tone, here's what's important to remember.
Donald Trump's running mate, Mike Pence, supported an immigration compromise in Congress
The vice presidential nominee tried to find a middle ground on immigration reform while in Congress, angering some conservatives.
The Economy
How Donald Trump's tax plan is an economic leap of faith
Trump is promising the kind of growth America may no longer be capable of.
Full transcript of Hillary Clinton's economic speech from Michigan
Clinton highlighted her jobs and economic plan in a speech in Michigan on August 11, noting that her mission in the White House would be to make the economy work for everyone, not just those at the top. She also spoke about protecting and expanding Social Security,
Hillary Clinton says she, not Donald Trump, is best for workers
Clinton rebutted Trump's economic proposals, saying he backs an "extreme version" of trickle-down economics.
To fix the economy, we need more bump and grind
A good way to add friction (and jobs) to our software-driven economy would be to invest in painfully slow, physical, local, wasteful infrastructure, our tech expert says.
Supreme Court
Donald Trump's 11 potential Supreme Court nominees
Back in May, Trump unveiled the names of 11 judges—eight men and three women, all white and all conservative—he would consider, if elected, to replace the late Antonin Scalia on the Supreme Court.
If Hillary Clinton gets her way with the Supreme Court
A five-vote liberal majority on the court would enable an overhaul of the laws of the United States.
The problem with Citizens United
If elected president, Clinton has committed to overturning Citizens United v. Federal Election Commission, the Supreme Court decision that declared that associations of people have free speech rights, and that not-for-profit entities are constitutionally allowed to collect and spend as much money as they want for political purposes. Her commitment could have something to do with how Republicans have used dark money.
A right to an AR-15? Look to the courts, not Congress
The big questions about how Americans buy and sell guns—including the controversial AR-15 rifle—are likely to be settled in the courts rather than in the still-paralyzed Congress.
Foreign Hot Spots
North Korea: What the next U.S. president faces
North Korea is stuck in an endless cycle of nuclear testing and sanctions, and President Barack Obama has said he needs more help to rein in its dictator, Kim Jong Un. The depressing bottom line is that putting off the issue, while believing that Kim won't cause harm with his nukes, remains the only option that doesn't risk a possibly calamitous confrontation with the North.
How the battle of Mosul may affect the war in Syria
The Syrian army and its allies see a risk that Islamic State group, known as ISIS, will regroup in eastern Syria as it is forced from the Iraqi city of Mosul.
Inside Aleppo, Syria's most war-torn city
Four million Syrians have already left the country and are counted as refugees. The people who remain are growing desperate. No one talks about freedom anymore; now they just want to live.
Fitness to be President
A people's history of Donald Trump
Trump's presidential campaign is built on the claim that he's a brilliant businessman who turns every challenge into success, but he is neither of those things. He was born into an exceedingly wealthy family and tried to build upon his father's success with ever-riskier ventures, and by any rational measure, he failed again and again. His destructive behavior has victimized cities, businesses, investors, partners and even members of his own family.
Hillary Clinton's millennial problem
Clinton does not support single-payer health care; young voters do. She is among the more hawkish members of the Democratic Party; young voters are not. Clinton is a capitalist, and even within a capitalist party, she is in both perception and in practice unusually comfortable with capitalism's worst practices. Millennials, by contrast, reject the entire economic system.
What millennials actually want from Hillary Clinton
They want to hear much more than just promises of cheaper higher education.
Donald Trump's foreign ties could upend U.S. national security
A close examination by Newsweek of the Trump Organization, including confidential interviews with business executives and some of its international partners, reveals an enterprise with deep ties to global financiers, foreign politicians and even criminals.
Other Debate Food for Thought
George W. Bush's White House "lost" 22 million emails
Trump says Clinton should be in jail because she deleted emails, but every president since Ronald Reagan would be in jail under that logic.
Everything Donald Trump got wrong about ISIS in the second debate
Among the erroneous claims: Syria, Russia and Iran are "killing ISIS"; Clinton and Obama created the "vacuum" for ISIS; and "ISIS has a good chunk" of Libya's oil.
It's Hillary Clinton's election to lose
Here's why she technically should win, but why she might not.