Donald Trump Jr. Calls for Cuomo to Lose Book Deal, Says Apply Cancel Culture 'Equally'
Donald Trump Jr. criticized double standards related to "cancel culture" on Monday and said New York Governor Andrew Cuomo should lose his book contract over allegations of sexual harassment and mishandling of the coronavirus pandemic.
"With everything that is coming to light, when will @CrownPublishing be canceling @andrewcuomo's contract?" Trump Jr. tweeted Monday night.
The former president's son later added that only conservatives get "canceled." He cited Republican Senator Josh Hawley, who lost his book contract after voting to object to congressional certification of two states' presidential election results following the Capitol assault by a pro-Trump mob on January 6.
"Simon & Schuster cancelled their contract with Josh Hawley, but Crown is going to stick by a credibly accused serial sexual harasser just because he's a Democrat? What kind of message does that send? What are the rules? That's all I'm asking," Trump Jr. told The Daily Wire on Monday.
"Cancel culture is awful, but all I'm saying is that the rules should be applied equally," he said.
Trump Jr., who has routinely railed against Democrats for "canceling" controversial figures, has targeted Cuomo in recent weeks as scandals involving the governor and his administration have unfolded.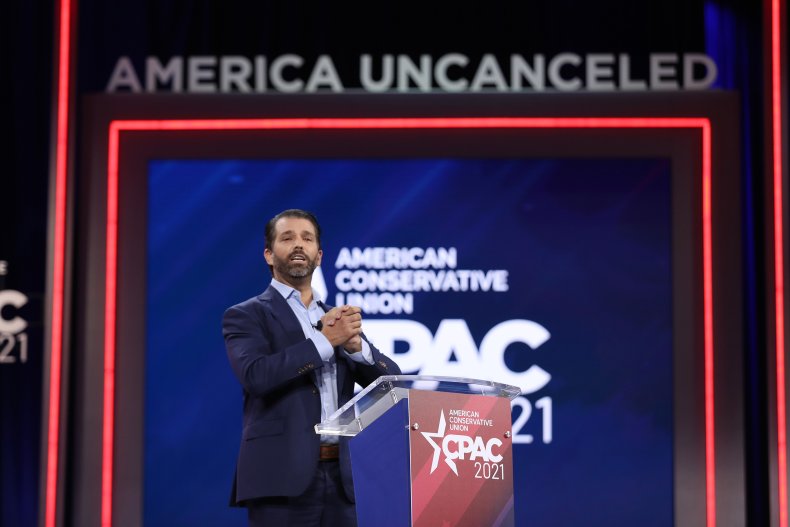 The Democratic governor faced backlash last month over reports that his administration purposefully underreported thousands of coronavirus nursing home deaths during the early days of the pandemic.
Cuomo has since been accused of sexual harassment by three women, two of whom had formerly worked for him. The allegations include unwanted advances, such as a forced kiss, and an invitation to play strip poker, along with inappropriate touching and comments.
The New York Democrat has been criticized by other politicians across the state, who have called him a "bully" and accused him of issuing threats against those he disagrees with.
Cuomo has since faced calls to resign or be impeached. On Tuesday, six self-identified socialist state legislators from the Democratic Party issued a statement in support of impeachment.
"These accounts of predatory behavior come just weeks after Governor Cuomo's administration admitted to withholding critical information, including the thousands of COVID-19 deaths in nursing homes, from the public and from the federal government," the statement read.
Those legislators joined at least five other Democratic lawmakers who have expressed support for Cuomo's removal, suggesting that the New York Legislature could try to impeach Cuomo through the required two-thirds vote.
Cuomo has since denied most of the sexual harassment allegations. But on Sunday, without addressing specific claims, the governor apologized for behavior that may have offended anyone.
"I acknowledge some of the things I have said have been misinterpreted as an unwanted flirtation. To the extent anyone felt that way, I am truly sorry about that," he said in a statement.
Newsweek contacted Trump Jr., Cuomo and Crown Publishing for additional comment but did not hear back in time for publication.