Donald Trump and Mitch McConnell's Election Split Could Suit Them Both
President Donald Trump and Mitch McConnell's public disagreement on the election outcome could serve to suit both of their interests, with the president given another figure to push against and the Senate Majority Leader able to look forward.
McConnell acknowledged Joe Biden as victorious over Trump on Tuesday, after the Electoral College electors cast their votes—with the Democrat securing 306, surpassing the 270 majority needed.
Trump later dismissed the Kentucky senator's comments, telling him it is "too soon to give up."
The president continues to dispute the election outcome, despite having failed to provide any evidence of fraud and irregularities on a level that would be sufficient to alter it.
He continues to rally against those who disagree with him, with McConnell having now become such a target.
"Trump rarely upsets his base when he rails against 'Washington' insiders, even Republicans, and it's hard to think of anyone who fits that bill more than McConnell," Thomas Gift, founding director of the Centre on U.S. Politics at University College London, told Newsweek.
"By comparison McConnell needs to consider how the Republican party can reinvent itself going forward, so mildly distancing himself from Trump now, albeit belatedly, allows the GOP to get on with the business of governing."
On the clash, Gift added: "A minor tiff probably serves each's interests.
"It also was probably inevitable. At some point between now and January 20th, McConnell was going to be forced to acknowledge the reality of Biden's victory. Trump, by contrast, still shows zero signs of accepting defeat."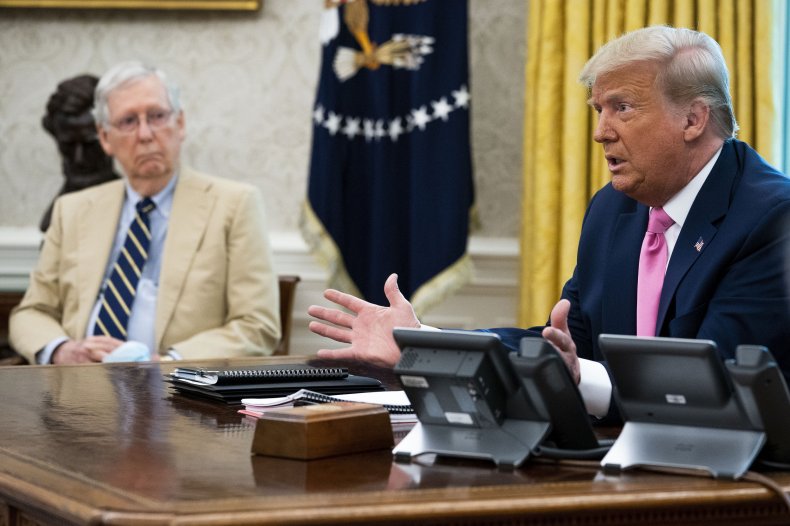 McConnell and the other Republican Senators to break rank with Trump have seen it is "it is only prudent for them to change step," Clodagh Harrington, associate professor in American Politics at the U.K.'s De Montfort University, told Newsweek.
McConnell can now turn towards "business as usual," Harrington said, while Trump may "get mileage with the base from Twitter rants against McConnell."
While Gift and Harrington said there could be room for the senator and president to both use this situation to further their own separate ends, Richard Johnson, lecturer in U.S. politics and policy at Queen Mary University of London, suggested McConnell must be somewhat cautious in not going too far against Trump.
"I do not expect a firm 'break' in the Trump-McConnell relationship any time soon. Trump is likely to remain the de facto leader of his party until at least the 2022 midterm elections, while McConnell will be the most important Republican in Washington," Johnson told Newsweek.
Johnson suggested that while McConnell could now have more room to dissent from Trump, he cannot ignore him entirely.
"Trump remains overwhelmingly popular among Republican voters. McConnell risks provoking a backlash among Republican voters if he pits himself directly against Trump," Johnson added.
McConnell had said in a floor speech: "Many of us hoped that the presidential election would yield a different result, but our system of government has processes to determine who will be sworn in on January 20. The Electoral College has spoken.
"So today, I want to congratulate President-elect Joe Biden."
He has also since urged other Republican lawmakers not to oppose the certification of the Electoral College votes, though some have spoken of remaining open to this idea.
Biden dismissed Trump's charge against the outcome, speaking of his "clear victory" in a speech given after the Electoral College voted.
Newsweek has contacted the Trump campaign and McConnell's office for comment.