Donald Trump Says 'I Don't Know Prince Andrew,' Despite Meeting with the Royal Before Jeffrey Epstein's Arrest
President Donald Trump has attempted to distance himself from Prince Andrew by claiming he "doesn't know" the under-fire royal despite meeting with him several times down the years.
Speaking during the NATO summit in London on Tuesday, Trump told reporters "I Don't Know Prince Andrew," adding "but it's a tough story, it's a very tough story," referring to the criticism the Duke of York has received about his relationship with convicted pedophile Jeffrey Epstein.
Prince Andrew, along with Trump, are known to have been friends with the billionaire financier for several years before his death in August while awaiting trial for child sex trafficking offenses.
In 2000, the pair were photographed at a party at Trump's Mar-a-Lago estate in Palm Beach, Florida, which was also attended by Epstein and his then-girlfriend Ghislaine Maxwell.
The pair were also photographed talking as recently as June at London's Westminster Abbey during Trump's three-day state visit to the U.K.
While there is no suggestion Trump was involved with Epstein's offenses, Prince Andrew has faced continuous questions about what he knew about Epstein's child sex trafficking.
The prince is accused of having sex with 17-year trafficking victim Virginia Roberts at a London party in 2001. He is also accused of having sex with the teenager at Epstein's New York apartment the same year.
Roberts, now called Virginia Giuffre, also alleged she and the prince took part in an orgy with at least eight other young women on Epstein's private Caribbean island, Little St James. Prince Andrew has strongly denied ever having a sexual relationship with her.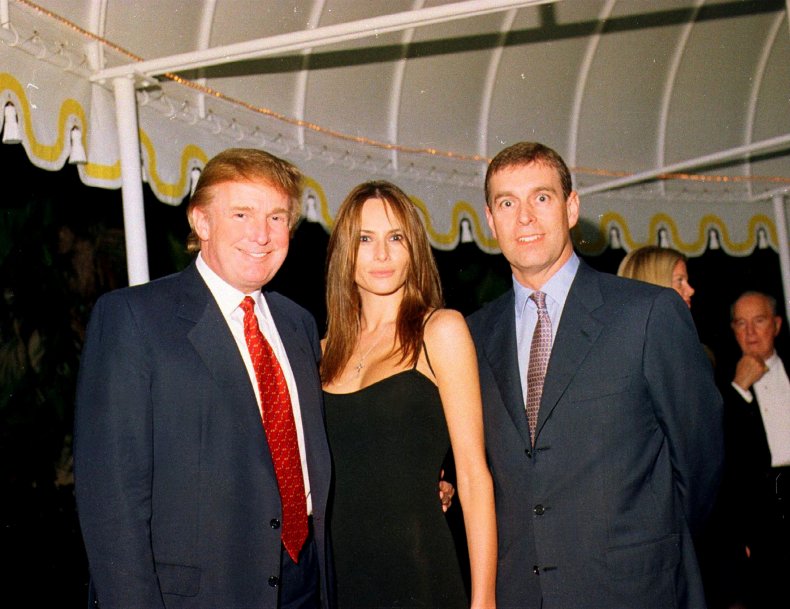 Giuffre said she was forced to have sex with Epstein's rich and powerful friends across the world after being recruited from Mar-a-Lago as a teen.
The comments from Trump arrived one day after Giuffre gave her first interview to British television about how she was allegedly forced to have sex with Prince Andrew by Epstein and Maxwell.
"It didn't last very long, the whole entire procedure. It was disgusting," Giuffre told the BBC's Panorama program on Monday.
"He wasn't mean or anything, he said thanks and walked out. I just sat there horrified and ashamed and felt dirty," she continued. "I had to get up and have a shower and then the next day Ghislaine tells me I did a really good job. She patted me on the back and said, 'You made him really happy.'"
"It was a wicked time in my life," Giuffre added. "I had just been abused by a member of the Royal Family. So when you talk about these chains, I wasn't chained to a sink, but these powerful people were my chains."
"I couldn't comprehend how the highest levels of the government and powerful people were allowing this to happen, not only allowing this to happen but participating in it."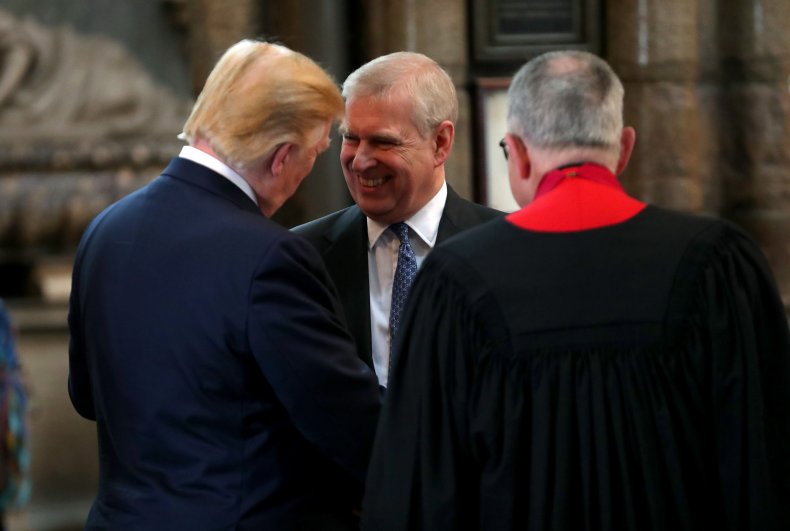 Prince Andrew previously denied that he could have had sex with Giuffre on the night in question as he distinctly remembered taking his daughter Princess Beatrice to a pizza restaurant in the English town of Woking that same day.
He also disputed her claims that he was sweating profusely while the pair danced at a London nightclub the same night as an "overdose of adrenaline" he suffered while fighting in the Falklands War left him unable to perspire.
In a statement, a Buckingham Palace spokesperson said: "The Duke of York unequivocally regrets his ill-judged association with Jeffrey Epstein. Epstein's suicide left many unanswered questions, particularly for his victims. The Duke deeply sympathises with those affected who want some form of closure.
"The Duke has already stated that he did not see, witness or suspect any behaviour of the sort that subsequently led to Jeffrey Epstein's arrest and conviction. He deplores the exploitation of any human being and would not condone, participate in, or encourage any such behaviour.
"It is emphatically denied that The Duke of York had any form of sexual contact or relationship with Virginia Roberts. Any claim to the contrary is false and without foundation."
The White house did not immediately respond to a request for comment.