'Donald Trump Is Adopting Vladimir Putin's Position' on Intelligence, the Military, MSNBC Host Says
MSNBC host Joe Scarborough slammed President Donald Trump and his supporters in the wake of the president's criticism of his own intelligence chiefs, saying that people need to recognize the "truth."
"People need to stop saying that Donald Trump is taking a different position than all of his intel chiefs and from the United States military, from the CIA director, from the NSA, from the FBI director, from all the directors that he himself selected, all Republicans," Scarborough said on Morning Joe on Thursday.
"We need to stop saying Donald Trump is taking a position different from them and need to say the truth," the host continued, "which is Donald Trump is adopting [Russian President] Vladimir Putin's position on the FBI, on CIA, on [Director of National Intelligence] Dan Coats, on every intel leader, the military intelligence leaders."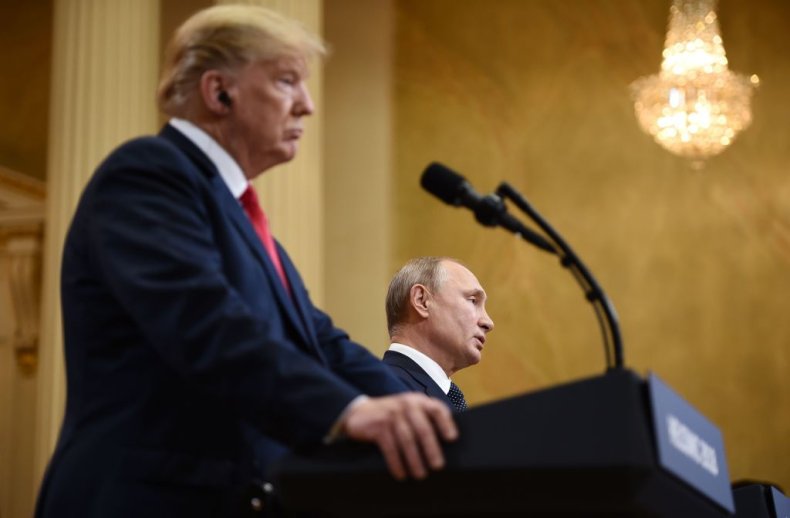 Emphasizing his point, Scarborough added: "[Trump] has decided he is going to adopt the position of an ex-KGB agent."
The host's comments came in reference to Trump's Wednesday morning tweets, in which the president attacked U.S. intelligence chiefs for sharing national security assessments that differed from his foreign policy positions. Trump said that the intelligence leaders were "naive" and should "go back to school."
Prior to Scarborough's remarks, Morning Joe played a clip from January 2017 of Trump giving a speech to the intelligence community. At the time the president said: "I know maybe sometimes you haven't gotten the backing that you've wanted, and you're going to get so much backing [under my administration]."
Disregarding the promise, as Scarborough and many analysts pointed out, Trump's Wednesday comments weren't the first time he had discredited the intelligence community. Last July, after meeting privately with Putin in Helsinki, Trump suggested he trusted the Russian leader over his own intelligence community while discussing Moscow's interference in the 2016 election. He later backtracked on the remarks, saying he misspoke. However, Trump received significant backlash at the time from both Republicans and Democrats.
On Tuesday, intelligence chiefs, including CIA Director Gina Haspel and Director of National Intelligence Dan Coats, spoke with senators during a hearing on international security threats. When it came to Iran, North Korea and the Islamic State militant group (ISIS), the intelligence leaders had a starkly different assessment than that of the president.
Coats and Haspel explained that the Iran nuclear deal, which Trump has called the "worst deal ever" and withdrew from last May, had effectively curbed the Persian Gulf nation's nuclear ambitions and that it was not currently seeking to build a nuclear weapon. The intelligence chiefs also said that it was unlikely that North Korea would give up its weapons of mass destruction, despite Trump's optimism. Regarding ISIS, they said the group still had thousands of fighters in Iraq and Syria, although the White House has previously said the group was defeated.
Retired Rear Admiral John Kirby shared similar concerns to those expressed by Scarborough. Speaking to CNN on Wednesday, the former Navy and State Department official said that Trump's criticism of the intelligence community sent an encouraging message to U.S. adversaries.
"It sends a strong message to our adversaries out there, particularly Russia and China, that there are huge gaps remaining in the national security decision-making apparatus in this country, and they can run right through those gaps and try to further sow discord and division among us," Kirby said. "That really scares me."