What Trump's Press Secretaries Did Next
Jen Psaki, the former White House press secretary under Joe Biden, made her debut as a commentator for MSNBC earlier this month as she continued her post-politics career.
Psaki, who left the administration in May and was replaced by Karine Jean-Pierre, appeared on MSNBC's on Alex Wagner Tonight on September 14, where she discussed how Donald Trump may have a negative influence on GOP candidates in the upcoming midterms.
"Nothing is more of an excitement and driving factor than Donald Trump for Democrats," Psaki said.
"The more he engages himself in the race, the more he puts himself out there, the more it's a reminder of what's at stake to people. Having Trump on the ballot is a hugely energizing factor."
Psaki's move from press secretary to media commentator is not unusual, with those who worked in the Trump administration also taking similar steps.
Below, Newsweek takes a look at what Trump's former press secretaries did after they left their roles between 2017 and 2021.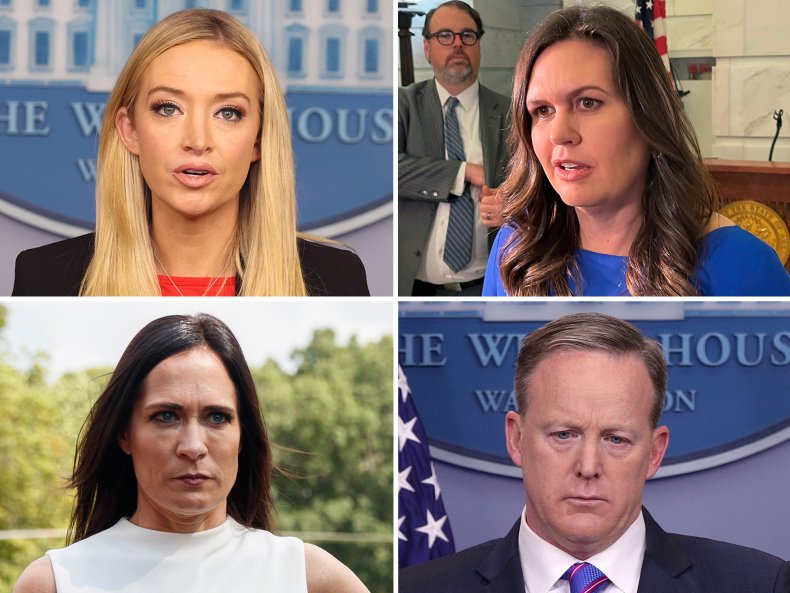 Sean Spicer
Trump's first press secretary is arguably best known for spreading falsehoods about the size of the former president's 2017 inauguration crowd, asserting that it was "the largest audience to ever witness an inauguration, period, both in person and around the globe."
In a July 2018 interviews with NPR and the BBC's Newsnight, Spicer said he regrets the comments, but that he made them as he believed it was what Trump wanted to hear.
"I sort of thought I knew what he wanted and went and did it. And I'll be honest, if I could have a do-over on that day, I'd take it every day of the week," Spicer told NPR.
After resigning as press secretary in July 2017, Spicer published a book of memoirs, and appeared as a contestant on season 28 of Dancing with the Stars.
The 51-year-old also presents his own show, Spicer & Co, on the right wing channel Newsmax.
Sarah Huckabee Sanders
The longtime political adviser and campaign manager became just the third female White House press secretary when she replaced Spicer in 2017.
Sanders was another Trump press secretary who was infamous for making false statements while speaking to reporters.
Special counsel Robert Mueller's report into alleged Russian interference at the 2016 Election also revealed that Sanders admitted to falsely claiming that "countless" FBI officials told her they supported Trump's decision to fire James B. Comey as the agency's director. Sanders said the remark was a "slip of the tongue" and not true.
After leaving her role as press secretary in June 2019, Sanders returned to state level politics and will be contesting the race for Arkansas governor as the GOP nomination in November's midterms.
Stephanie Grisham
Grisham took over as White House press secretary in July 2019 having previously worked as first lady Melania Trump's press secretary.
She became the first person in the role not to hold a televised press conference, instead choosing to take part in interviews on right-wing news sites.
Grisham left her job as White House press secretary in April 2020 to return as serve as Melania Trump's chief of staff, a role she later resigned from in the wake of the January 6 attack.
In September 2021, Grisham published her book of memoirs about her time in the White House entitled I'll Take Your Questions Now.
Kayleigh McEnany
McEnany was appointed Trump's forth press secretary in April 2020 despite being a vocal critic of him while was running for the GOP presidential nomination in the 2016 election.
She went on to be a staunch defender of Trump, including praising his response to the coronavirus pandemic, and falsely declaring he had won the 2020 Election over Joe Biden while the votes were still being counted.
In March 2021, two months after the Trump administration vacated the White House, McEnany joined Fox News as a regular commentator and later joined Fox News' Outnumbered as a co-host.