'Dune' HBO Max Release Time: Here's When And How To Watch The Movie At Home
Fans have waited patiently but finally after a year of delays, the highly-anticipated Dune is here.
Denis Villeneuve's sci-fi epic, an adaptation of the original book series by Frank Herbert, was shot in 2019, but then had its release date delayed due to the pandemic. While the delay was frustrating for those eager to see the movie, it did mean that the release method was altered, giving viewers the option to see the movie in either movie theaters or from home.
Timothée Chalamet, Zendaya, Jason Momoa, Rebecca Ferguson, Oscar Isaac, Javier Bardem and many more appear in Dune.
Here's when and how you watch the movie it as soon as it's released.
How can I watch Dune online?
The release date of Dune was moved around many times, but the final change to the schedule actually brought its release date forward by 24 hours.
Dune will receive a simultaneous cinematic release and home-release on HBO Max on Thursday, October 21, 2021. The movie will become available to watch on HBO Max at 3:00p.m. PT and 6:00p.m. ET.
All of Warner Bros. new films have received simultaneous releases in 2021, much to the chagrin of stars Rebecca Ferguson, Jason Momoa and director Denis Villeneuve. Due to the home and cinema release in the United States, Dune was released in multiple territories across the world across September 2021, before the U.S..
Dune was originally scheduled for release on November 20, 2020 but was delayed due to the ongoing coronavirus pandemic. It was then rescheduled for October 1, 2021, but pushed back again to avoid conflicting with the release of No Time To Die.
How much is a HBO Max subscription?
Those looking to stay inside and watch Dune from the comfort of their own home can do so by subscribing to HBO Max here.
Currently, it costs $14.99 a month to get an ad-free HBO Max subscription. There is a cheaper alternative that can save you five dollars a month, too. For $9.99 a month you get access to all of the platform's movies and TV shows but this will include ads.
The platform is home to a number of Warner Bros. movies and to HBO originals. Currently you can watch the likes of Love Life, The Flight Attendant, Titans and Gossip Girl.
Future releases include Sex and the City reboot, And Just Like That..., The Suicide Squad spin-off Peacemaker, and even a Dune spin-off, Dune: Sisterhood.
In June 2019 Variety reported that WarnerMedia ordered Dune:Sisterhood as a straight-to-series order. The show will follow the mysterious order of women known as the Bene Gesserit. Villeneuve is involved once again and will direct the pilot with Jon Spaihts, who also co-wrote the new movie with Eric Roth, set to write.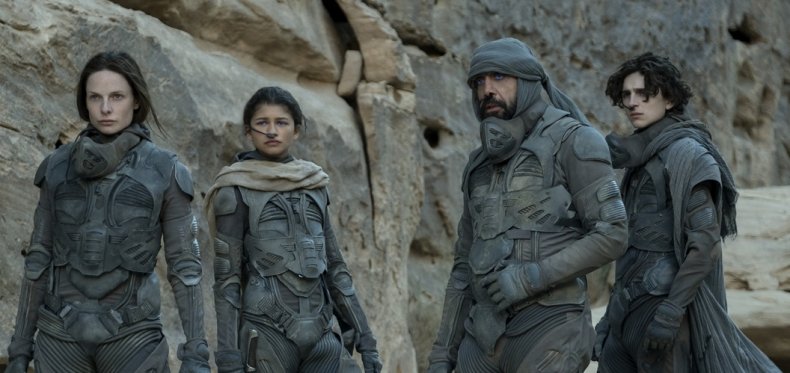 Newsweek may earn a commission from links on this page, but we only recommend products we back. We participate in various affiliate marketing programs, which means we may get paid commissions on editorially chosen products purchased through our links to retailer sites. Prices are correct at the time of writing this article.