First 'Elseworlds' Crossover Teaser Has a Very Awkward Kiss
The CW aired the very first "Elseworlds" crossover event teaser during the latest episode of Arrow and it's super awkward. The footage shows Iris West-Allen kissing an alternate version of Barry Allen, who is played by Stephen Amell's Oliver Queen.
The fact Iris has openly had a crush on Oliver for years (skip to 1:40) makes this whole situation even more funny. The footage shows Oliver super terrified since Iris thinks he's Barry. It's still unclear if this is an alternate universe, but it's heavily implied (we've got your back real Barry).
Since the crossover poster showed Grant Gustin as Green Arrow, Amell's usual character, it's safe to say Felicity has a new husband who looks like Barry Allen. Though, to be fair, Felicity and Gustin's Barry Allen dated briefly before she and Oliver got together, so a little less awkward.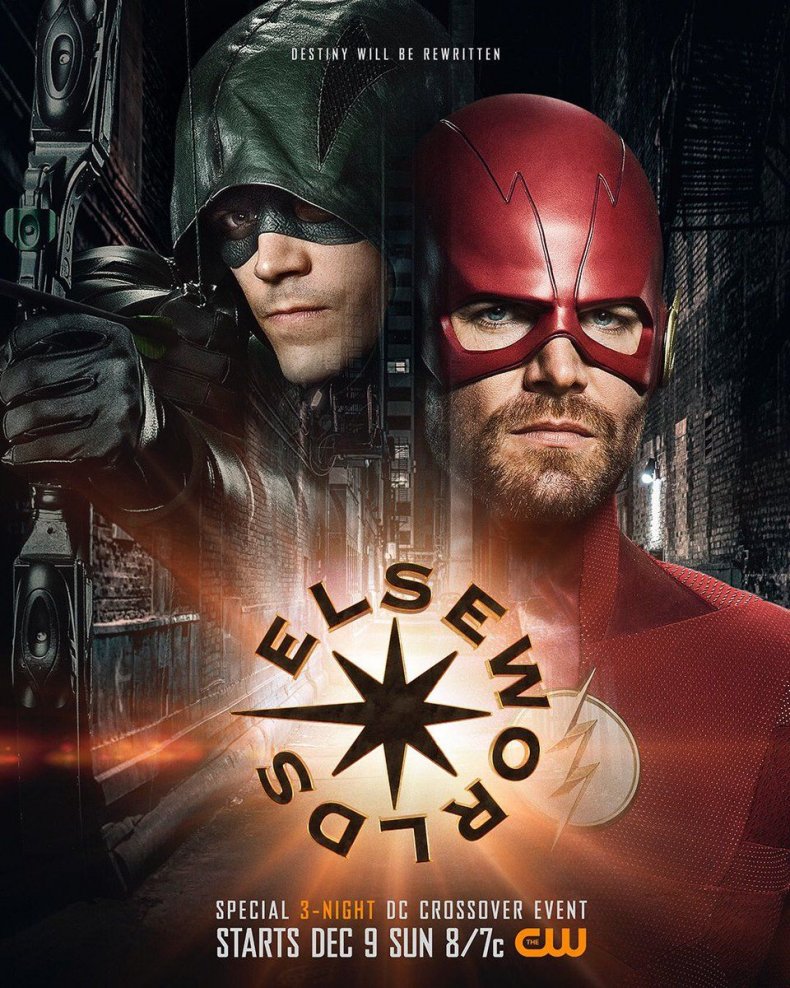 And given the rest of the posters and set photos revealed so far, Oliver and Iris smooching is far from our only question. Tyler Hoechlin's Superman was spotted wearing a black suit and he'll appear with Lois Lane. John Wesley Shipp suited up in his original 1990's Flash outfit. Of course, Amell and Gustin have swapped characters, but Casandra Jean Amell is also appearing as Nora Fries, the wife of DC villain Mr. Freeze. On top of all that, Batwoman and Gotham City are appearing, along with a very important DC character called The Monitor.
The crossover starts Dec. 9 and ends Dec. 11.
First 'Elseworlds' Crossover Teaser Has a Very Awkward Kiss | Culture