Emily Ratajkowski Shows Support for Amber Heard: 'Scarier to Be a Woman'
Supermodel Emily Ratajkowski has given her public support to actress Amber Heard as she listed all the reasons why it's "scarier to be a woman" in 2022.
Heard has been the subject of mass criticism on social media as a result of her public court battle with ex-husband Johnny Depp. Following a defamation trial in Virginia, a jury in June awarded Depp $10 million in compensatory damages and $5 million in punitive damages; Heard, received $2 million in compensatory damages.
Ratajkowski was previously one of many celebrities who had shown support for Heard through social media, but her latest TikTok video made her stance clear to all.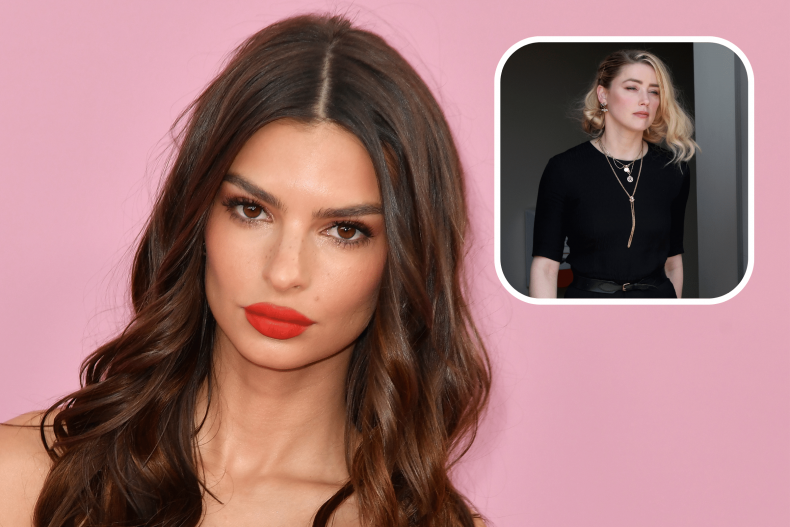 Over the weekend, the model shared a six-second video with the accompanying caption: "its 2022 and its getting even SCARIER to be a woman."
Within the clip, she lip syncs and writes onscreen that "I'm not scared of [lions] and [tigers] and [bears]," before sharing a list of what she is scared of.
"Roe v. Wade getting overturned, Harvey getting an appeal, Shia's Redemption Tour, the way y'all dragged Amber and the precedent that court case set," Ratajkowski wrote as she faces the camera with her head in her hand.
In June, the Supreme Court overturned Roe v. Wade, which had previously legalized abortion in the United States since 1972.
Ratajkowski also alluded to convicted sex offender and former film mogul Harvey Weinstein, who is currently in jail for multiple sex crimes.
The clip also referenced actor Shia LaBeouf, who has a sexual battery and assault lawsuit filed against him by singer and former girlfriend FKA Twigs, with a trial set for next April. LaBeouf has been conducting a number of interviews recently that both The Daily Beast and Ratajkowski have referred to as his "redemption tour."
Ratajkowski's final reference is about the heavily publicized Depp and Heard defamation trial. Depp sued Heard after she stated that she is a domestic abuse survivor in a 2018 Washington Post op-ed (Depp wasn't named in the piece). During the period of the trial, Heard was the subject of tremendous online backlash.
The majority of the comments on Ratajkowski's video were from pro-Heard supporters who applauded the model for speaking out.
"The Amber part yes! this trial sent us back 500 years," wrote @anotheranna11, while @oleawie thanked Ratajkowski for "not being scared to stand by Amber."
"Finally a celeb talking on AMBER," @victoriadevall wrote and included the hashtag #justiceforamberheard. That term and other pro-Heard hashtags were mentioned in the comment section, too.
On Twitter, Ratajkowski's video and statements were also shared, though many people were critical of her pro-Heard stance.
Newsweek has reached out to Ratajkowski's representatives for further comment.