Ex-Republican Candidate Endorses Democrat McAuliffe in Virginia Race: 'GOP Has Lost Its Way'
A former Republican candidate in Virginia has endorsed Democratic gubernatorial contender Terry McAuliffe, saying that the "GOP has lost its way."
The governor's race in Virginia is being closely watched by Republicans and Democrats, as they view the election as a key indicator of how voters could cast their ballots in the 2022 midterms. Recent polls suggest the margin is close between the two candidates, with some showing Republican Glenn Youngkin in the lead while others show McAuliffe narrowly ahead.
In an opinion article for Business Insider, Matt Walton, who ran as a Republican for the Virginia House of Delegates in 2015, voiced his support for McAuliffe while slamming Youngkin. He ripped the GOP gubernatorial candidate for embracing fellow Republicans who falsely claim the 2020 election was fraudulent.
"In fact, one of Youngkin's key earlier supporters and prominent surrogate Delegate John McGuire admitted to being at the January 6th rally (though he denies going into the Capitol). Additionally, Youngkin has even embraced and campaigned with State Senator and Trump wanna-be Amanda Chase, who not only was present at the January 6th rally, but also attended the election 'cyber symposium' put on by Mike 'My Pillow' Lindell," Walton wrote.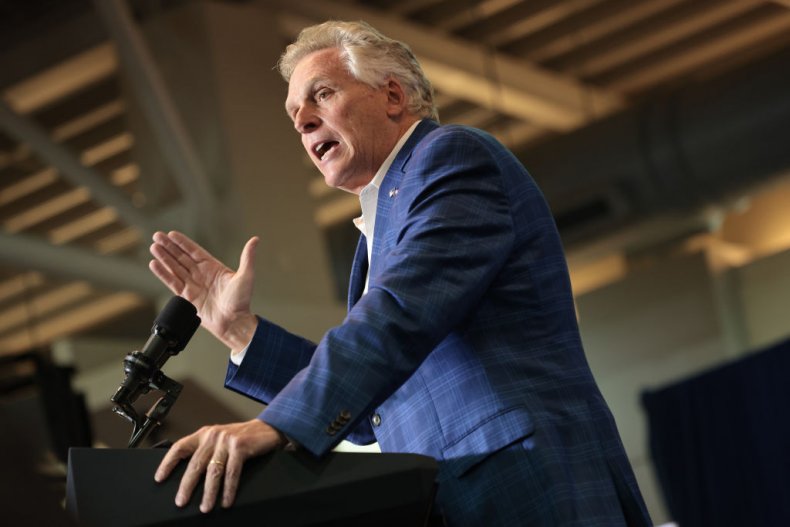 "It is pathetic that Youngkin openly embraces people that sought to overturn the vote of not just the American people, but more importantly the very people that he wants to represent as Governor," he added.
In the article, Walton asserted that he has "chosen to support McAuliffe because the GOP has lost its way, and the Republican candidate, Glenn Youngkin, hasn't earned my support or vote."
Former President Donald Trump and his allies continue to claim that President Joe Biden won the last presidential election due to widespread voter fraud. Despite dozens of legal challenges brought by Trump and his supporters, no evidence has emerged substantiating the extraordinary allegation.
More than 60 election challenge lawsuits have failed in state and federal courts. Even judges appointed by Trump and other Republicans have rejected the allegations. Audits and recounts across the country—including in states where the election was overseen by pro-Trump Republicans—have consistently reaffirmed Biden's win.
While Youngkin has attempted to distance himself somewhat from Trump in the Virginia race, he has campaigned on "election integrity." That pledge is driven by Trump's and fellow Republicans' conspiracy theory about the 2020 election.
Although Biden handily beat Trump in Virginia by just over 10 points and no Republican has won a statewide race there since 2009, Youngkin currently looks well-positioned for a potential upset victory there in the Tuesday election. A poll released this week by Fox News showed Youngkin had surged ahead of McAuliffe, who previously served as the state's governor from 2014 to 2018.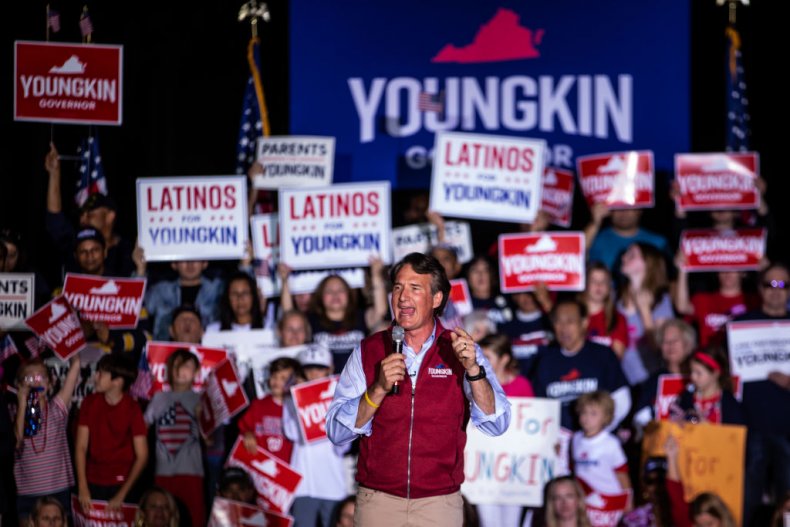 Youngkin led McAuliffe by 8 points in the new survey. The GOP contender was supported by 53 percent of likely voters compared to the 45 percent who planned to back the Democratic hopeful. However, a separate poll conducted by The Washington Post and George Mason University showed McAuliffe narrowly ahead by 1 point among likely voters. The Democrat was back by 49 percent compared to the 48 percent going for his Republican rival.
Newsweek reached out to Youngkin's campaign for comment but did not immediately receive a response.