Former Republican National Committee Chair Marc Racicot slammed Donald Trump's "narcissistic" remarks about Russia's invasion of Ukraine, calling them "poison" and comparing the former president to the devil.
Just ahead of Russian President Vladimir Putin's invasion of Ukraine, Trump called the authoritarian leader "smart" and a "genius." The former president has also argued that Putin would not have invaded if he was still president. Racicot, who served as RNC chair from 2001 to 2003 and also as Montana's GOP Governor from 1993 to 2001, contended in an opinion article for Helena's Independent Record that Trump's response to the crisis demonstrates he is unfit to lead.
"If the former president's recent remarks about Ukraine had amounted to just another ration of narcissistic self-indulgence, it would have been briefly noted, but not thoroughly examined. Such patent nonsense has become, after all, predictable and expected," Racicot wrote for the article published March 16, 2022.
"But his recent comments before and after the Russian invasion were laced with reckless propositions, cruelty and improprieties which continue to poison and fray the political life and social fabric of the nation," he continued.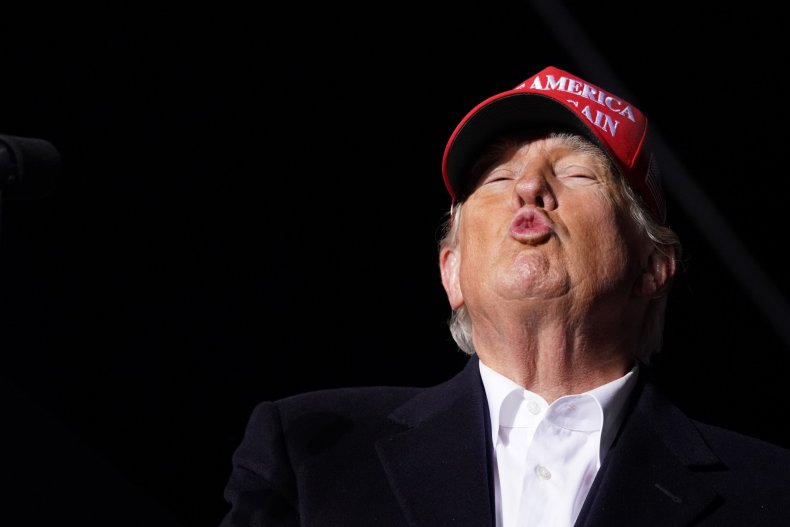 The former RNC chair went on to slam Trump's "stunning ignorance of the terms of the North Atlantic Treaty as well as the solidarity and 73-year history of the alliance." Trump has called NATO leaders "dumb" and has been viewed as pushing for the U.S. withdrawal from the international organization. Amid Russia's invasion of Ukraine, NATO has been key to leading the Western response to the war.
"The vicious actions of the Russian president have been universally condemned by decent people everywhere. But, not by Donald Trump. To the contrary, the former president could only express his admiration of the Russian president's tactics by describing him as 'savvy,' 'smart,' and a 'genius,'" Racicot wrote.
The prominent Republican left his readers with a warning, arguing that those who continue to support Trump "dance with the devil."
"For those who, during this painful moment in human history, find any redeeming value or humor in the former president's remarks; or who continue to ignore his profound lack of knowledge or intellectual curiosity; or who excuse his lack of regard for the truth; or who consciously or unconsciously modify the priorities of their own character or moral imperatives in order to secure his favor, or the favor of his disciples, it may be well to remember the words of J.M. Smith: 'If you dance with the devil, then you haven't got a clue, for you think you'll change the devil, but the devil changes you,'" Racicot concluded.
A number of other prominent GOP politicians have taken aim at Trump over his response to the Russia-Ukraine War. These include former key allies, such as former Vice President Mike Pence and former New Jersey Governor Chris Christie.
"There is no room in this party for apologists for Putin. There is only room for champions," Pence said in remarks on March 4, apparently referring to Trump.
"How can anyone with any understanding of the world call Putin's decision to invade Ukraine 'genius' and 'very savvy' as we watch him unite the rest of the world against Russia in nearly an instant?" New Jersey's former GOP governor, Chris Christie, tweeted on February 28 in a clear dig at Trump.
Former RNC chair Michael Steele, who served in that role from 2009 to 2011, has also routinely criticized and condemned Trump since he launched his 2016 White House campaign. Steele recently told NBC News that Trump is "licking Putin's boots," calling him the Russian president's "right hand man."
Newsweek reached out to Trump's press office for comment.
For updates on the Russian invasion of Ukraine, visit our live blog.