Republican Adam Kinzinger Agrees Putin Was 'Playing Trump'
Representative Adam Kinzinger, an Illinois Republican, said it was "correct" to believe that Russian President Vladimir Putin was "playing" former U.S. President Donald Trump during his time serving in the White House.
Kinzinger, a staunch Trump critic, made the remark after Fox News co-host Geraldo Rivera said it was possible Putin was "playing Trump" during a Tuesday episode of the channel's program The Five.
In that segment, Rivera—who has described Trump as "a friend"—pushed back against fellow Fox News colleague Jeanine Pirro as she blamed President Joe Biden for Putin's internationally condemned invasion of Ukraine.
Pirro contended that Biden "is destroying the West." Rivera then interjected, asking: "How do you know that Putin wasn't playing Trump?" He also pointed out that he'd personally supported Trump as president.
"I don't give a damn what Putin thinks, I only care what Putin did, and he was a wuss when Trump was president, and that's the end of it," Pirro shot back angrily.
Kinzinger on Thursday morning tweeted a news article about the interaction between the two Fox News personalities. The GOP congressman wrote: "I am firmly in the @GeraldoRivera is correct camp."
While Trump and a number of his allies have contended that Putin would not have invaded Ukraine if he was still in the White House, members of the former president's national security team have given a different assessment.
"I think one of the reasons that Putin did not move during Trump's term in office was [that] he saw the president's hostility with NATO...and to Putin's mind, it's a binary proposition: A weaker NATO is stronger Russia," Trump's former White House national security adviser John Bolton told SiriusXM's Julie Mason last week. Bolton served in Trump's administration from April 2018 to September 2019.
"So I think Putin saw Trump doing a lot of his work for him and thought, maybe in a second term, Trump would make good on his desire to get out of NATO, and then it would just ease Putin's path just that much more," he said.
Just prior to Putin's invasion of Ukraine, Fiona Hill, who served as Trump's senior director for Europe and Russia on the National Security Council, said the ex-commander-in-chief paved the way for Moscow's assault. Hill criticized Trump in a February 20 interview with CNN for repeatedly praising Putin and his authoritarian leadership style.
"All this did was say to Russia that Ukraine was a playground," the national security expert said.
Just ahead of Putin's unprovoked attack against Ukraine, Trump described the Russian president as "smart" and "a genius." During his tenure as president, Trump routinely spoke favorably of Putin and on one occasion suggested he trusted the word of the Russian leader over his own intelligence agencies.
Amid the current crisis, Trump has attacked the U.S. response and called NATO's leaders "dumb."
Newsweek reached out to Trump's spokesperson for comment but did not immediately receive a response.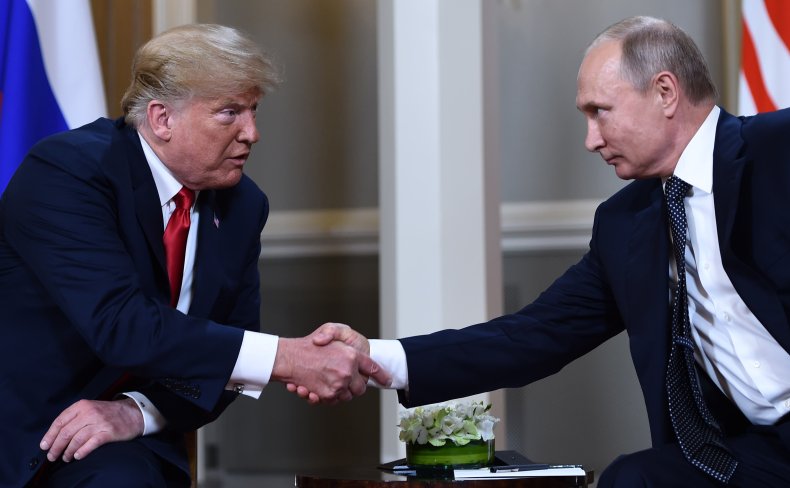 A number of prominent Republicans have lobbed criticism that appeared to be directed at Trump after his favorable assessments of Putin amid the Ukraine invasion.
"There is no room in this party for apologists for Putin. There is only room for champions," former Vice President Mike Pence, who served under Trump, had reportedly said in remarks on March 4.
"How can anyone with any understanding of the world call Putin's decision to invade Ukraine 'genius' and 'very savvy' as we watch him unite the rest of the world against Russia in nearly an instant?" New Jersey's former GOP governor, Chris Christie, tweeted on February 28 in an apparent dig at Trump.