Exclusive: Ukraine Would Fire Across Russian Border—Front-Line Governor
Ukrainian troops will fire across the border into Russian territory if necessary, the governor of Luhansk Oblast has said, as Ukrainian forces rapidly reversed gains that took Russia months of fighting and many casualties.
Serhiy Haidai spoke to Newsweek from close to the front lines in the east, where Kyiv's forces push ahead in their remarkable counterattack in neighboring Kharkiv Oblast that has changed the shape of the war.
Echoing other Ukrainian leaders, Haidai said Kyiv's forces would do whatever is necessary to fully eject Russian troops from occupied Ukrainian territory. This might mean hitting targets inside Russia proper, he said.
"If they fire at us from any location, we will not hold back and will return fire regardless of where they are," Haidai said.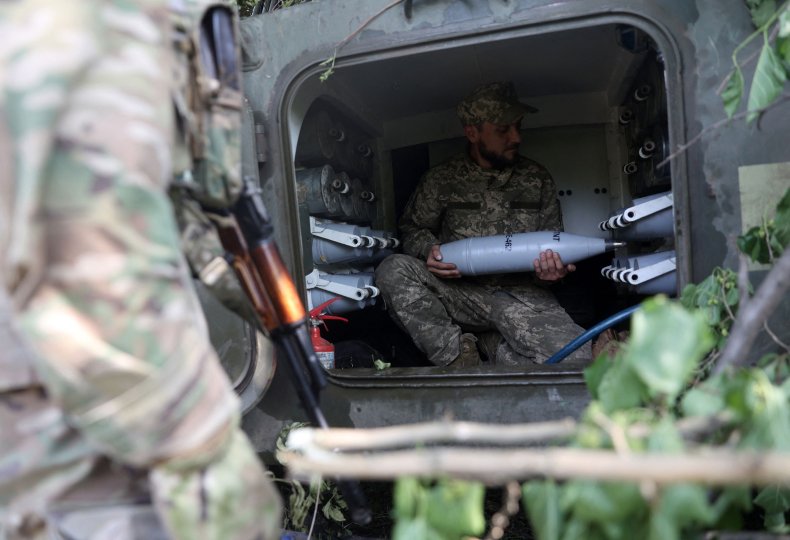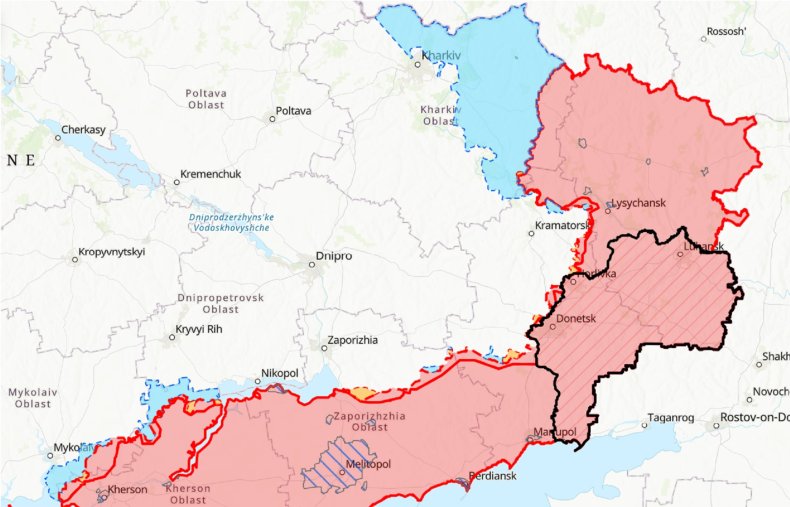 Ukraine has said Russian artillery is already firing across the border on its positions, reporting that Russia is already evacuating civilians from towns close to the border.
Russian forces have also been striking infrastructure targets around Kharkiv city, with cruise missiles striking targets including power stations—leaving swathes of Ukraine without electricity.
Haidai told Newsweek Ukrainian forces "will respond in kind and fire back."
"They are firing at civilian areas and destroying critical infrastructure from a great distance—just look at what they did to the power station in Kharkiv," he said.
"The sole purpose is to harm people, there are no military targets here. The Russians are staying true to their nature: they are attempting to bring about the genocide of the Ukrainian people."
"But we have our air defense systems, which are working well, though of course the West can provide us with even better systems. But we also don't plan to sit still: we will respond in kind and fire back at them when we get opportunities. That includes preventative strikes against Russia's critical infrastructure."
The Russian Foreign Ministry has been contacted for comment.
Moscow has already accused Kyiv of several attacks in regions such as Belgorod, Bryansk, and Kursk. Ukraine has denied its forces were responsible.
American hesitance to provide Ukraine with certain advance weapons systems has been explained, in part, by concerns they would be used to fire into Russia.
President Joe Biden's decision to provide Ukraine with multiple launch rocket systems (MLRS)—including the much-vaunted High Mobility Artillery Rocket System, or HIMARS—came after Kyiv promised "not use these systems against targets on Russian territory," Secretary of State Antony Blinken said.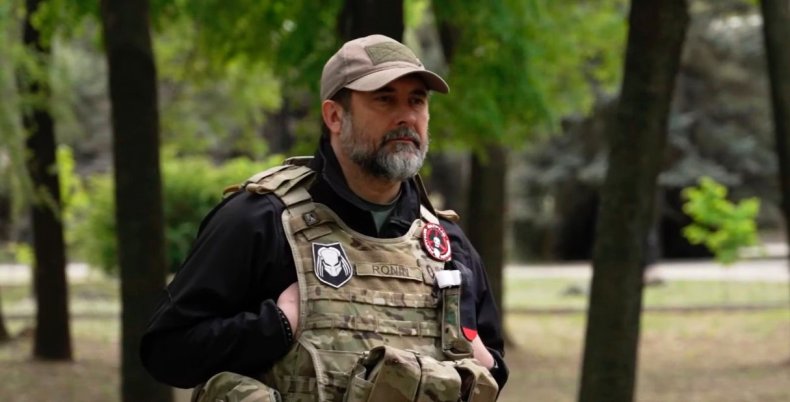 Ukrainian forces have driven deep into Russian-held territory, liberating most of Kharkiv Oblast and making gains in Luhansk; the latter region a key Russian war goal, along with Donetsk to the south.
The Institute for the Study of War think tank says Ukraine has liberated about 9,000 square kilometers (3,474 square miles) of territory since the end of August.
Russian 'Warriors on Paper'
Haidai said he is confident of more success, and lauded the work of Colonel General Oleksandr Sirski, who is leading the counteroffensive.
"The Russian army are not real warriors," Haidai said. "They are warriors on paper, and on the internet, but when push comes to shove, they run. The levels of motivation are incompatible in this conflict: they came to pillage and plunder, while our men are defending their families, their lives and country."
As for the thousands thought captured, "we have places to hold them in," Haidai said. "It's in our interest to take as many as possible, because even though they are enemies, our soldiers realize that they hold the key to bringing back the boys that were captured by the Russians. It gives us more leverage in the prisoner exchanges."
Key Railway Junction Town
The element of surprise, Haidai said, was crucial. Ukrainian forces telegraphed the coming—and ongoing—counteroffensive in southern Kherson Oblast. With Russian forces deployed to the south, Ukraine was able to smash through thinned lines in the northeast.
Haidai said the focus of fighting in the area is now Lyman, a strategically valuable railway junction town west of Lysychansk and Severodonetsk, over which the Russians and Ukrainians fought for months earlier this year.
"We need to liberate it next, and that will open the path for our military to begin retaking the Luhansk Oblast," Haidai said of Lyman. The governor said this weekend that Ukrainian troops had already been seen on the outskirts of Lysychansk, though declined to give more information.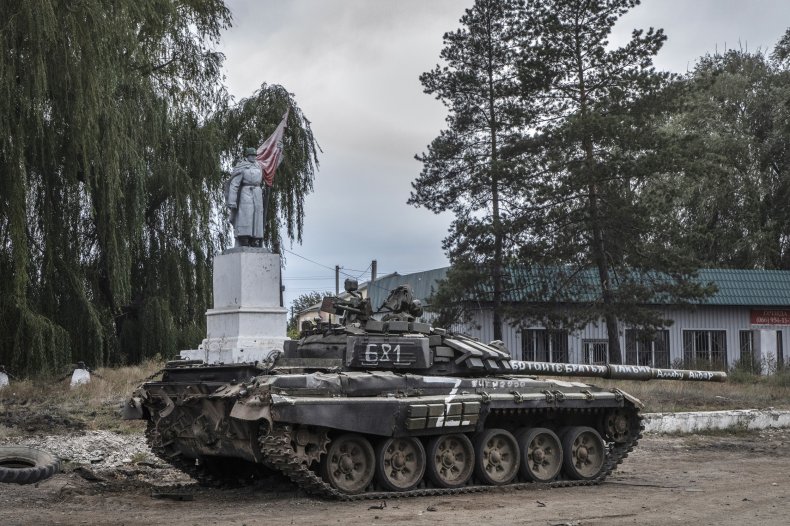 Haidai stressed that Ukraine's counteroffensive is bringing great success at high cost.
"I am not a fan of talking about their advances as if it's a military parade," he said. "Our men are taking some losses. The Russians' defenses are not as impressive as many feared, and they are leaving behind a lot of equipment and ammo, but they are still firing back, especially in certain locations, so the danger to our troops should not be ignored."
"Minimizing losses will be the priority, rather than retaking this or that town at any cost," he added.
Haidai reported severe damage to areas involved in fighting since February. There, he said, "there's barely any functional infrastructure left, and most people have been evacuated."
As Russian lines collapse and units flee ahead of the Ukrainian advance, local resistance is active, Haidai said. "We are seeing pockets of resistance even in areas still technically under Russian control, as people quietly raise Ukrainian flags over administrative buildings as they sense the Russians' fear or see them retreating. And we will soon liberate those settlements."
Then, the governor said, Ukrainian authorities will punish collaborators who facilitated Russian occupation, whether since 2014 or since February.
Russia has raised concerns about the fate of some of the citizens that were engaging with and assisting the invading forces in occupied territories, and human rights activists have flagged similar concerns. As in any conflict, there will likely be some collaborators, and some who actively participated in pro-Ukrainian resistance.
But what will happen to those who tried to live their lives, or were forced to aid the Russians for fear of losing their lives? Haidai says it will depend on the circumstances.
"We know who is who," he said.
"Those people [who stayed neutral] have nothing to fear. But those who actively engaged and assisted the occupying force—there we have a problem. Many of those will have to stand trial."
"But many of the collaborators are leaving along with the Russians, and good riddance to them. Retribution will come sooner or later."
Correction, 09/14/2022, 7:00 a.m. ET: This article has been updated to correct a misattributed citation.