Front-Line Ukraine Governor Tells NATO How To End Russian Occupation
Ukraine needs scores more U.S.-made M142 High Mobility Artillery Rocket Systems—known as HIMARS—and other long-range artillery pieces to turn the tide of the bloody fighting in the east and eject occupying Russian troops, a front-line governor has said.
Luhansk Governor Serhiy Haidai told Newsweek from eastern Ukraine on Tuesday that Russia's grinding advance to seize the Donbas was being slowed by fierce Ukrainian resistance armed with Western weapons, but that the defenders need more help to reclaim land lost in Luhansk and Donetsk oblasts.
"As for the Western support, compared to the situation a month ago it is certainly a vast improvement—we now have tangible and effective assets that we are already deploying, with great results," Haidai explained. "But compared to what we need, then of course it is not enough."
Long-range artillery—both rocket and howitzer systems—is pivotal, he said. Russian forces still outnumber Ukraine in the number of artillery pieces and the amount of ammunition available, though the defenders have been degrading Russia's logistics capabilities with devastating HIMARS strikes on logistics hubs.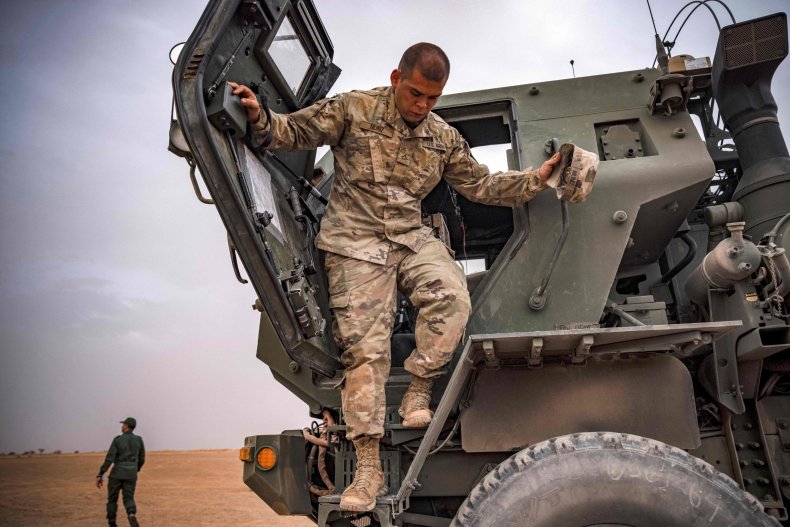 "I can tell you that we still have not received enough of these weapons to accomplish all our goals," the governor said. "What we already have received—including the HIMARS, AHS Krabs, the M777 howitzers and other systems—is already delivering results."
Ukraine now has eight HIMARS with guided munitions capable of hitting targets at about 50 miles. The U.S. has committed another four systems to be delivered soon.
"In order to really change the dynamic on the battlefield, we need several times more weaponry," Haidai said. "So for example, 10 HIMARS are already making a difference, but we need 100 of them, 10 battalions with 10 HIMARS in each one to be spread across the whole of the front line. Or at the very least 50 of them."
"Same goes for the howitzers," he added. "They are very good indeed, but to really take the initiative in the conflict, we need a lot more ammo for them. Because three howitzers just won't be enough, we need at least five divisions on every front, with 15-18 units in each division.
"When we have sufficient amounts of such weaponry, we will be able to carry out further counterattacks," Haidai said.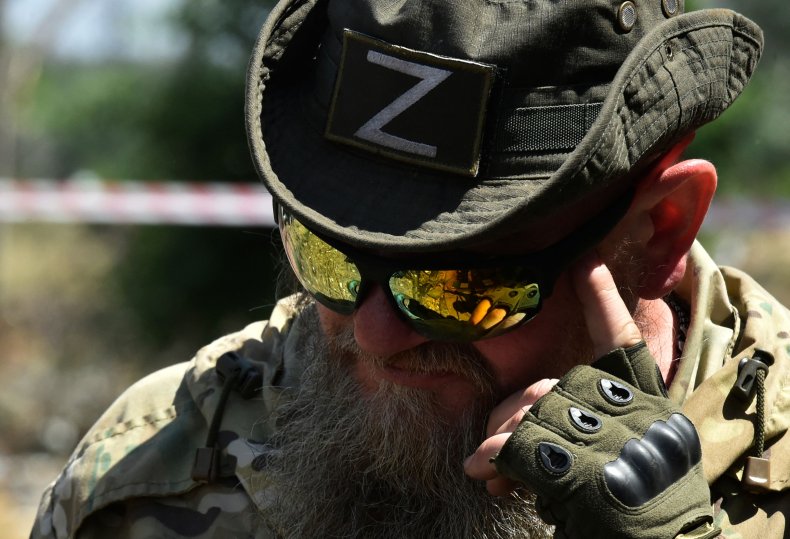 Ukraine's next offensive is expected to come in Kherson Oblast, occupied early in the war. Ukrainian troops have forged a path to the outskirts of Kherson city, and are now bombarding key Russian positions.
"There is no doubt that it would be a gamechanger," Haidai said of a successful offensive into Kherson.
"The Russians' supplies lines go through the Kherson region. And besides that it would be a huge blow to their morale and military ambitions if we manage to retake Kherson."
"Of course, they will probably call it a 'goodwill gesture' again," he joked, referring to suspect Russian justifications for withdrawals from north of Kyiv and Snake Island.
The Russian-declared "operational pause" in the east, Haidai added, is also not genuine.
"It makes sense that they need this break, to resupply and also bring in more reserves and weaponry," the governor said, noting the heavy losses Russia sustained taking the Luhansk cities of Severodonetsk and Lysychansk.
Russian Tanks Destroyed in Luhansk Battle
But the advance has not stopped, he added. "One of their tank divisions went on the offensive just days ago, every day their artillery is shelling us." The Russian tank offensive was repulsed with up to 24 destroyed and eight captured, Haidai said.
"Every day they are trying to secure new positions. So where is this 'pause'? With the Russians, you have to separate their words from their actions."
Luhansk, he added, is still not 100 percent occupied. Fighting continues west of Lysychansk around the settlements of Bilohorivka and Verkhne-Kamenka. "We are holding our positions," Haidai said, explaining that Ukrainian forces maintained most of their strength and equipment in tactical withdrawals from contested positions elsewhere in Luhansk.
"All of our current plans fall under two main objectives: one is to support our military, so they hold on long enough for sufficient amounts of Western weapons to be supplied," Haidai explained. "We will do everything in our power to ensure that our soldiers have everything that they need in their mission."
"The second task is to help and protect the civilian population, including more than 300,000 that have been displaced. So we are trying to provide humanitarian assistance and support so that people don't feel like they've been abandoned."
Newsweek has contacted the Russian Foreign Ministry to request comment.