Fact Check: MyPillow CEO Mike Lindell Back on Twitter After Musk Takeover
With conservative voices reportedly streaming back to Twitter—the platform they once eschewed for its perceived liberal bias—claims that accounts of several pro-Trump firebrands have been restored are spreading online.
One features MyPillow CEO Lindell, a staunch Donald Trump supporter, who had his account permanently suspended in January 2021 for "repeated violations" of its "Civic Integrity Policy."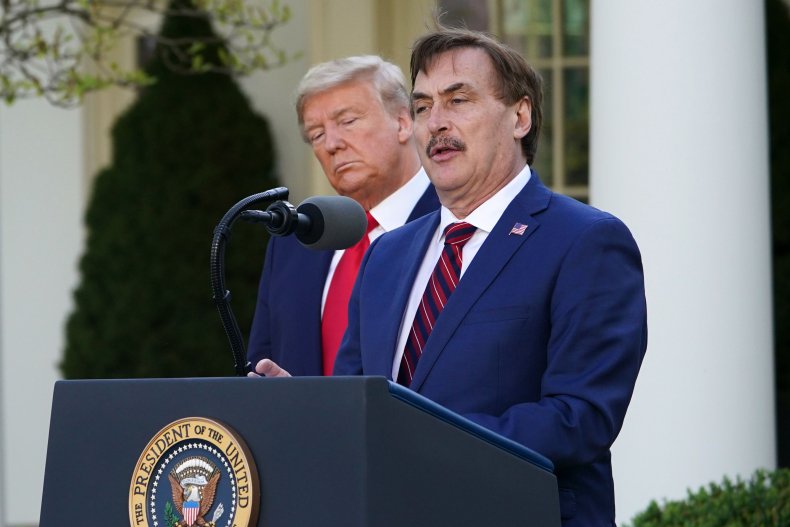 Although it wasn't revealed which of his tweets led to the suspension, Lindell has frequently promoted the false claims that Trump lost the 2020 election due to fraud.
However, the tweet celebrating his return to Twitter isn't all it seems.
The Claim
A tweet published on April 26, 2022, from a "Mike Lindell" stated: "Thank you, Elon Musk. I'm back and I will re-build my account. Please share."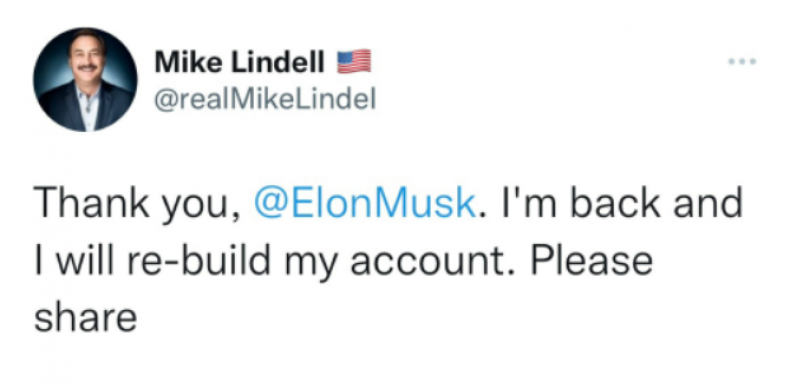 It received more than 14,000 retweets in one day, while the account gained 53,900 followers.
The Facts
Since the announcement that Elon Musk bought Twitter for $44 billion, many have speculated whether historical Twitter account bans would be reinstated under its new leadership.
Lindell, who claims to have spent $35 million of his own money to overturn the 2020 Biden election win, is one of multiple public figures—including Steve Bannon, Marjorie Taylor Greene and (most famously) Donald Trump—who have had Twitter accounts suspended.
The tweet, purporting to be from the MyPillow CEO, was enough to convince tens of thousands of users that Lindell was indeed back on Twitter.
However, within a day, the account was found to be a fake and suspended.
As pointed out by others, the account had not spelt Lindell's name correctly in his Twitter handle. The account was also unverified by Twitter.
Newsweek was able to find other inauthentic Twitter accounts that have been created within the past few days, including a fake Donald Trump account with 63,000 followers.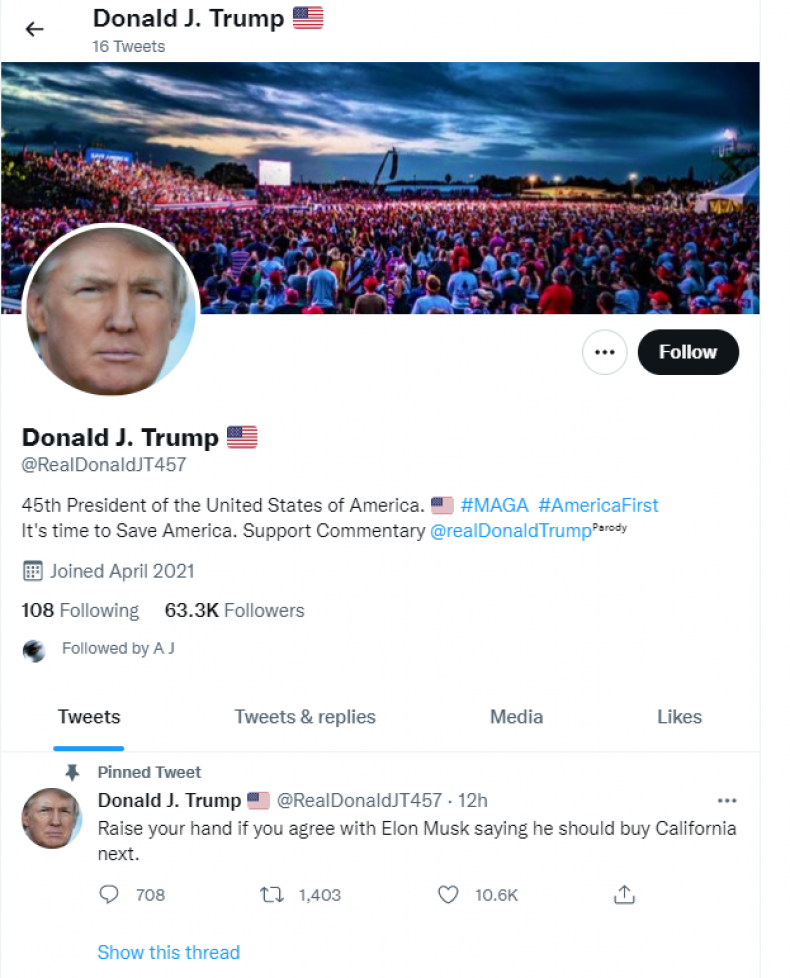 Newsweek reached out to Twitter for comment.
Changes at the top of Twitter have catalyzed a narrative that the platform may soften its position toward conservative voices it has previously regulated.
Musk himself tweeted on Wednesday, 27 April, 2022, a picture showing Donald Trump's Truth Social app "beating Twitter & TikTok on the Apple Store," fueling rumors the former president could have his account reinstated.
The platform has also seen an apparent shift in its user base since the Musk announcement with conservatives such as Ted Cruz and Tucker Carlson gaining thousands of new followers in only a few days.
Carlson's account in particular has helped animate the idea that more conservatives will return to Twitter after his account was reinstated following a suspension in March 2022.
In contrast, liberal figures such as Vice President Kamala Harris and Rep. Alexandria Ocasio-Cortez (D-NY) have seen a similarly-sized drop in their Twitter audience, according to Social Blade.
Some theories online claim this change in user base is evidence of either a pro-Democrat Twitter bot purge, an alteration in the platform's algorithm, or a deliberate increase in Republican bot followers purposefully designed to encourage more liberal users to leave.
However, the pattern is more likely a result of left-leaning users deactivating their accounts since Musk's takeover, and those on the opposite side of the spectrum making a comeback.
Earlier this week, celebrities including Mia Farrow and Jameela Jamil announced their departure from Twitter. Jamil in particular said that Musk's "free speech bid" would "help this hell platform reach its final form of totally lawless hate, bigotry, and misogyny".
The shift from a left to right audience does not appear to be uniform either. According to Social Blade, while former president Barack Obama and current President Joe Biden's accounts initially lost followers this week, their numbers have quickly recovered.
In fact, some accounts considered by some to be more left-leaning, such as Bill Gates and The New York Times, have seen day-on-day audience increases.
The Ruling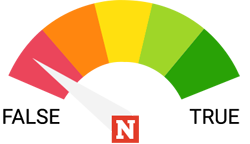 False.
Mike Lindell did not return to Twitter this week. Elon Musk's takeover has propelled rumors that suspended conservative accounts (such as Lindell's) may be reinstated. This enthusiasm among conservative Twitter users has led to the creation of a number of fraudulent accounts.
FACT CHECK BY NEWSWEEK