As Saturday marks the 15th anniversary of the deadliest school shooting in U.S. history, some experts say not a lot has changed since the 2007 Virginia Tech massacre and fear additional school shootings could result due to lack of adequate gun control legislation.
On April 16, 2007, a student at the Virginia Polytechnic Institute and State University—commonly known as Virginia Tech—shot and killed 32 people and injured at least a dozen more before he died of a self-inflicted gunshot wound.
Fifteen years after Virginia Tech, March For Our Lives Press Secretary and Brand Strategist Noah Lumbantobing told Newsweek that "a lot of things have changed, and in other ways, you know, frighteningly, we're in the same spot" when it comes to preventing mass shootings in the U.S.
In the direct aftermath of the Virginia Tech shooting, former President George W. Bush signed an incident background check system in the hopes of making the screenings more thorough when an individual attempted to purchase a gun. "And since then, we haven't really seen significant movement at the federal level from Congress," Lumbantobing said.
While laws requiring background checks to purchase guns exist, pressures have mounted for the Biden administration to do more to implement gun control. Last April, President Joe Biden signed an executive order that directed the Department of Justice to create a model "red flag" law that removes firearms from people who are believed to be a danger to themselves or others.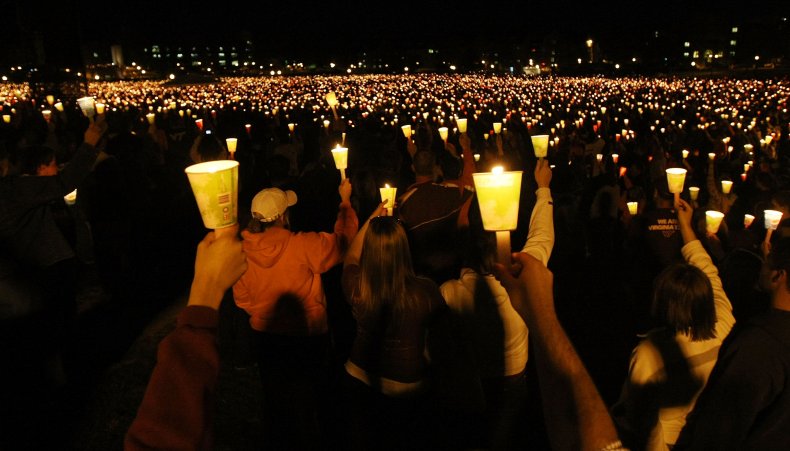 Still, states continue to put forth their own laws. In Alabama, a bill was signed last month to allow some gun owners to carry concealed weapons without a permit.
"It's been 15 years and there's been so many other mass shootings that have sort of defined this era, this generation," he added. By March For Our Lives' count, he said, there has been something close to 150 mass shootings in the U.S. since Virginia Tech.
"Some states have passed legislation prohibiting firearms on campus since then, which we think is a step forward. There are also some other states that are trying to take a step backward and the gun lobbyists trying to pass legislation or challenge gun control laws that prohibit guns on campus," Lumbantobing said.
Open-carry bills in several states could allow for students to carry guns on campuses, and Republican lawmakers in Wisconsin passed several bills in January that would lower the age necessary to obtain a concealed carry permit from 21 to 18.
"It's pretty frightening to consider the fact that anybody, whether you're a minor or not, could be carrying guns on campus," Lumbantobing added. "You know, it's not allowed right now, but the very fact that the right is considering that, is shocking."
Seung-Hui Cho's 2007 shooting spree at Virginia Tech was comprised of two attacks: the first took place around 7:15 a.m., in which he shot and killed two students in a residential building at Virginia Tech. Then, at around 9:40 a.m., he entered a classroom building and chained several doors shut before going on a shooting rampage from classroom to classroom.
The spree was considered the deadliest mass shooting in the U.S. until it was surpassed by the 2016 shooting at the Pulse nightclub in Orlando, where 49 people died.
Virginia Tech remains the deadliest school shooting, followed by the 2012 shooting at Sandy Hook Elementary in Newtown, Connecticut, that claimed 26 victims, and the 2018 shooting at Marjorie Stoneman Douglas High School in Parkland, Florida, where 17 people died.
"We've been defined as a 'lockdown generation,'" Lumbantobing told Newsweek, "whether it's Columbine, the Virginia Tech shooting, Parkland, you know, it's constant. And it's not a matter of if, it's a matter of when."
"We have more guns in the country than we do people," he added. "This isn't a bipartisan issue. This is not a political issue. This is an American issue. It's a human issue. You know, 50,000 people dying every year is not...that's not normal."
On the day of remembrance this year, Virginia Tech wrote in a statement to Newsweek, "We honor the 32 students and faculty whose lives were taken 15 years ago. We embrace our commitment to community and how, through community, our resilience, healing, and promise for a brighter future grows stronger."