Florida Newspaper Slams Gov. DeSantis for Pushing 'Big Lie' With Election Bill
One of Florida's most prominent newspapers published a scathing article slamming Governor Ron DeSantis, a Republican, for promoting the "Big Lie" that the 2020 election was fraudulent through his signing of a controversial election bill on Thursday.
State Republican lawmakers across the country have pushed for major election reforms and restrictions following President Joe Biden's victory in the 2020 election, as well as Democrats narrowly flipping control of the Senate. DeSantis signed a GOP-backed election bill on Thursday, as former President Donald Trump—a Florida resident—and his allies continue to groundlessly claim that the 2020 election was "rigged" or "stolen" as they push for the election changes.
"The oppressive law perpetuates the Big Lie of a stolen election by insinuating that Florida election laws needed fixing or don't prevent fraud. That's false. As DeSantis himself has said repeatedly, Florida ran a seamless election last November, with an impressive 77 percent turnout during a pandemic. Nearly half of all voters voted by mail, many of them Democrats, yet Republicans still won," the editorial board of the South Florida Sun-Sentinel wrote in a Thursday article.
The publication is based in Fort Lauderdale and is the largest newspaper in the South Florida area.
"But they're not happy, so they're cynically attacking voting by mail for one simple reason: because Democrats like it, especially people of color, and they want to keep voting that way," the editorial board continued. "Shame on Republicans for this law, which will only make it harder for lawful votes to be counted and will undermine public faith in Florida elections."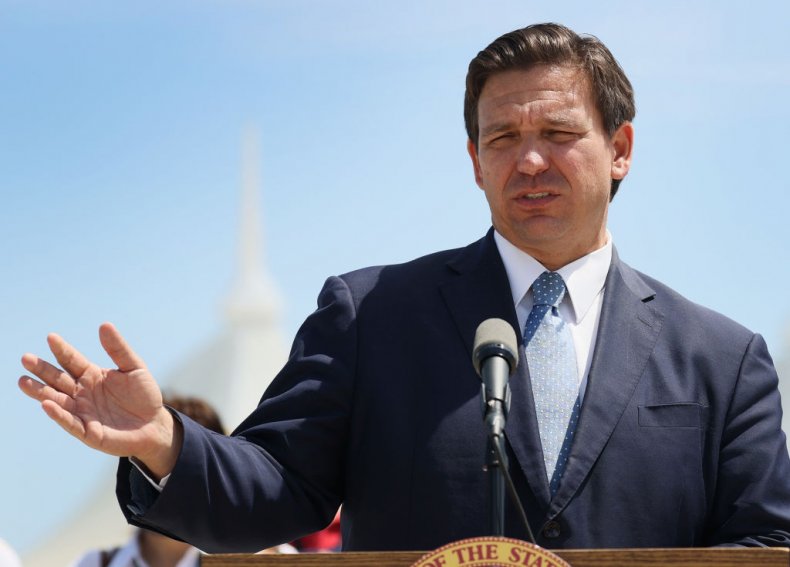 "What makes this charade all the worse is that the only known case of election fraud in Florida from the 2020 election involves a Republican, Frank Artiles, a former legislator from Miami-Dade. He faces multiple felony counts for allegedly recruiting a sham third-party candidate who disrupted a Senate race that ended with a Democratic incumbent, Jose Javier Rodriguez, losing by 32 votes," they wrote.
The editorial board argued that DeSantis "keeps revealing his thin skin" and that he "increasingly acts like his role model, the tyrannical Donald Trump."
Newsweek reached out to DeSantis' press office for comment.
The Republican-controlled Florida Legislature passed the controversial election bill without the support of any Democrats. The bill significantly restricts the use of ballot drop boxes and makes it so applications for mail-in ballots must be requested instead of automatically sent out to eligible voters, among other significant changes. Notably, the Florida bill was pushed through despite Trump winning the state in 2016 and 2020.
Although Trump and many of his GOP allies continue to claim that there was widespread fraud in the 2020 election, no evidence has been provided to substantiate this extraordinary allegation. Instead, dozens of election challenges filed by the former president and his supporters have failed in state and federal courts. Even judges appointed by Trump and other Republicans have rejected or dismissed the often bizarre claims made to justify the lawsuits.
Audits and recounts in key battleground states—including in areas where the elections were overseen by Trump-supporting Republicans—have all reaffirmed Biden's victory. Former U.S. Attorney General William Barr, who was widely seen as one of Trump's most loyal Cabinet members, asserted at the beginning of December that there was "no evidence" of fraud that would impact the election's outcome. And the Cybersecurity and Infrastructure Security Agency at the Department of Homeland Security, which was led by a Trump appointee at the time, said in mid-November that the 2020 election was the "most secure in American history."