Former Federal Prosecutor Says 'Vladimir Putin Owns Donald Trump' In Unsubstantiated Claim During TV Interview
A former federal prosecutor made the unsubstantiated claim that Vladimir Putin "owns" President Donald Trump" in an MSNBC appearance Monday.
Glenn Kirschner told the network Monday that the commander-in-chief was "beholden" to the Russian president, and referred to a Washington Post report that quoted a "senior White House official" claiming Trump believed Ukraine interfered in the 2016 election, saying "Putin told me."
His claim came after the Trump-Russia investigation led by special counsel Robert Mueller found there was no conspiracy between Russia and the president's campaign.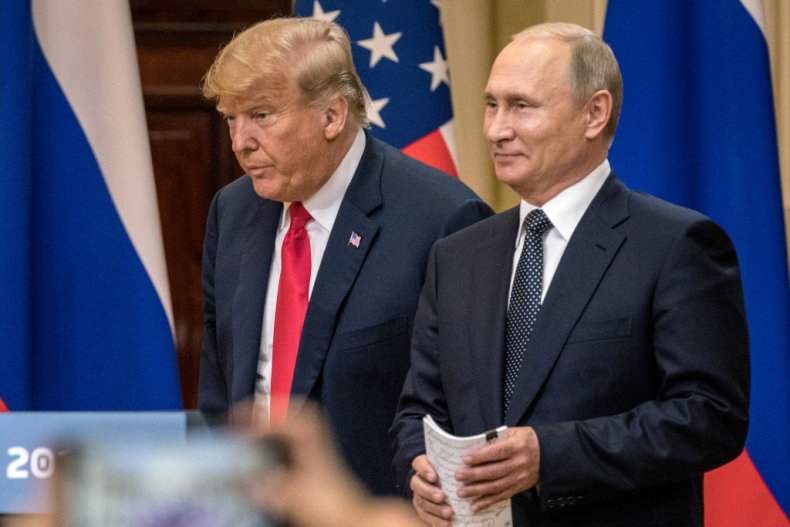 But an indictment during the Mueller investigation did show that Russian intelligence officers tried to hack the personal email account of then-Democratic presidential candidate Hillary Clinton after Trump urged the country to find emails she had deleted.
After recounting Trump's July 2016 call for Russia to "find the 30,000 emails" Hillary Clinton deleted from a personal account, Kirschner told MSNBC yesterday: "Within hours we learned, courtesy of the Mueller report, that Russian government hackers targeted and cyber-attacked the email accounts of Hillary Clinton staffers.
"That was candidate Donald Trump urging Russia to interfere in our elections."
The MSNBC legal analyst later went on to make the unsubstantiated claim that "Vladimir Putin owns Donald Trump," adding that the U.S. president was "beholden" to his Russian counterpart.
"One you've got Donald Trump saying 'Putin told me it was Ukraine.' Two, you've got- if you think back to Andy McCabe, remember when Andy McCabe said he and some members of the intelligence community were in the Oval Office briefing Donald Trump on the ballistic missile threat by North Korea, and Trump interrupted and said 'no, no, no, no, Putin said something different and I believe Putin.'
"Everything that we know says Putin basically owns Donald Trump."
Newsweek has attempted to contact Kirschner through Homicide Family Advocates, an organization listing him as its founder and president, seeking further evidence to substantiate his claim.
Attempts were also made to contact the former prosecutor through a form on his website, but it appeared to be broken. The White House has been contacted for a response.
In a tweet Tuesday, Kirschner also took aim at Republican Senate Majority Leader Mitch McConnell and Sen. Lindsey Graham, accusing them of "mocking" the oath taken by jurors that they will also have to take should two articles of impeachment be sent to the Senate for a trial of President Trump.
McConnell told reporters he was "not an impartial juror" when asked about the possible Senate trial, and Graham has previously said he would not need to "hear a lot of witnesses" before reaching a decision on whether to acquit or convict the president.
"Every day in our country, jurors take an oath to do fair & impartial justice & decide cases based solely on the evidence," Kirschner tweeted Tuesday. "Mitch McConnell & Lindsey Graham are mocking that oath. Every American should be asking themselves, what kind of drug deal are McConnell & Graham cooking up?"