Fox News Host Presses GOP Senator on Whether Trump's Putin Praise 'Unwise'
Fox News host Martha MacCallum on Sunday pressed Senator John Cornyn, a Texas Republican, over whether former President Donald Trump's praise for Russian President Vladimir Putin and his urging of the adversarial leader to provide information on President Joe Biden's son, Hunter Biden, are "unwise."
Just ahead of Putin's internationally condemned invasion of Ukraine, which began on February 24, Trump described the Russian president as a "genius" and "smart." Then last week, he said during an interview with right-wing outlet Real America's Voice that Putin should "release" info he may have on Hunter Biden's business dealings in Eastern Europe.
MacCallum confronted Cornyn over the former president's remarks about Russia and Putin during an interview on Fox News Sunday.
"Former President Trump has called Vladimir Putin a 'genius' for the pre-war strategy, he clarified that recently," the host said. "He's also called on him to turn over information that Putin might be aware of about Hunter Biden's business practices in the region. Do you think that will help him or will it hurt him if President Trump decides to run again?"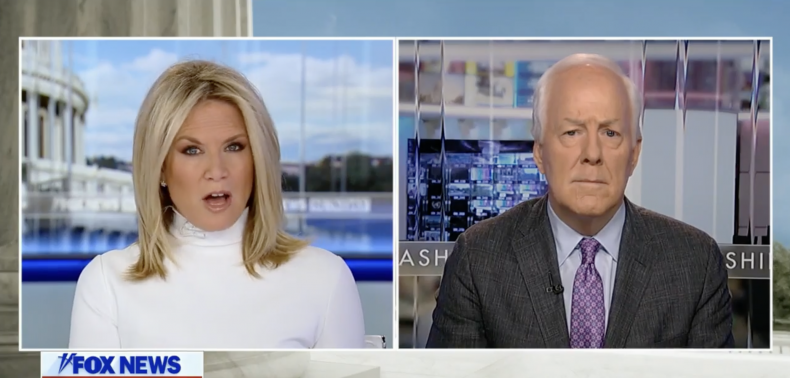 The senator responded quickly, asserting that he wouldn't "trust" Putin "any farther than I could throw him." He went on to describe the Russian leader as "a killer" and "a thug." He also explained that the Russian president "has a vision of restoring the Russian Empire."
"So, I wouldn't trust Vladimir Putin for a minute," he added.
MacCallum then pressed her question, responding: "So, you think those are unwise comments, is that fair to say?"
"Well, I just don't think it's a conversation worth having," Cornyn answered.
Other GOP lawmakers have pushed back against Trump's comments regarding Russia and Putin, saying he shouldn't be asking the leader in Moscow for assistance.
"I don't think we should be asking Putin to do anything," Senator Lindsey Graham, a South Carolina Republican and Trump ally, said, NBC News reported. Notably, Graham has publicly called for the Russian president's assassination.
"I don't think Vladimir Putin ought to be one of the people we go to for favors right now," Senator Mitt Romney, a Utah Republican, said, according to NBC. "He's one of the worst people on the planet. America shouldn't be asking for favors."
Speaking to CNN on Sunday, Maryland's Republican Governor Larry Hogan criticized Trump for asking Putin to "release" any potential information on the president's son.
"It's about the worst possible thing you can do when all these atrocities are taking place in Ukraine," Hogan said, adding that "for a former president to try to drag politics into this—is completely unacceptable." Hogan has routinely criticized Trump in the past.
At the outset of Russia's assault on Ukraine, the Kremlin's state-run propaganda utilized clips of Trump—as well as former Secretary of State Mike Pompeo and Fox News host Tucker Carlson—speaking favorably of Putin. At the time, Representative Liz Cheney, a Wyoming Republican and staunch Trump critic, highlighted the propaganda and warned about its impact.
"As Russian forces invade Ukraine, Russian TV features Donald Trump, Mike Pompeo and Tucker Carlson praising Putin," she tweeted on February 25. "Putin is evil. Every American watching what's happening in Ukraine should know that." The congresswoman included screenshots from Russian media.
Newsweek reached out to Trump's press office for comment, but did not immediately receive a response.