As authorities continue searching for Brian Laundrie in Florida and work to confirm that a body found Sunday in Wyoming is that of Gabby Petito, internet sleuths have pointed out footage of Laundrie reading a book about women who go missing.
In a video called "VAN LIFE | Beginning Our van Life Journey," posted to Petito's YouTube channel Nomadic Statik on August 19, Laundrie is briefly seen reading the book Annihilation by Jeff VanderMeer. In the novel, four women travel into an uninhabited area. Three of women die, and the fourth stays in the area permanently.
The detail was commented upon by, among others, YouTube users and TikTok user @alyssaest93. "So many people have said that that information needs to be handed over to the police," she said in a video she posted to the platform a few days ago, explaining why she believes the book is related to the case. She called the footage "disturbing."
However, some other TikTok users were skeptical of the connection, saying that video was reaching.
"This book 'Annihilation' 10000% has nothing to do with this case," wrote @julezandtherollerz. "It's literally about aliens. This is almost just offensive at this point."
"Don't dig into the little details of the book," @alyssaest93 responded. "Just look at it as a whole."
On Sunday, authorities said in a press conference that human remains were found in the Spread Creek area of Wyoming "consistent" with Petito, but a full forensic identification has not yet been completed.
"Full forensic identification has not been completed to confirm 100% that we found Gabby, but her family has been notified," said FBI Supervisory Special Agent Charles Jones on Sunday, according to the Associated Press. "This is an incredibly difficult time for (Petito's) family and friends."
Petito, 22, is believed to have gone missing while headed to the park with Laundrie in August. She was first reported missing September 11 after he had returned to their shared North Port home alone on September 1.
She was reportedly last seen August 24 at the Fairfield Inn & Suites in Salt Lake City. The couple had been making their way from Utah's Arches National Park to Grand Teton. She was last in contact with her family on August 25 via FaceTime.
Authorities continue to search for Laundrie in Florida, focusing their efforts on the vast Carlton Reserve, an area infested with alligators, as Petito's family say he's not missing but "hiding."
"Brian is not missing, he is hiding. Gabby is missing," the statement by the law office of Richard Stafford said, tweeted by ABC News.
He was reported missing Friday, and police believe he could survive in the swampland for months, if he's there.
Earlier in the week, the Moab City Police Department released body-cam video filmed after an altercation between Petito and Laundrie which showed Petito looking visibly upset and Laundrie with scratches on his face. She was seen talking to an officer about her mental health and how the altercation began after he locked her out of the van.
In a September 15 press release, the North Port Police Department named Laundrie a person of interest in Petito's disappearance, though he is not wanted for a crime.
Many amateur sleuths have joined in on the search online, sharing theories and tracking developments in the case.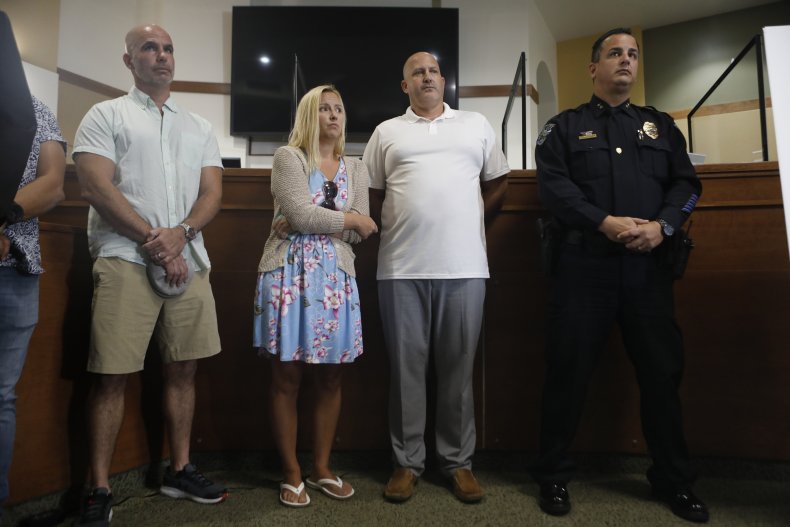 This story has been updated with information from the FBI's Sunday press briefing.