Gabby Petito's Parents Beg Brian Laundrie to 'Turn Yourself In'
Gabby Petito's parents have publicly told their deceased daughter's fiancé, Brian Laundrie, to turn himself over to legal authorities.
Laundrie, who is sought by police as a "person of interest" in Petito's death, hasn't been seen since September 14. His family reported him as missing on September 17. Petito's body was discovered on September 19. Two days later, the FBI ruled her death a homicide following an autopsy.
In a Tuesday press conference, the Petito family's attorney Richard Stafford said the Petitos don't expect Laundrie's family to cooperate with investigators, The New York Daily News reported.
"The Laundries did not help us find Gabby. They're sure not going to help us find Brian," Stafford said. "For Brian, we're asking you to turn yourself in to the FBI or the nearest law enforcement agency."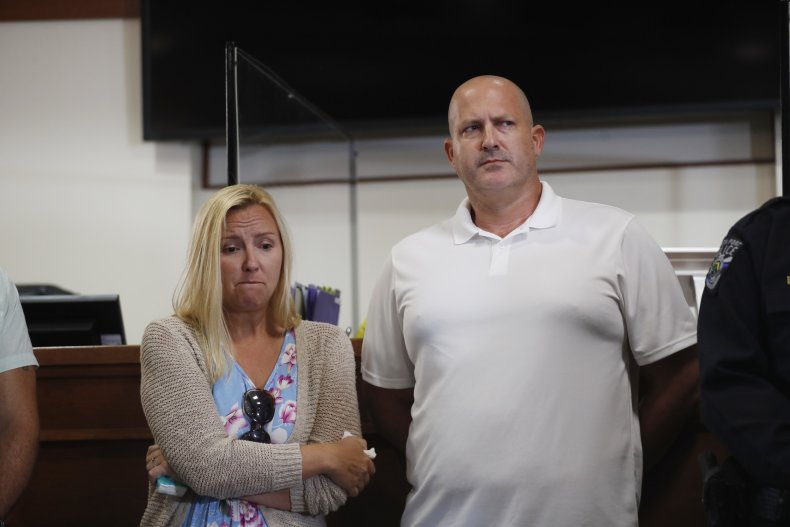 At the press conference, Petito's parents mentioned their intention to start a foundation in their daughter's memory. The foundation would help other people find their missing family members.
"We need positive stuff to come from the tragedy that happened," said her father, Joe Petito. "We can't let her name be taken in vain."
Brian Laundrie's parents told police that he said he was going hiking in the 24,500-acre Carlton wildlife reserve near the family's Sarasota County home in Florida. Authorities have used drones, dogs and dive teams as part of their search for him.
An expert outdoorsman has said he doesn't believe Brian Laundrie could survive out in the wildlife reserve's swamplands of Florida. He would have to survive cold waters, mosquitos, alligators, snakes and wild boars, the outdoorsman told Fox News.
Gabby Petito's best friend, Rose Davis, told People magazine that Brian Laundrie can survive for long periods in the wilderness because he has done it before. Brian Laundrie "lived in the Appalachians by himself for months," Davis said.
On Wednesday, the FBI announced that an arrest warrant had been issued for Brian Laundrie by the U.S. District Court of Wyoming. The warrant said law enforcement officials should arrest Brian Laundrie if they locate him. They are then to bring him to a U.S. magistrate judge "without unnecessary delay."
The court issued the warrant after a grand jury indicted Brian Laundie for allegedly using someone else's debit card and bank personal identification numbers to obtain "things of value aggregating to $1,000 or more" between August 30 and September 1.
A law firm has offered a $20,000 reward for information leading to Brian Laundrie's arrest.
On September 25, Brian Laundrie's parents called police to report that Duane "Dog the Bounty Hunter" Chapman was on their property. Chapman, a former reality TV star, arrived at their Florida home to search for their son.
Chapman has claimed to have received more than 1,000 tips about Laundrie's whereabouts. He said he believes that the Laundries helped their son escape.
On Sunday, federal investigators took Brian Laundrie's personal items from his parents' home returned for the purposes of matching DNA samples.
Newsweek contacted Stafford's office for comment.