'Game of Thrones' Line Cut? 'Dragonstone' Director Responds to Theory About the Hound's White Walker Vision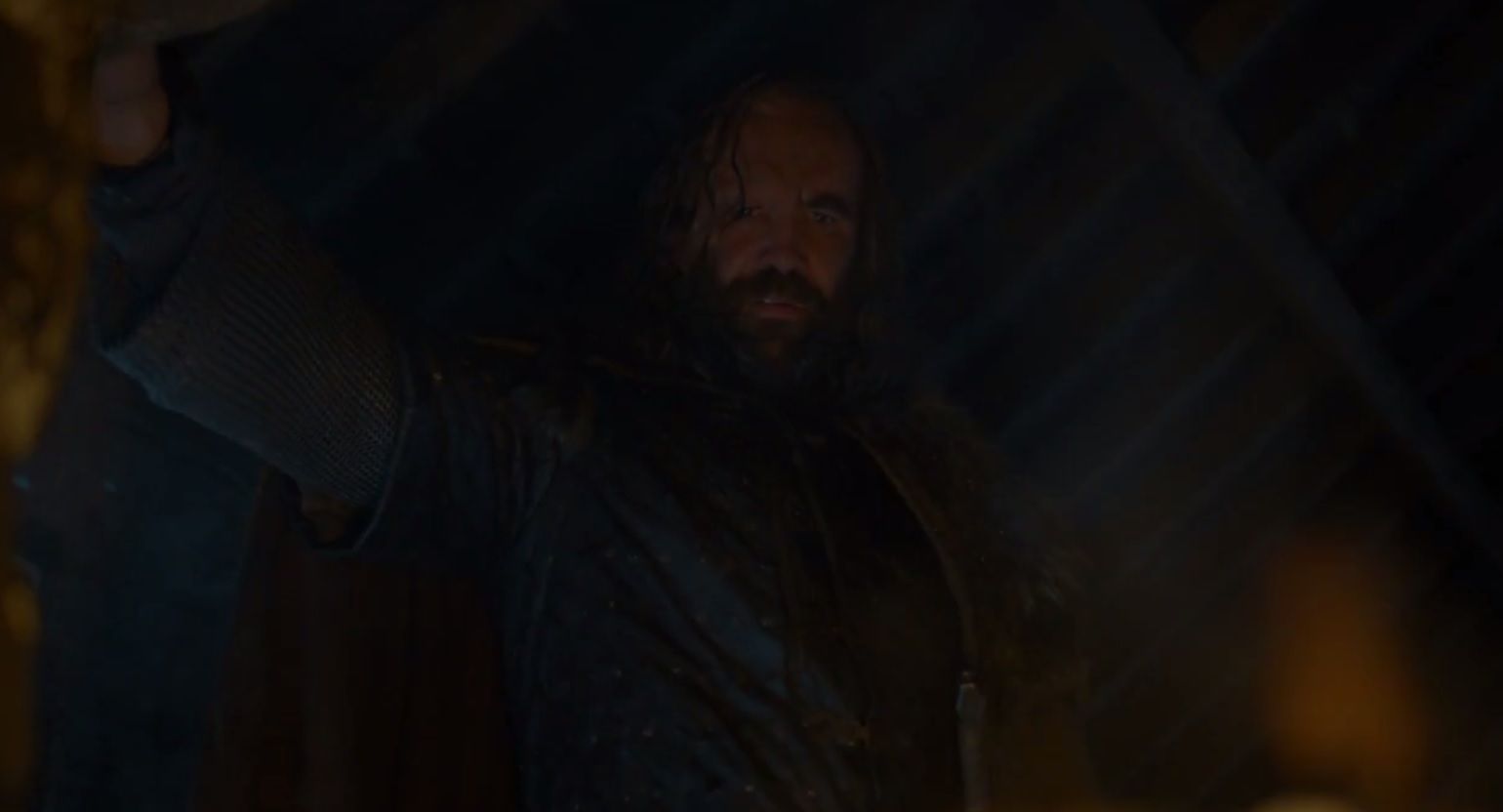 Sunday's Game of Thrones season premiere spawned a lot of interesting fan theories about what will happen next in Westeros. One theory in particular has elicited a lot of internet chatter: Did that episode omit a line that possibly revealed how the White Walkers will get into the Seven Kingdoms?
Director Jeremy Podeswa, who helmed the Season 7 episode "Dragonstone," says nope.
In the episode, the Hound (Rory McCann) and his riding companions Beric Dondarrion and Thoros hunkered down for the night at an abandoned farmhouse. On the insistence of Thoros, a firm believer in the Lord of Light, the Hound looked into the embers in the fireplace and appeared to have a prophetic vision.
"A wall of ice. The Wall," he said. It's where the Wall meets the sea. There's a castle there. There's a mountain. Looks like an arrowhead. The dead are marching past. Thousands of them."
The vision foresees the feared White Walkers—led by the Night King—could make it past the solid ice Wall, which is designed to keep them out, and threaten the population of Westeros. It's an event we've been warned about for six seasons now and could finally happen now that the series is winding down.
As pointed out by Business Insider and other websites, in HBO's recap of the episode there is an additional piece of dialog attributed to the Hound in this scene that he doesn't utter. "It's where the Wall meets the sea. The waves are frozen…There's a castle there," he says, according to the recap.
Related: There was another big musical cameo in 'Game of Thrones' Sunday, but you probably missed it
That has led some fans to theorize that the White Walkers could circumvent the Wall by walking over the frozen sea and stroll into Westeros.
Speaking to Newsweek by phone Tuesday, Podeswa debunked the idea that the scene was altered in some way. "No, nothing was cut. That was exactly how it was written," he said.
"I'm pretty sure in this episode everything we shot is in there, which isn't always the case. There's some things that we re-ordered a little bit from the original script, and some things have been trimmed, but substantially it's all there."
So, how and why the HBO recap contains an added piece of dialog is still a mystery. Was it in an earlier draft of the script? Or maybe it was indeed cut? GoT has a history of keeping us on our toes—like Kit Harington insisting Jon Snow was dead for a whole year.
Podeswa also spoke to Newsweek about the criticism Ed Sheeran received for his cameo appearance in "Dragonstone." "I think Ed did a lovely job—he's a lovely actor and a lovely person," he said. Read more from him on that here.
Read Newsweek 's deep-dive into "Dragonstone" here and watch a preview of Episode 2, "Stormborn," here.
Game of Thrones airs Sundays at 9 p.m. on HBO.