'Game of Thrones' Season 7, Episode 3: 'The Queen's Justice' Spoilers and Theories—What Will Happen When Jon Snow Meets Daenerys?
The time has come, Game of Thrones fans. We are seven long seasons in, and Sunday, for the first time, we will see Daenerys Targaryen (Emilia Clarke) and Jon Snow (Kit Harington) finally meet.
In last week's episode, Daenerys summoned Jon Snow to Dragonstone to bend the knee before his rightful queen. The only trouble is she's not the only queen wanting to make a loyal subject out of the King in the North. Will he pledge fealty to the Khaleesi or Queen Cersei (Lena Headey)?
Sunday's episode is titled "The Queen's Justice," and here is how HBO describes it: "Daenerys holds court. Cersei returns a gift. Jaime learns from his mistakes."
Take a look at the trailer for "The Queen's Justice" above and pictures from the episode below, then read on for this week's spoilers and theories.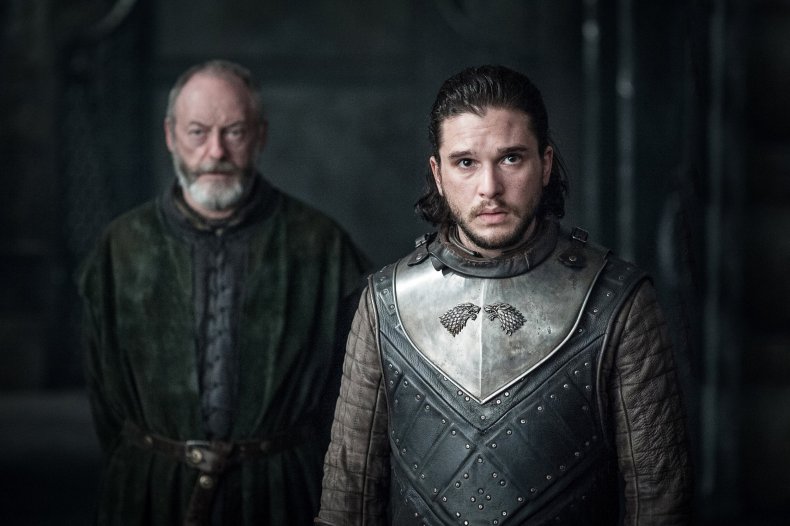 What is the queen's justice?
The titles of the first two episodes of Season 7 were pretty self-explanatory, but this week's installment of GoT raises many questions.
The most obvious theory is that the title refers to Queen Cersei exacting revenge against Ellaria Sand (Indira Varma) and her daughter Tyene (Rosabell Laurenti Sellers) for killing her daughter Myrcella Baratheon in Season 5.
In last week's episode, "Stormborn," we saw Euron Greyjoy (Pilou Asbæk) lay siege to the Greyjoys' Iron Fleet. In winning the battle at sea, he took Ellaria, Tyene and his niece Yara Greyjoy (Gemma Whelan) captive.
In the teaser trailer for this week's episode, Euron is seen valiantly riding through King's Landing to cheers—presumably because he earned Cersei an early advantage in the war for the Iron Throne. Remember, back in the first episode of Season 7, Euron vowed to return to King's Landing with a present for Cersei, whom he wants to marry to consolidate power.
What you don't see in the teaser is that he is parading a chained Yara, Ellaria and Tyene through the city, as seen in spoiler pictures from the GoT set in Caceres, Spain, last December.
Delivering Myrcella's killers to the queen would be quite the gift for Euron to deliver. And for Cersei, maybe she'll get justice for her innocent daughter.
Related: Inside 'GoT' Euron Greyjoy's rock-star makeover
Welcome to Casterly Rock
In the teaser trailer for "The Queen's Justice," Cersei refers to Euron's victory over the Iron Fleet last week and says she's "drawn first blood" in the war for Westeros. But don't think Daenerys is cowering in retreat. We will see the next stage in Dany and Tyrion Lannister's (Peter Dinklage) plan to take the Iron Throne unfold: by having the Unsullied storm Casterly Rock, the Lannisters' ancestral home, and diminishing at least some of the Lannister army.
In the teaser, we see the Unsullied, led by Grey Worm (Jacob Anderson), setting sail for Casterly Rock, followed by a brief glimpse of the Unsullied storming the gates of the castle—and leaving some Lannister soldiers dead in their wake.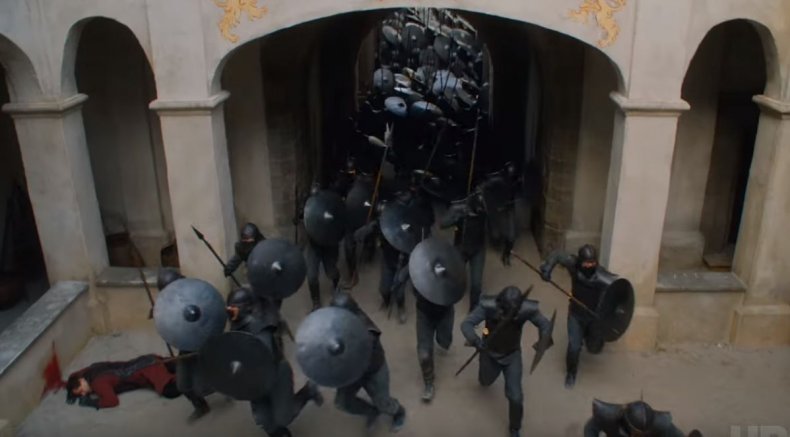 This is the first time in Game of Thrones that we will see Casterly Rock; it has been mentioned but never shown. In the lore of GoT and George R.R. Martin's A Song of Ice and Fire novels, it is "one of the most formidable and well-defended castles in all of Westeros." The castle is built into a rock formation and has many hidden catacombs and entryways through which the Unsullied can attack if they can figure out where to go. It's a handy thing that Tyrion, the Hand of the Queen, has extensive knowledge of the Lannister home.
In the second trailer for Season 7 released in June, clips of the Unsullied storming Casterly Rock were followed by footage of an angry Jaime Lannister (Nikolaj Coster-Waldau) riding horseback through a fiery battlefield. Could those scenes be part of this episode, too? If so, it looks like the Unsullied won't be heading to Casterly Rock without some backup from Dany's dragons.
Related: 'GoT' Yara Greyjoy actor on Theon's betrayal
Jon and Dany's first meeting
How hard will you all be fanboying/fangirling on Sunday night when this happens? Probably a lot. Kit Harington and Emilia Clarke filmed their first scenes together last October in Spain, when spoiler pictures emerged of them on set.
Based on HBO's official pictures and the spoiler pictures, Jon and Davos Seaworth (Liam Cunningham) will arrive to Dragonstone and be greeted by Tyrion first before being taken to meet the queen in the Dragonstone throne room. What they will discuss there is going to be mighty interesting indeed.
In "Stormborn," Dany made it clear she wants Jon to come and bend the knee and declare her his queen; she was also advised by Tyrion that he could be a powerful ally to her claim to the throne in the North, because he is, of course, the newly appointed King in the North. Meanwhile, on Jon's side, he has now learned—thanks to Samwell Tarly (John Bradley)—that there are large stores of dragonglass at Dragonstone. He will undoubtedly be looking to get hold of some of it to fashion weapons for the impending war with the Night King and his army of the dead. Can Jon even convince Dany to join the fight? Dragon fire is surely the best weapon against a White Walker?
It also looks like Jon will also pay a visit to Daenerys in her chambers, as revealed by the show's costume designer Michele Clapton earlier in July. What brings him into the queen's private quarters? Let's hope it's not another round of incest; Dany and Jon do not yet know they are in fact aunt and nephew.
A few more musings
I have a hunch that by episode's end we will see Arya Stark (Maisie Williams) back in Winterfell. Last episode, she learned that Jon had taken control and was back in the North and began heading home.
This episode should set up another big spoiler in some way. Davos is arriving at Dragonstone with Jon Snow as his adviser, but it looks like he will end up staying in Dragonstone without Jon. Spoiler pictures from further on in Season 7 show Davos and Tyrion sharing scenes with Gendry, the bastard son of Robert Baratheon, who returns to GoT after last being seen in Season 3. Yes, he really has been rowing for three seasons.
Game of Thrones airs Sunday at 9 p.m. on HBO.
For more Game of Thrones coverage on Newsweek, click here.