People Are Donating Their Stimulus Payments to Help Pay Bail for George Floyd Protesters
Amid mass arrests at protests following the death of George Floyd, millions of dollars have been raised to help pay bail for some of those detained, with people using their stimulus payments to support causes doing so.
Demonstrations have been held for several nights across the United States, after Floyd died following a police officer placing his knee on his neck while he was being arrested in Minneapolis.
Clashes have occurred between protesters and authorities, while at least 4,400 people have been arrested amid the demonstrations, according to an Associated Press tally.
During the protests, organisations including community nonprofits such as the Minnesota Freedom Fund, which pays the cash bail of low-income individuals, have received an influx of donations.
On Saturday, the group said in a statement: "With solemn gratitude, we have been flooded with tens of thousands donations large and small, totalling around $20 million."
In a further statement on Facebook, it added: "The world has shown up in support for those who are taking to the streets to demand the long-overdue end to police brutality that has taken the lives of too many of our black, brown and Native people."
Newsweek has contacted the Minnesota Freedom Fund to ask for an updated figure and further comment.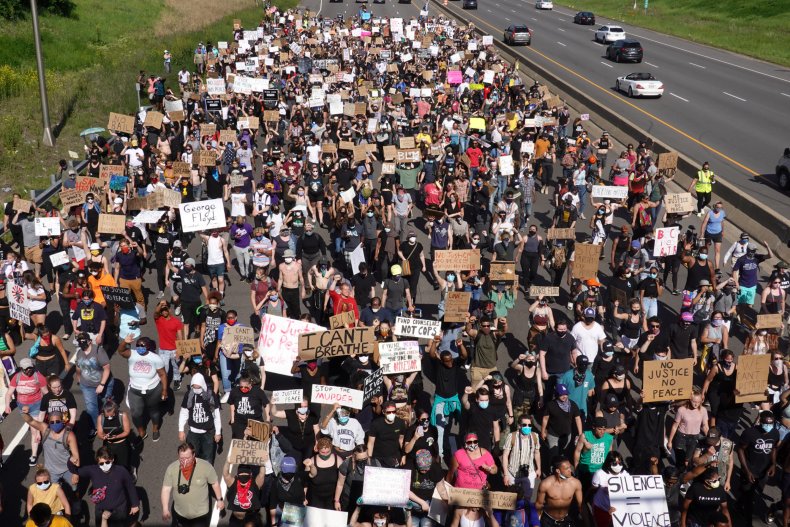 A number of celebrities have donated to causes supporting protesters in paying bail, including Chrissy Teigen who said she would pledge $100,000 to that end.
On social media, people have spoken of using their stimulus payments, provided from the CARES Act, to donate to bail funds. Some said they had used the whole sum to support the cause, while others had used part of the payment to do so. Many encouraged others who were able to donate to do the same.
Newsweek has contacted multiple people who have spoken of donating their stimulus checks to such causes.
At the weekend, after detailing the $20 million sum raised, the Minnesota Freedom Fund encouraged people to donate directly to Floyd's family.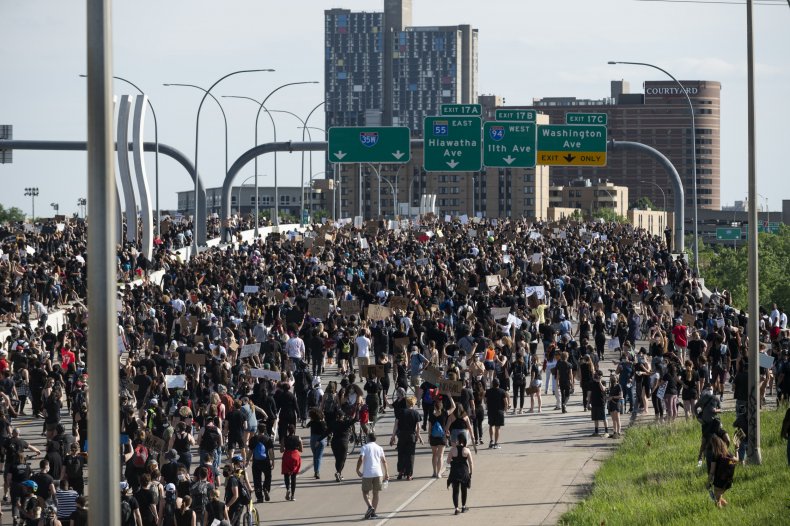 "We now encourage people to generously donate to George Floyd's family and other local organizations, especially those which are Black and BIPOC led, and which are working to lift up communities, end police brutality, and build a more just future," it wrote.
The Official George Floyd Memorial Fund, set up on GoFundMe by Floyd's brother, Philonise Floyd, has raised more than $6.7 million at time of writing.
A Change.org petition titled "Justice for George Floyd" has garnered more than 10 million signatures.
Derek Chauvin, a white former Minneapolis police officer, who was fired from his position has been charged with third degree murder and second-degree manslaughter following Floyd's death.
Three other officers were fired, and there have been calls for their arrests.
At some protests those involved have met a heavy police response, with tear gas and rubber bullets used, while there have been other violent incidents amid the demonstrations.
In Louisville, Kentucky, police reportedly shot a man dead amid protests, while video has emerged of a car plowing into a group of people during a demonstration in Boston.
Floyd's girlfriend called for peace among protests in Minneapolis, saying violence would devastate him.
Protests following the death of Floyd have spread worldwide, with thousands also joining gatherings in Europe over the weekend.