Georgia Senate Runoffs Descend Into Brawl About Radicalism and Corruption
The Senate runoff races in Georgia have descended into a mudslinging back-and-forth, with each side looking to diminish their rivals: Democrats labeling the Republicans corrupt, them responding with charges of radical leanings.
The two Georgia seats, held by Republican Sens. David Perdue and Kelly Loeffler, will determine control of the Senate—with the Democrat challenges, Jon Ossoff and Raphael Warnock, able to take this to a 50:50 split should they win.
Such results would see the Senate split equally between Republicans and the Democrat caucus, including the independents who group with them. The vice president is then given the tiebreaker vote.
This heightened gravitas has seen major sums of money pour into the race, with tensions heightened given the ramifications of victory or defeat for each side.
Ossoff has branded his rival Perdue a "crook" and criticized his stock activity, suggesting he would propose a bill to make it so lawmakers' holdings had to be held in blind accounts so as not to allow them to trade based on privileged information from their roles.
Asked by CNN about the Justice Department closing a case that looked at potential insider trading, reported by The New York Times, Ossoff still defended his characterization of Perdue.
He branded his conduct "grossly unethical," and said he has been "exploiting his office" and power to "enrich himself." Ossoff suggested this is why Perdue has declined to debate him again. Perdue has branded Ossoff's attacks on him false and said "you just can't believe him," in an ad making reference to his Democrat challenger.
"Despite having his baseless attacks categorically discredited by even the New York Times, Jon Ossoff continues to lie so he can distract Georgians from his radical socialist agenda to raise taxes, defund the police, and eliminate private health insurance," John Burke, communications director for the Perdue campaign, told Newsweek when asked for comment.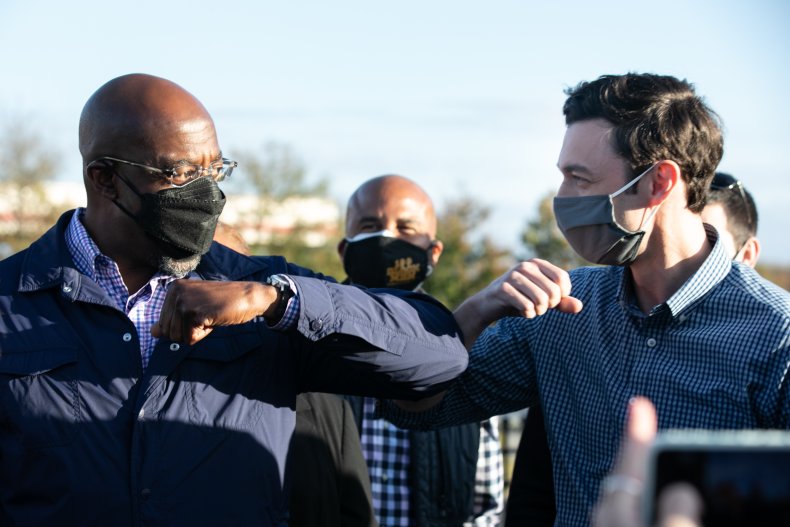 Perdue has hit out at Ossoff claiming he will facilitate "radical policies," highlighting his support from Sen. Bernie Sanders (I-VM). He suggested Ossoff "embraces" socialism.
Alongside Loeffler, Perdue has looked to brand himself and her as a firewall to far-left policies they claim will be facilitated should the Democrats gain Senate control.
This argument has been hampered somewhat though by President Donald Trump's continued refusal to concede. Democrat control of the Senate would depend on Kamala Harris becoming vice-president, which Trump continues to push against being the case despite the election having been called her and Joe Biden's way by networks.
This therefore undercuts Loeffler and Perdue's argument if they are trying to brand themselves as a final check on Democrat power, but also not go against Trump's push against the outcome.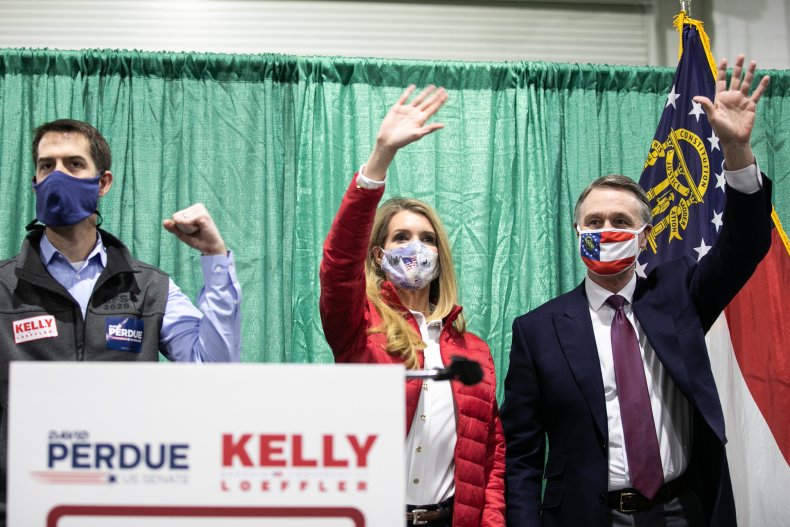 Loeffler has also branded her opponent Warnock radical, referencing what she has alleged to be a connection between him and Fidel Castro.
The late leader of Cuba visited the Abyssinian Baptist Church in New York City in 1995, where at the time Warnock was the youth pastor. Warnock has said he had no control over the visit and Loeffler is simply trying to change the subject.
"I understand why Kelly Loeffler is trying to change the subject. I was a youth pastor. I had nothing to do with that program. I did not make any decisions regarding the program. I have never met the Cuban dictator. And so I'm not connected to him," he told CNN.
Warnock has similarly accused Loeffler of trying to "profit off the pandemic," in similar criticism to Ossoff's of Perdue. He has referred to stock moves benefitting her and her husband earlier in the pandemic, with her having dumped some $20 million in stock between January and March.
She was probed by the Senate Ethics Committee, which said it did not find she broke the law or Senate rules. The Department of Justice also closed an investigation into the trades. Loeffler has denied using privileged information for private profit.
Newsweek has contacted each of the campaigns for comment on the criticisms traded between the candidates.
Polling has shown a tight race, with each close to tied according to recent survey results.
Trump is due to visit the state on Saturday, December 5, to campaign with Loeffler and Perdue. Ossoff has said he would welcome such a visit from Biden or Harris.
Update 12/02/2020: This page was updated to include comment from Perdue campaign Communications Director John Burke.