GOP Sen. Tillis Calls Out Rep. Cawthorn for Being Used as Russia Propaganda
GOP Senator Thom Tillis has charged that Republican Representative Madison Cawthorn is being used by Russian state propaganda after he called Ukrainian President Volodymyr Zelensky a "thug" and his government "evil."
Russian state media have repeatedly played clips of Cawthorn after his comments were first reported last week, NBC News foreign correspondent Raf Sanchez reported on Thursday. Remarks from other prominent conservatives—including former President Donald Trump, former Secretary of State Mike Pompeo and Fox News host Tucker Carlson—have been used by Russia's state propaganda as well.
Video of Cawthorn making the controversial anti-Ukrainian remarks amid Russia's assault on the country was first published last Thursday by local North Carolina station WRAL-TV. "Remember that Zelensky is a thug," the Republican congressman said in the clip. "Remember that the Ukrainian government is incredibly corrupt and is incredibly evil and has been pushing woke ideologies."
In a Thursday afternoon tweet, Tillis took aim at Cawthorn. "If your comments are being replayed over and over by Russian state propaganda outlets... #ncpol," the North Carolina senator wrote.
Tillis retweeted Sanchez's post explaining that Cawthorn, who is also from North Carolina, was being used by Russian state television to promote its inaccurate version of Russia's invasion. "Russian state TV also jumped on comments by Republican congressman Madison Cawthorn, who called Zelenskyy 'a thug'. That got played over and over," Sanchez wrote.
Asked on Thursday by Newsweek to comment on the clip being played on Russian state TV, Cawthorn's communications director, Luke Ball, defended the remarks. He said the congressman later described the Russian invasion as "disgusting" and has referred to Russian President Vladimir Putin as a "tyrant."
"Russian disinformation twists words, removes context, and uses selective sound bites to further their political agenda," Ball said in a statement to Newsweek. "It reminds us of the mainstream media here in the United States. Sad!"
Newsweek followed up on Friday to ask Ball specifically about Tillis' tweet but did not immediately receive a response.
Other prominent Republicans have strongly criticized Cawthorn. Senator Joni Ernst, an Iowa Republican, lectured the congressman in a Senate floor speech last week.
"The Ukrainians want to be free. They have been fighting for this for the past 30 years, and to just hand them over to an actual murderous thug called Vladimir Putin is the wrong thing to do," Ernst said.
"So to my colleague in the House, I would push back and say it's not Ukraine that is invading Russia, it is Russia that is invading Ukraine," she added.
After news of Cawthorn's Ukraine remarks broke, GOP Representative Adam Kinzinger of Illinois tweeted, "This is the sad but successful impact of Russia's cyber operation that we've seen pushed and promoted on conservative outlets. The threat is real and it's dangerous. Case in point: a sitting US Congressman is echoing Putin propaganda."
"Another member of the Putin wing of the @GOP," Representative Liz Cheney, a Wyoming Republican, tweeted. The congresswoman included the video of Cawthorn's comments about Zelensky and Ukraine.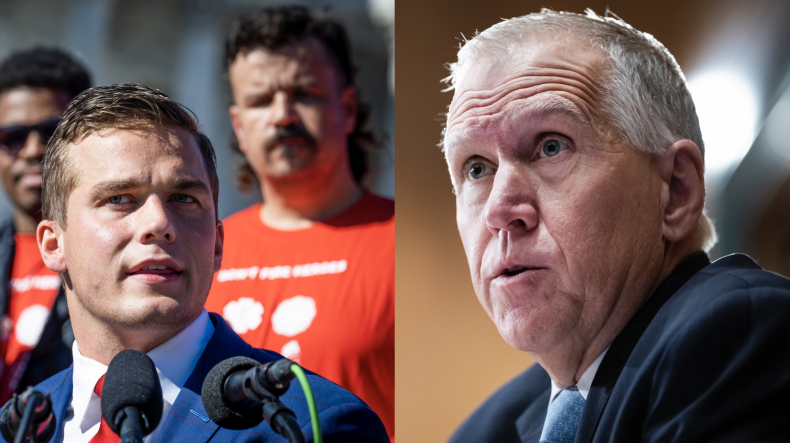 Cheney, a staunch Trump opponent, previously slammed the former president, Pompeo and Carlson for being used by Russia's state TV as propaganda.
"As Russian forces invade Ukraine, Russian TV features Donald Trump, Mike Pompeo and Tucker Carlson praising Putin," Cheney tweeted on February 25, just after Putin launched the full-scale invasion of Ukraine. "Putin is evil. Every American watching what's happening in Ukraine should know that."
Newsweek reached out to Tillis' office to ask if the Republican senator was also concerned about Trump, Pompeo and Carlson being used as Russian propaganda but did not hear back before publication.
Putin's invasion of Ukraine has been widely condemned by the international community. In a March 2 vote, 141 members of the United Nations General Assembly formally condemned Russia's unprovoked aggression against Ukraine. Just four nations—Belarus (which is militarily involved on Russia's side), North Korea, Syria (which is reportedly sending fighters to assist Moscow's forces) and Eritrea—voted against the resolution.