Greg Abbott's Mask Mandate Repeal Divides Texas Voters, Has Less Support In Cities: Poll
Texas Governor Greg Abbott's decision to lift the state's mask mandate has divided Texas voters, with a majority of residents in cities disagreeing with the measure, according to a new poll.
The survey, which was conducted by Progress Texas and Public Policy Polling last week, found that public opinion on the mandate was evenly split across all Texans, with 48 percent in support and 48 percent in opposition.
But Texans in major metro areas — where roughly 70 percent of the state's population resides — disapprove of the repeal by wide margins.
According to the poll, people from the metro areas of Austin, Dallas, Houston and San Antonio oppose the mask mandate repeal by 60 percent, 48 percent, 53 percent and 56 percent, respectively.
In comparison, nearly 60 percent of people in other areas across the state support the governor's order.
"Texans who live in big cities and those who are people of color have been hit hard by the pandemic, and these communities overwhelmingly oppose Gov. Abbott's repeal of the mask mandate," Ed Espinoza, executive director at Progress Texas, wrote in the survey report.
"There are sharp political contrasts on this issue that become even more apparent when you take geography and race into account," he added.
The survey also found that 57 percent of white people support the repeal while 40 percent oppose it. By contrast, the majority of Latino, Asian and Black people oppose Abbott's measure with 60 percent, 63 percent and 54 percent respectively.
The Progress Texas/PPP survey included 997 registered Texas voters and was conducted from March 5, 2021 to March 6, 2021. It has a margin of error of plus or minus three percentage points.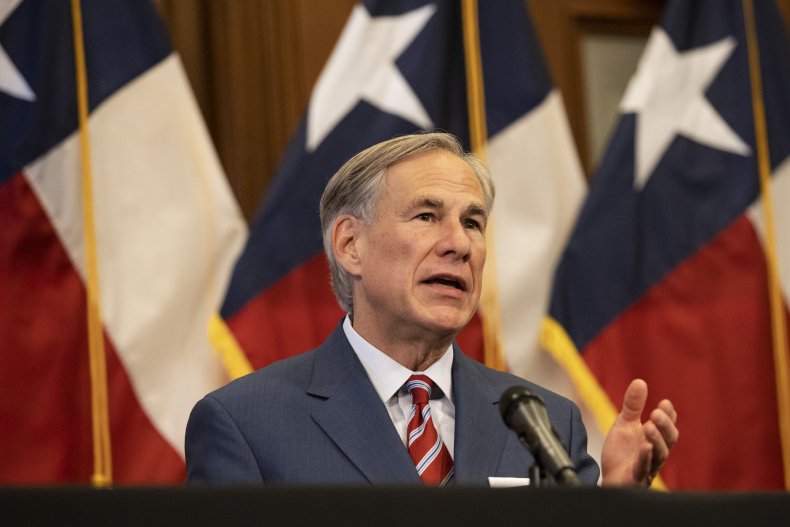 Abbott first announced a repeal of the mask mandate on March 2, and said that businesses in the state could operate at up to 100 percent capacity in areas that don't have high rates of COVID hospitalizations. Both measures went into effect on March 10.
"Too many Texans have been sidelined from employment opportunities. Too many small-business owners have struggled to pay their bills. This must end," Abbott said during a March 2 press conference.
"Removing statewide mandates does not end personal responsibility," he added. "It's just that now state mandates are no longer needed."
Since then, the Texas Republican governor has faced blowback from fellow politicians across the state who view the measure as premature amid the ongoing pandemic.
"This will kill Texans," chair of the Texas Democratic Party Gilberto Hinojosa said in a statement. "Our country's infectious disease specialists have warned that we should not put our guard down even as we make progress towards vaccinations."
On Tuesday, the city of Austin announced that they would keep a mask mandate despite Abbott's new orders.
"In Austin, we're committed to saving lives. Period. If state officials don't want to do their jobs protecting people from the virus, then we will," Austin City Council member Greg Casar previously said in an email statement to Newsweek.
Abbott's full reopening comes as just over 88 percent of adults in Texas — around 9 out of 10 people aged 18 and older — are yet to be fully vaccinated against COVID-19. Cities across the state are now bracing for potential coronavirus surges as spring break vacations are underway and deadlier variants are spreading through the U.S.
Last week, President Joe Biden called Abbott's decision and that of other governors loosening coronavirus restrictions "a big mistake."
"The last thing we need is Neanderthal thinking," he added.
Newsweek contacted Abbott for additional comment, but did not hear back in time for publication.