Hailey Bieber Accused of Shading Selena Gomez—'She's Asking for the Drama'
Hailey Bieber has been accused of being shady towards Selena Gomez as fans dig down on the idea the pair have been beefing online.
In the latest chapter of the Bieber and Gomez drama, fans thought the former was being deliberately rude to the singer when she reposted a video on her Instagram stories.
Bieber, 26, reposted an Instagram Story by lifestyle account, Style and the Beach, which showed the skincare kit it had received from Bieber's brand, Rhode. The song "Calm Down" by Rema played over the video showing off the products.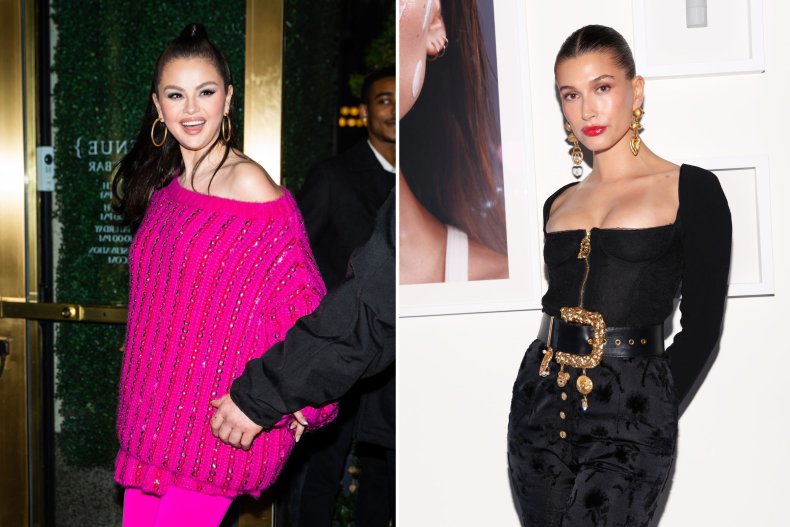 However, the version of the song in the Instagram Story was the original by Rema and not the top 20 remix featuring Gomez.
Some fans speculated Bieber resharing the story was an attempt to throw shade at Gomez, while others said those conspiracy theories were "reaching."
"Nobody can try and say this isn't shade from Hailey. out of ALL the song choices, she chooses one that is currently popular because of the remix Selena and he have released, and she makes a point of choosing the one without Selena on it. LMFAO. petty, she's asking for the drama," tweeted one fan.
While another added: "Hailey is the weird one. She knows selenator is on her now why would she pour more gasoline on to the fire? She could prevent and stop all this by minding her own business that has zero relation w Selena but let's be honest the majority listen to song featuring Selena."
And a third wrote: "Hailey is a weirdo who copies every single thing Selena does because she's obsessed with her life and might just be in love with her. That's it. That's the story."
But another fan pointed out: "she just reposted, the person who bought her brand that used Rema's song."
And a second reiterated that point: "She reposted a person who bought her brand using remas song y'all r reaching atp."
The most recent alleged drama between the pair happened last week when Gomez posted to TikTok saying she'd "accidentally laminated [her] brows too much."
Kylie Jenner then posted a photo of herself on her Instagram story with the words "this was an accident???" written over her eyebrows and then another story showing a screenshot of her FaceTiming Bieber with their cameras held close to their eyebrows.
Gomez fans accused the pair of making fun of the Only Murders in the Building star but Jenner was having none of it.
"This is reaching," Jenner commented on TikTok about the incident. "No shade towards Selena ever and I didn't see her eyebrow posts! u guys are making something out of nothing. this is silly."
Gomez added: "Agreed @kyliejenner It's all unnecessary. I'm a fan of Kylie!"
Fans have long speculated tension between Gomez and Bieber because the latter married Gomez's ex-boyfriend Justin Bieber just months after their eight-year relationship ended.
As if the eyebrow and Instagram story drama was not enough, Gomez also spent time last week defending her close friend, singer Taylor Swift.
Gomez had left a comment underneath a TikTok showing old footage of Bieber, reportedly during a TV appearance, sticking out her tongue when Swift's album was mentioned.
"So sorry, my best friend is and continues to be one of the best in the game," Gomez commented, according to screenshots published by Instagram account PopFaction.
After all of the drama, Gomez announced she would be taking a break from social media.
The "Wolves" singer went live on TikTok Live and later shared it to Twitter, saying that she was "too old" for the "silly" social media shenanigans.
"I'm going to be taking a second from social media, because this is a little silly. I'm 30 and am too old for this. But I love you so much and I'll see you guys sooner than later," she said on Thursday, February 23.
"I'm just gonna take a break from everything."
Newsweek reached out to Bieber and Gomez's representatives for comment.