Hardee's Trolls Mike Lindell With Discount 'If You Still Have a Phone'
Fast-food outlet Hardee's has mocked Mike Lindell online, after the prominent Donald Trump supporter had his phone seized by the FBI at one of their restaurants on Tuesday.
FBI agents surrounded the MyPillow CEO at the drive-thru of a Hardee's branch in his home town of Mankato, Minnesota, as he was returning from a hunting trip.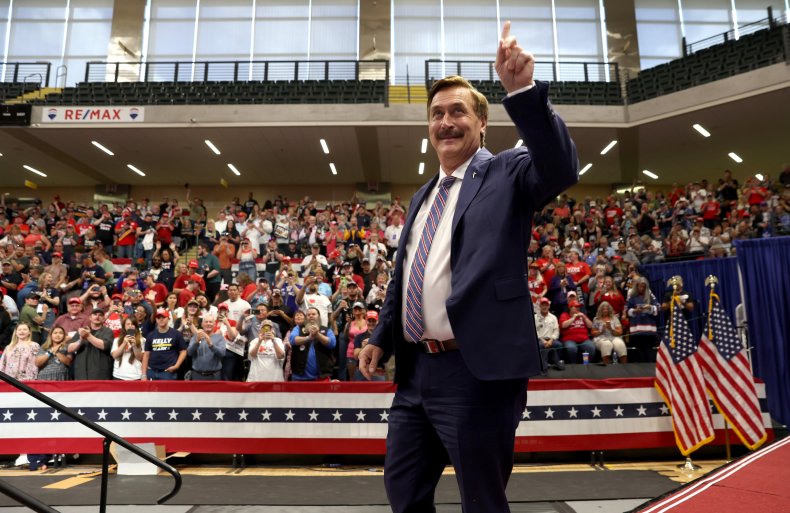 Lindell, 61, is a vocal supporter of the discredited conspiracy theory that the 2020 presidential election was rigged against Trump, and that the former president was the true victor rather than Joe Biden.
Vikki Migoya, a public affairs officer at the FBI's Denver Field Office, told Newsweek confirmed the agency "executing a search warrant authorized by a federal judge" at the Hardee's outlet, but didn't go into details.
Hardee's reacted mockingly to the incident on social media, referencing how Lindell came to fame for selling pillows. The fast-food chain tweeted: "Now that you know we exist... you should really try our pillowy biscuits."
The tweet went viral, attracting more than 111,000 likes and 16,000 retweets.
Mocking the discount deals frequently offered by MyPillow, and the confiscation of Hardee's cellphone, the chain later added: "If you still have a phone, get a free breakfast biscuit in our app for My Rewards members."
Speaking to Newsweek, Ben Miller, vice-president of brand and creative strategy at CKE Restaurants, the parent company for Hardee's, said: "It's not often a brand can insert themselves into a social conversation and go viral for all the right reasons.
"Our iconic Made From Scratch biscuits are our backbone for success at Hardee's and the fact that we were able to have a little fun and showcase them in a positive fashion while also providing an offer to existing and potentially new customers was a great opportunity for us."
Lindell described the FBI operation on his show The Lindell Report, where a number of prominent pro-Trump figures have been guests.
He said: "Cars pulled up in front of us, to the side of us, and behind us and I said those are either bad guys or the FBI. Well, it turns out they were the FBI.
"They surrounded me at a Hardee's and took my phone that I run all my business, everything, with.
"What they have done is weaponize the FBI. It's disgusting. I don't have a computer, that phone, everything was on everybody."
Lindell said he was questioned about his relationship with Tina Peters, another pro-Trump figure who disputes the 2020 election result.
Peters is facing criminal charges in Colorado, where she has been accused of tampering with voting machinery in Mesa County.
Trump reacted with fury to Lindell's arrest on his Truth Social platform, commenting: "Mike Lindell, 'THE Pillow Guy,' was just raided by the FBI. We are now officially living in a Weaponized Police State, Rigged Elections, and all. Our Country is a laughing stock all over the World.
"The majesty of the United States is gone. Can't let this happen. TAKE BACK AMERICA!"
In April, Lindell claimed he's spent $35 to $40 million of his own money attempting to prove the 2020 presidential election was rigged, with the sum going into court cases, legal advice and a movie.
Trump is continuing to claim the 2020 election was stolen, and in August, called for either "a new election" or "the rightful winner" to be declared.
The former president has launched multiple unsuccessful lawsuits to prove his theories, which have been roundly dismissed by independent election experts.
Update 10/15/22 1.45 a.m. ET: This story has been updated with comment from CKE Restaurants.